A nice backyard is an important part of every home. It is a place we put a lot of effort into, to make it look beautiful. And a beautiful backyard can be something to be proud of. But to make your yard really stand out and a place you will want to spend every day in, there are always adding features that you should consider. You don't need to hire expensive landscape architects or spend a fortune for your yard to be a true oasis. Put on your shoes for gardening and get to work. You just need some willpower and a bit of imagination. Here are some tips on improving your yard and creating a true backyard oasis.
A seating set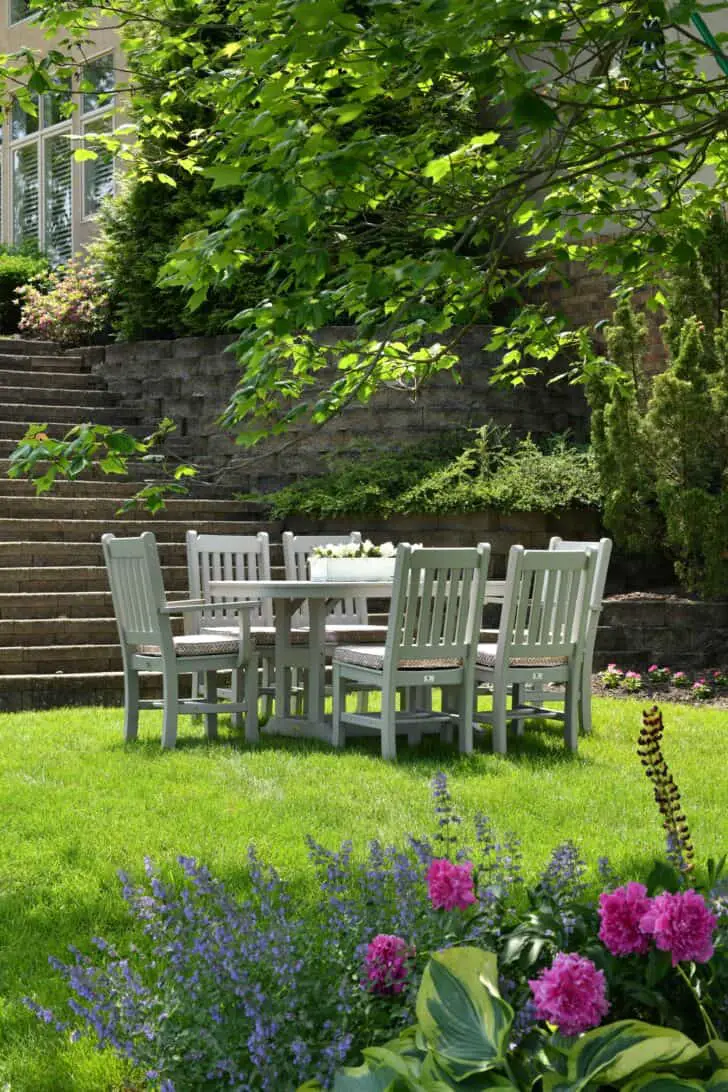 Every beautifully landscaped garden must have its holiday corner, where you will spend your free time, rest, hang out with friends, or maybe read a good book. We suggest you make a seating set and a table yourself. This can be easily done with pallets. Just go to YouTube and find out just how easily this can be done. You can decorate the set with colorful pillows and paint the table white. There are many variants and color schemes you could use. We are sure the end result is going to be quite beautiful.
Interesting Features
There are always ways to improve your yard by adding some more noticeable features and furniture to it. If it is big enough, why not make a little gazebo in it. They are always elegant and make for a beautiful centerpiece. You can even decorate it with a lot of flowers and your garden will look like it came out of a fairytale.
Add some benches to the garden, maybe even a small fountain. The sound of water will surely make you feel relaxed. It could become your personal meditation space.
Plants and Flowers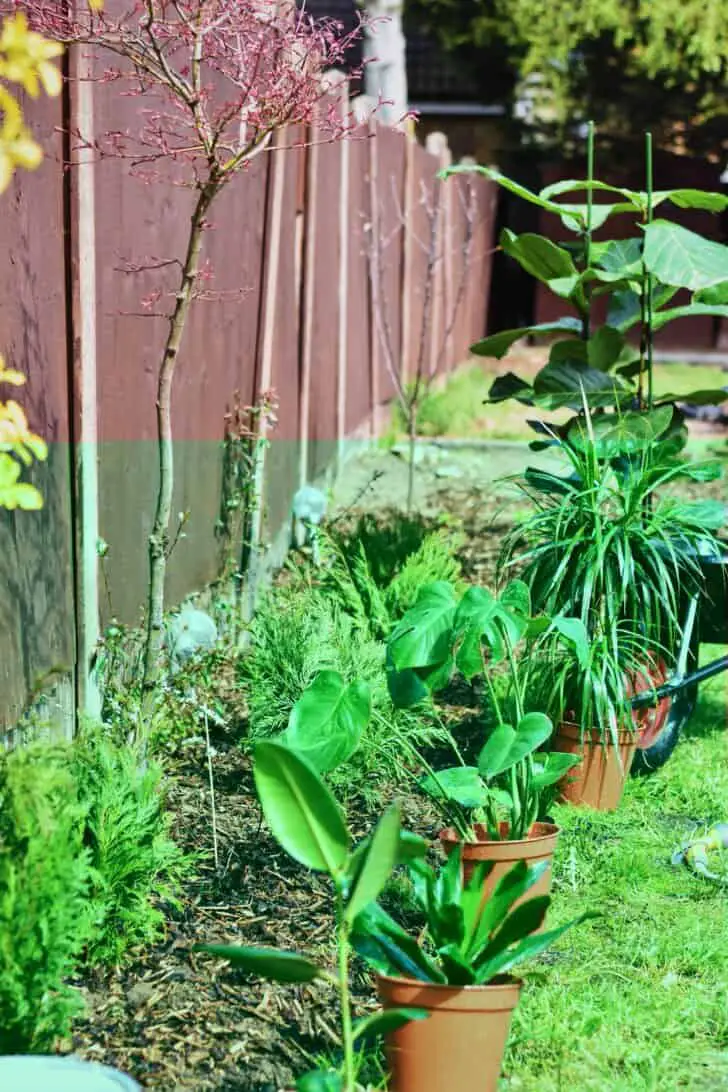 If you love gardening, set aside one corner of your yard for ornamental plants. These will relax you every time you take a look at them. Your colorful garden will look and smell wonderful and it will make you feel like you've entered the most beautiful park in the world.
You probably already have pots where you plant flowers or plants. You can also make interesting and decorative flower pots for your plants out of some old items that are no longer in use. Use old barrels, tires or wooden crates. You can even use different household items like old chairs, tables. This will make your garden very unique and add depth and dimension to it.  Another inexpensive but contemporary way to beautify your yard is to paint the pots in bold colors.
Perennial Plants
Perennial plants return year after year, while annual plants only live for one season. Protect your budget by choosing perennial plants for your yard. You can use various ornamental grasses. The combination of different herbs will add texture, color and a modern look to your garden. Ornamental grasses will help your landscape look expensive and beautifully designed.
Multipurpose Features
If you want a unique garden, make everything reusable. Make a floor that looks like a deck, and in the middle, separate it with a part that looks like a well. This section will extract the draining water from the rain, and in the evening you can put a lid on top and create a section where a fire could be lit. With this, you will create a centerpiece in your garden around which everything is happening and around which you can gather guests and enjoy. You could also plant flowers everywhere around it.
Cool off in the summer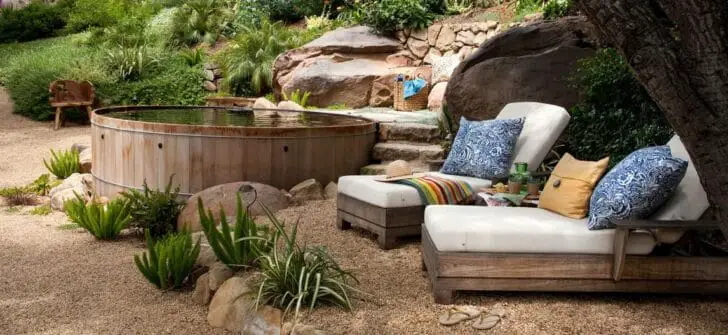 We know that nothing can replace lounging on the beach by the sea, but why to limit your vacation to only ten days. We suggest you set up a prefabricated pool and enjoy the hot summer months with your little ones or friends. There is nothing as refreshing as jumping in a pool of cool water on those hot days. So dedicate a part of your yard in the summer to a prefabricated pool.
Paths and Mosaics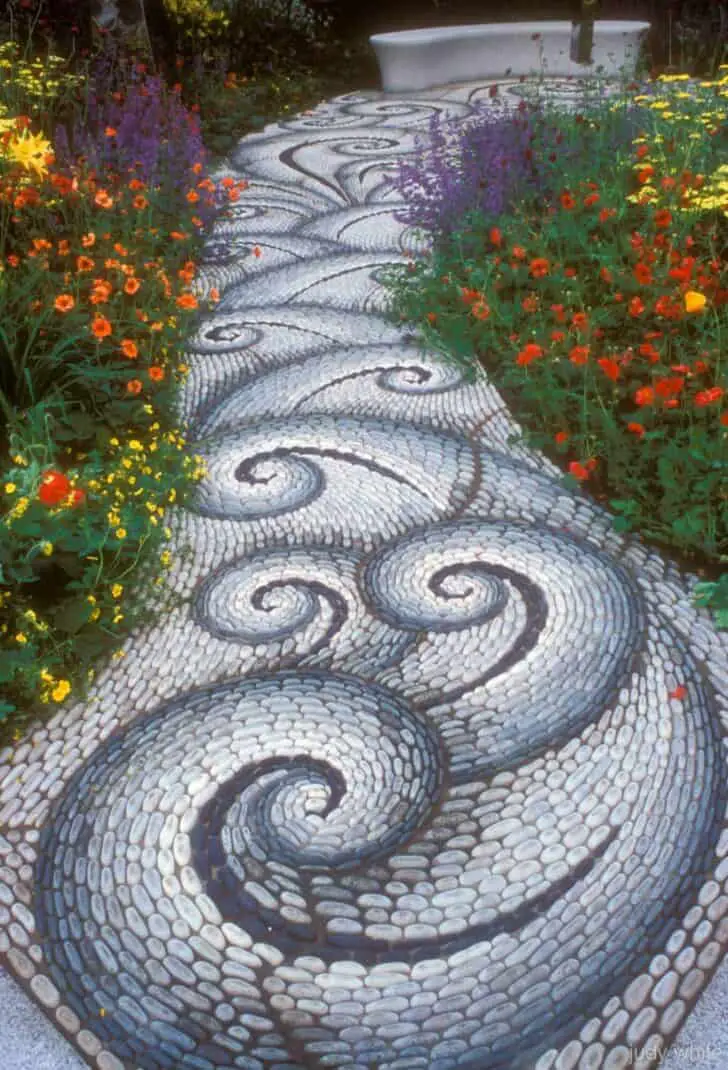 One of the cheap ideas that create a great visual impact is the use of a finisher and a surface coat. If you have unused space in your yard or bare land that you want to cover up, using recycled material is a great solution. Make a mosaic of your choice. Use moss between the seams for greater contrast. The combination of these two materials is very inexpensive and looks very effective and stunning.
 Another great option for creating a fragrant path in your garden is to use plants, lemons or thyme in your mosaic. These plants grow slowly, require minimal maintenance, are edible, and give off a nice scent. If you need to make an interesting path through your yard, this is one of the best and cheapest ideas.
Old Materials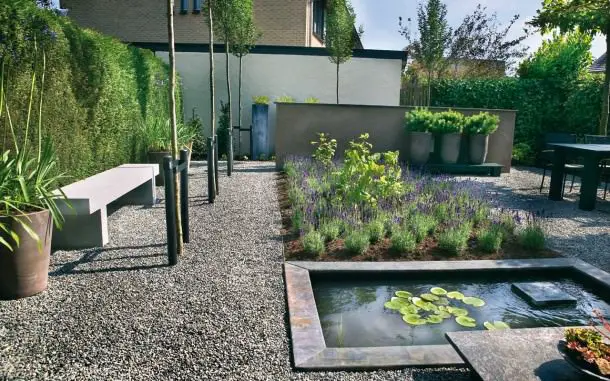 Gravel is easy to maintain, durable and relatively inexpensive. Use gravel in places where plants do not thrive, where you have a problem with soil drying, or in an area that needs an architectural, modern look. Corrugated steel, old objects, and old copper can be skillfully recycled into a unique feature in your yard. One of the easiest places to start is by adding unexpected materials to your fence or wall in the garden.
Using Those Tires
You have no reason to throw away old tires, on the contrary, make the most of them and make useful furniture for your garden. They can be made into tables, garden furniture, swings, armchairs, garden decorations, etc.
If you drill an old tire with a drill and cover the hole with some rope, you will get this simple armchair that will fit perfectly in any garden. Or maybe make your backyard look creative and different by painting old tires into different colors, stack them on top of each other, and make interesting garden pots to plant a variety of flowers. Old tires are ideal for swings of all sizes and shapes. All you need for a swing is an old tire, a strong tree, and a chain to tie the tire to. After that, the fun can begin.
Decorating for our children
If you have children, you could make the yard entertaining for them as well. Enjoying the backyard with the little ones is a real pleasure and that is why we love our days off. Sunny days filled with playing with kids make us return to childhood and relive a bunch of fond memories we have from that period. A beautiful yard is something the whole family can enjoy. Make a kid corner in your yard by putting some of the following items in it:
You can't have a kids' corner without a slide. Certainly, kids love slides and look forward to them so choose the perfect slide for your perfect yard. Swings are another must. The swing is the centerpiece of every good park. So why not bring that joy to your kids in their backyard. You will always be able to enjoy coffee in your yard while they enjoy the swing. Another great and fun option is the trampoline. Who doesn't adore it? Just imagine that joy and a childish smile as they cheerfully jump on one of the trampolines you have chosen just for them. 
Conclusion
 An ideal garden is the one that makes you feel joyful and relaxed when you walk into it. There are many things that you can put into it to make it more beautiful, but you also shouldn't overdo it. There are a few things you should always keep in mind. 
Plants and flowers make each yard more beautiful, but there is a fine line between a rich garden and the mess of petals and leaves. Give each plant plenty of space to grow freely without having to struggle for water and sun. Also, do not neglect lighting. Several smaller lamps will provide nicer and more comfortable lighting for the garden, which will make it look more elegant, and guests will find it easier to follow the path around it
Get rid of weeds. Of course, it is not possible to remove every wild plant as soon as it appears, but there is no excuse for a yard overgrown with weeds. Spend some time every week removing weeds and the yard will look tidy all year long.