Outdoor solar lights are becoming more and more popular with gardeners and decorators. They are indeed very decorative objects and thanks to their solar panel do not need any more connection as in the past. The first models, which appeared on the market 5 or 6 years ago, were not very aesthetic. Things have changed a lot. What to think about these solar lamps and especially how to choose them? Review of details.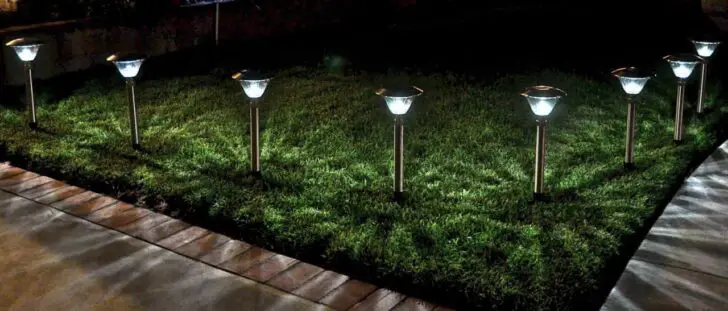 Outdoor solar lights, spring trend?
With outdoor lights, especially solar garden lights, you can light your entire garden or create more intimate atmospheres.
What is a solar garden light used for?
A solar garden lamp allows you to illuminate your garden or the outside of the house in an ecological, economic and aesthetic way. An outdoor solar light is equipped with a small solar panel and a small battery to restore light at night by LEDs.
There is a wide variety of outdoor solar lighting for gardens: solar beacons, solar bollards, solar garden lights, solar outdoor lights, solar pool lights, recessed solar spots, and pucks.
Outdoor solar lights: really practical!
Clearly, solar lights have many advantages. If you want to light an alley or a terrace, they could well become your best ally because they are extremely simple to install: you do not have any wire from your network since they are completely autonomous. The solar garden lights switch on automatically without your intervention.
Solar garden lamps work in all regions… on the sole condition that they have been exposed to light during the day.
Tip: going camping? Instead of burning gas lamps, disposable battery lights or making a fire, which is not always possible to enjoy the wake, use outdoor solar lights. Easy and light to transport, they bring you an intimate light without polluting, nor noise.
How to use an outdoor solar light?
How a solar light works
During the day, the sunlight is captured by the photovoltaic sensors integrated into the solar lamp. This energy is stored during the day and released at night to illuminate the LEDs of the solar light, just choose places that are clearly visible and exposed to the sun, and therefore ensure that the solar collector is not in a shaded area.
A pleasant garden is created by well-balanced lighting effects. Solar beacons, bollards, wall lights, and spotlights will allow you to decorate your night garden with solar energy with a wide variety of effects.
This type of solar garden light model, called, a beacon is perfect for lighting driveways or flower beds. It is often sold in packs of six lamps.
Choose a good location for your outdoor solar lights
Even if photovoltaics reacts to light, it is a mistake to think that daylight is sufficient, it is direct solar radiation that will optimally recharge your solar lamps, radiation perpendicular to the solar panel. This is one of the reasons why solar lamps have less autonomy in winter, there is less sun, the sun's rays are lower and the solar panel should be tilted to about 60° to capture the maximum radiation.
It is necessary to avoid any zone of shade even partial, because the photovoltaic cells in the shade become current consumers, therefore will produce less energy to recharge the batteries of your solar lamp.
Clean the solar panel regularly with a damp sponge, especially not abrasive, and water, to maintain transparency and performance.
Decorate and structure your garden with outdoor solar lights
If you plant several solar lights in clearly visible rows, you create lines of light in your garden that dress it after dark. You can take advantage of their automatic switching on and let these light markers appear when the daylight goes down.
Waterproof, the solar beacon works even under cloudy weather thanks to its amorphous silicon technology.
The surface protecting the solar panel benefits from an "anti-UV" treatment that extends the life of the beacon
Be aware that there are also solar lights in the form of animals, perfect to decorate bushes, flower beds, or any other outdoor place.
How a solar light saves energy?
By installing solar lamps, the lighting in your garden consumes no electricity from the grid; you save as much on your energy bill.
Installing an outdoor solar light in a garden: such an ecological gesture…
By using less energy, you also reduce greenhouse gas emissions, for the respect of our environment.
Outdoor solar lights: really ecological?
It is very advantageous to replace your conventional lamps with outdoor solar lights. But be careful!
Many testimonies show us that we must choose a quality lamp. Most entry-level solar garden lamps sold cheap become ineffective after 2 or 3 years of use. With such a lifetime, the ecological balance becomes negative.
Another nuisance to be taken into account is the light pollution that solar lamps can cause if they are constantly on despite the fact that each one illuminates only a limited perimeter. Therefore, models with sensors should be selected that automatically turn them off or on depending on the presence of a person.
How to choose an outdoor solar light?
For your solar light to be effective, you will need to pay attention to :
it illuminates sufficiently with sufficient power (12 W or more),
that it has sufficient autonomy: for example, from 11 am to 8 pm in summer and 2h30 in winter after a day of charging
that it has LEDs
it resists water (stainless steel), especially if it is outside and not under a greenhouse for example
it has a solar panel with anti-UV treatment which prolongs its lifespan
it has a presence detector and turns off when no one is present (anti-light pollution)
that she has batteries that can be changed.
There is a wide variety of solar lights on the market, and it is sometimes difficult to compare their performance and quality: this information is not always given, and photos hardly give the actual picture of solar lighting power.
Check the technical characteristics of the products:
Materials
Number and power Led
Solar lighting power in lumens
Battery capacity and type
Solar panel size
Reloading capacity and Autonomy (always lower in winter)
Operating mode, electronic regulation.
External use certification
Because very often a batch of several of cheap outdoor solar lights illuminates less than only one powerful solar lamp, with a short lifespan. (oxidation of components).
The Luminous intensity of the outdoor solar lights can be indicated to you in Watts Led, the number of Led or Lumens. The most reliable value is the Lumens because the Watts do not reveal the real luminous power, it is the consumption, and the lumens vary according to the quality of the LEDs, ( lumens per watt) the lighting varies according to the angle of diffusion, the diffuser, and the power supply. Based on the lumens if they are indicated, the LEDs of the solar lamps, if their power is not indicated, is mainly 0.06 W per led, equivalent for a led to about 0.6 W incandescent.
Here are the incandescent watt equivalents – source lumens 2010
100 W = 1300-1530 lumens
75 W = 920-1060 lumens
60 W = 700-810 lumens
40 W = 410-470 lumens
25 W = 220-250 lumens
15 W =125-136 Lumens
What to do with an outdoor solar light at the end of its life?
The question arises in particular for the first generation of garden lamps which reach the end of their life and which must be recycled. These lamps are part of the objects that are considered WEEE, electronic waste, that should not be thrown away with the normal garbage can.
Outdoor solar lights, watch out for batteries
Pay attention to the batteries of solar garden lamps as they may contain polluting metals. Bad point, on some lamp models, it is impossible to change them. The operating time and the life of your lamp are then necessarily limited, most often to 500/1000 cycles charge-discharge. So avoid it if possible.
Best outdoor solar lights
Landscape solar lighting: URPOWER 2-in-1 Waterproof 4 LED Solar Spotlight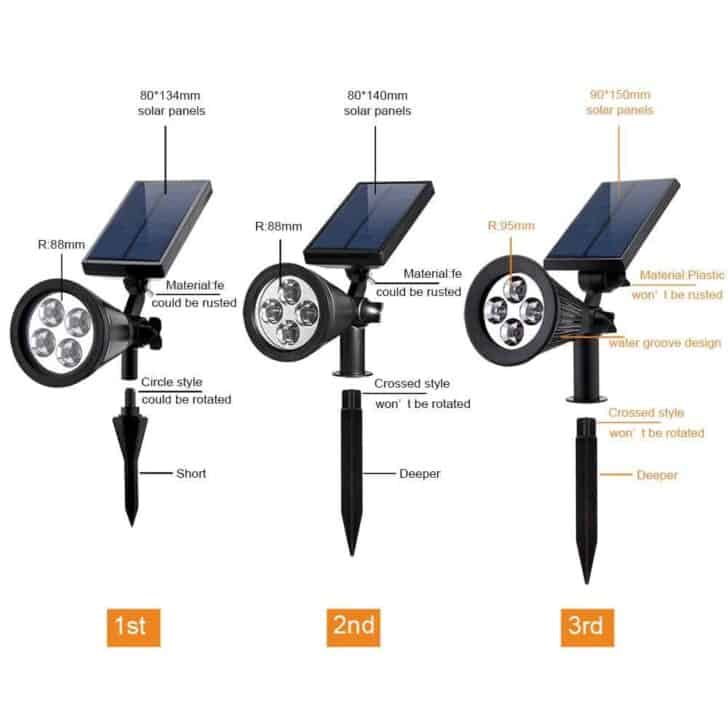 URPOWER 3rd Generation solar outdoor spotlights, rechargeable and adjustable solar wall lights / In-Ground Lights, easy to install with no tools. Waterproof and Durable, withstand all kinds of weather all around the year.
Solar path lights: Solar Powered Pathway Light (16 pack)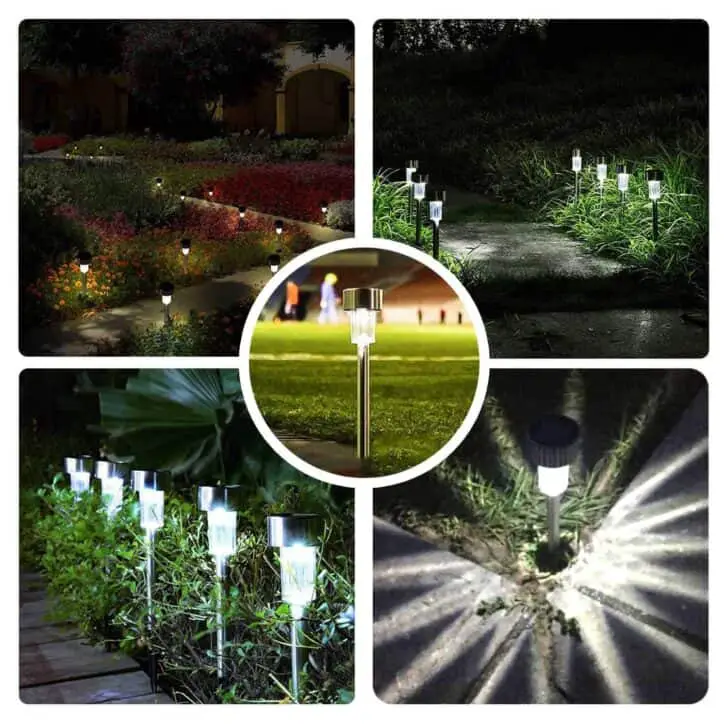 The Solar Pathway Lights Bright clear light shines forth from each LED light. Perfect for any path. you can place them on the walkway, patio, garden, driveway, lawn, yard landscape or any other outdoor spot to light up the night.
Sale
Flood and security outdoor solar lights: Litom Solar Lights Outdoor, Wireless 24 LED Motion Sensor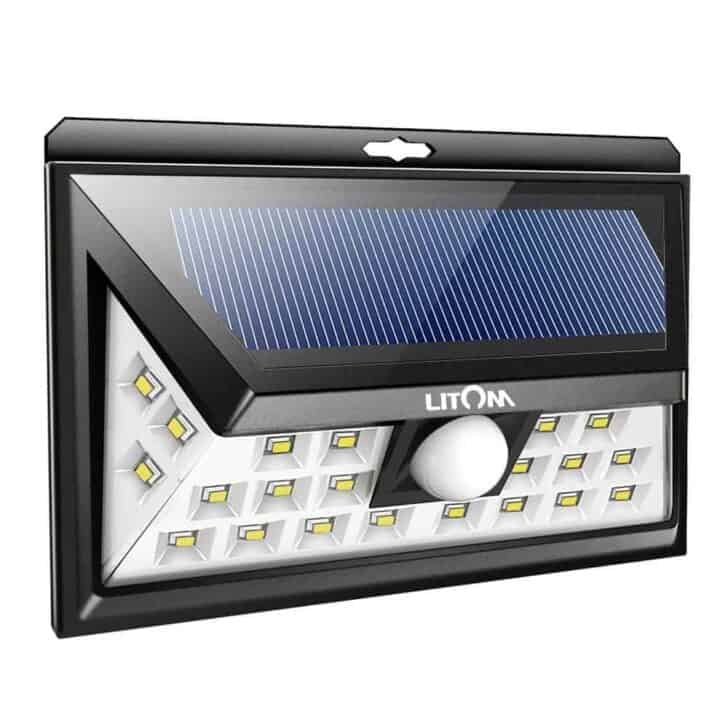 Compare with other single-mode solar lights, LITOM Outdoor Solar Lights Outdoor brings 3 working modes to cope with different usage scenarios. Perfect for use on a front door, backyard, garage, driveway, deck, patio, even an RV.
Solar string lights: AMIR Solar Powered String Lights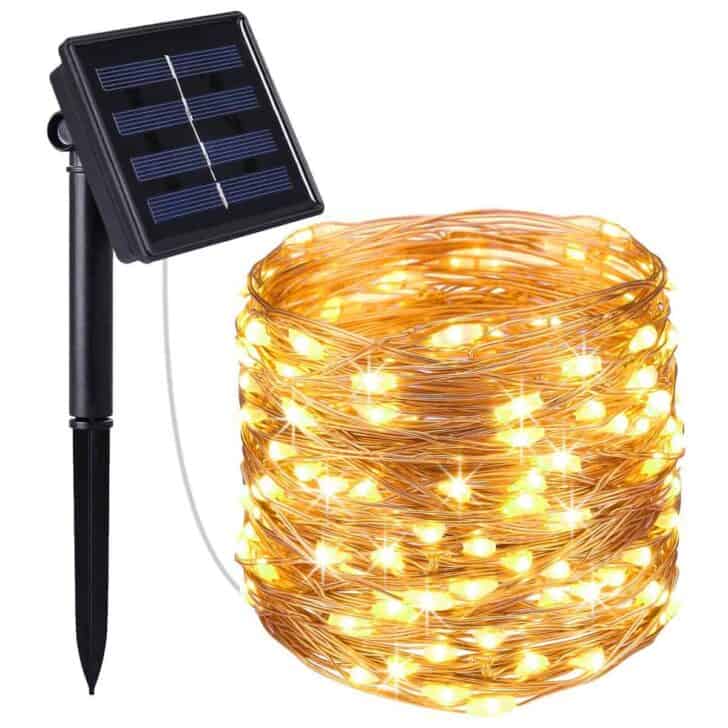 100 Super Bright LED bulbs on a 33ft high-quality copper wire, with steady 360-degree viewing angle they illuminate in every direction. Ideal for decorating your gardens, patio, gate, yard, wedding, party etc.
Solar post lights: 65″ Street Vintage Outdoor Garden LEDs Bulb Solar Lamp Post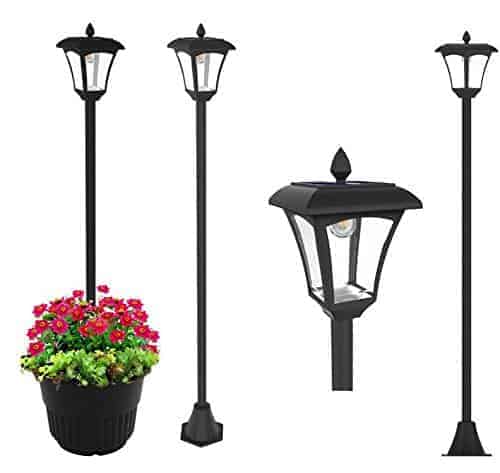 Figurine lights: Solarmart Solar Powered Lights with 8 Lily Flower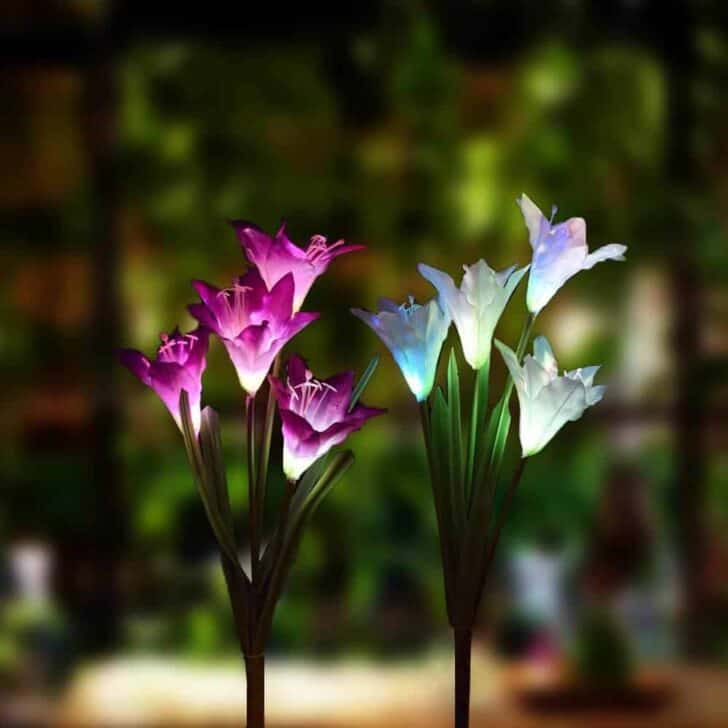 Beautiful artificial flower garden stake lights(Include purple and white lily lights). The flowers petal is exquisitely designed to imitate real lily flower, The material of the flowered are fabric. If you want to make your garden colorful, these unique solar lights will bring you the solar garden light decoration solution.
Outdoor Solar Garden Stake Lights - 2 Pack Solarmart Solar Powered Lights with 8 Lily Flower,...
LILY FLOWER SOLAR LIGHT. 2 Pack beautiful artificial flower garden stake lights(Include purple and white lily lights). The flowers petal is exquisitely designed to imitate real lily flower, The...
COLOR CHANGING LIGHT. Lily shaped stake light with 7 color-changing. Perfect as path lights and in-ground lights Suitable for the Garden, Trees, Flowers, Flowerbed, Fence, Walkway, this solar garden...
Solar wall lights: BAXIA TECHNOLOGY outdoor Solar Lights Outdoor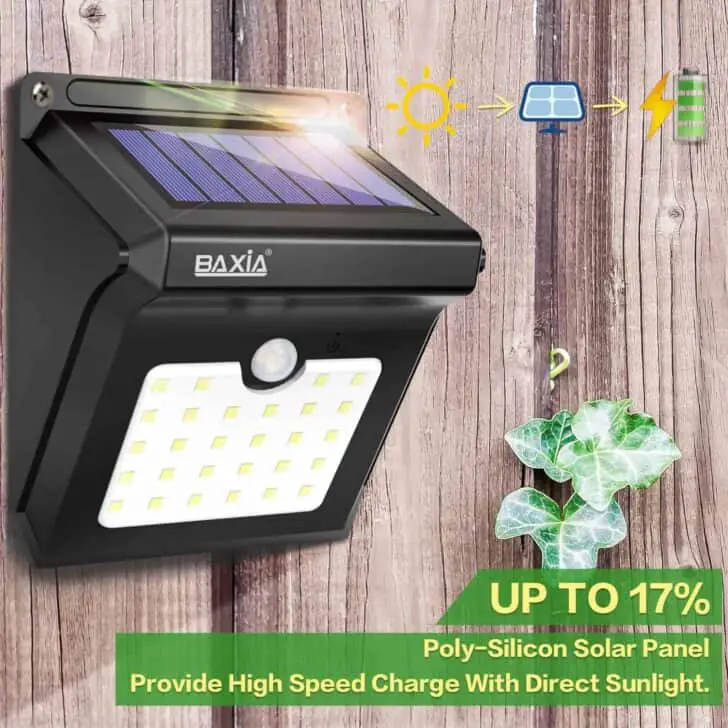 There are 28 powerful LEDs and the motion angle is 120º which can provide excellent illumination and turn the dark space into a brightly lighted space. With a lampshade covering the led, well designed to longer its performance life.
Sale
BAXIA TECHNOLOGY BX-SL-101 Solar Lights Outdoor 28 LED Wireless Waterproof Security Solar Motion...
[PIR Motion Lights and No Dim Mode]- Designed with No dim mode to increase product life span. When motion is detected within 3-5m, the motion sensor lights will turn on automatically in darkness or at...
[28 LED Ultra-Bright Solar Powered Lights]-There are 28 powerful LEDs and the motion angle is 120 degrees which can provide excellent illumination and turn the dark space into a bright lighted space....
Porch and patio outdoor solar lights: Solar Powered Security Light, Wireless Waterproof Motion Sensor Solar Light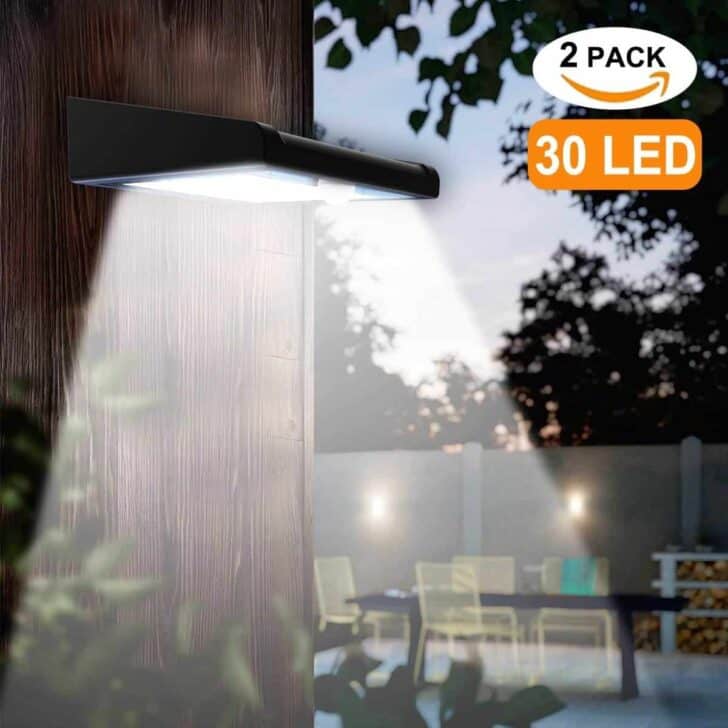 Days growing shorter, but you will never have to fumble for keys when you get home if you have this 2 pack solar lights. With 15 LEDs on both side, 30 LEDs can provide plenty of light no matter the time, compared to eight you'd find in most competitors, and picks up motion from 15 feet away. For 30 LED lights in the market, this pack is the most cost-effective one.
2 Pack 30 LED Solar Lights Outdoor, Avaspot【Upgraded Version】Solar Powered Security Light,...
☀[EXCLUSIVE 30 LED DESIGN] -- Days growing shorter, but you will never have to fumble for keys when you get home if you have this 2 pack solar lights. With 15 LEDs on both side, 30 LEDs can provide...
☀[ALWAYS MAKE YOUR HOME FEEL SAFER] -- The light feature motion sensors with 120-degree sensing angle and a longer sensing range of 10-26 feet, always ensures you'll never be left in the dark....
Solar step lights: Outdoor Solar Lights for steps decks pathway yard stairs fences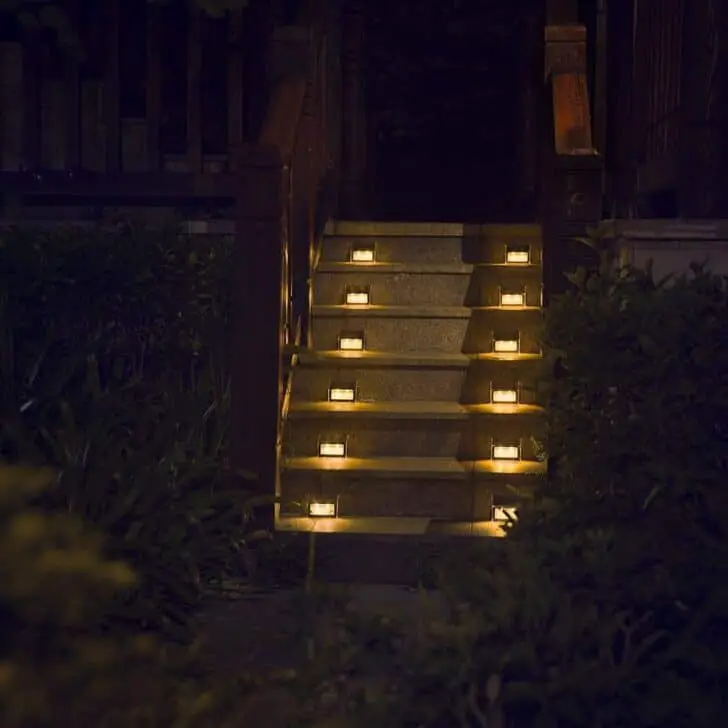 Mounted vertically or flatly on stairs, paths, walls, and fence posts. Perfect for areas where electrical supply is unavailable or dark spaces.
Solar torches: TomCare Solar Lights Upgraded, Waterproof Flickering Flames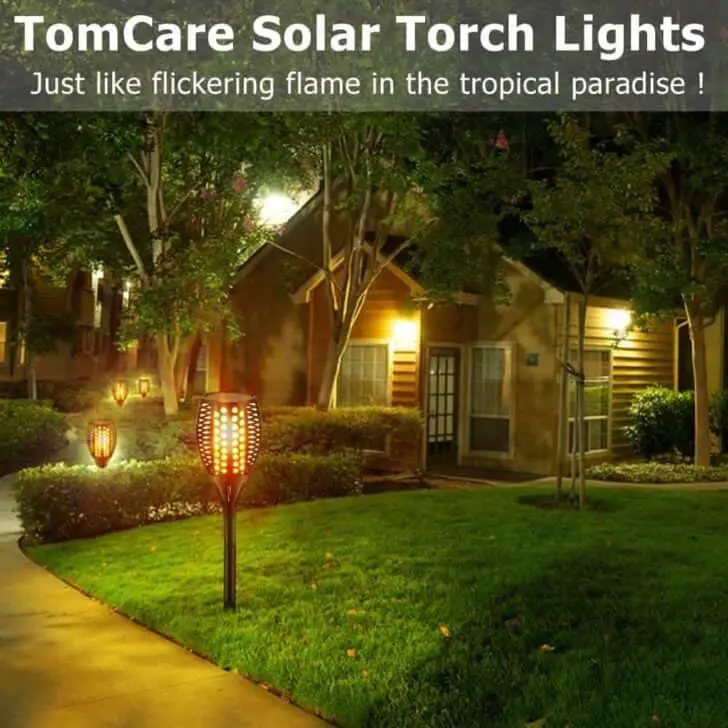 A safe alternative to the real "flames" — LEDs in the light cast a safe, soft, mood-enhancing glow. Please note the actual height of the item is 43 inches.
Decorative solar lights: Suaoki Solar Projector Lights Red/Green Star Lights Laser Light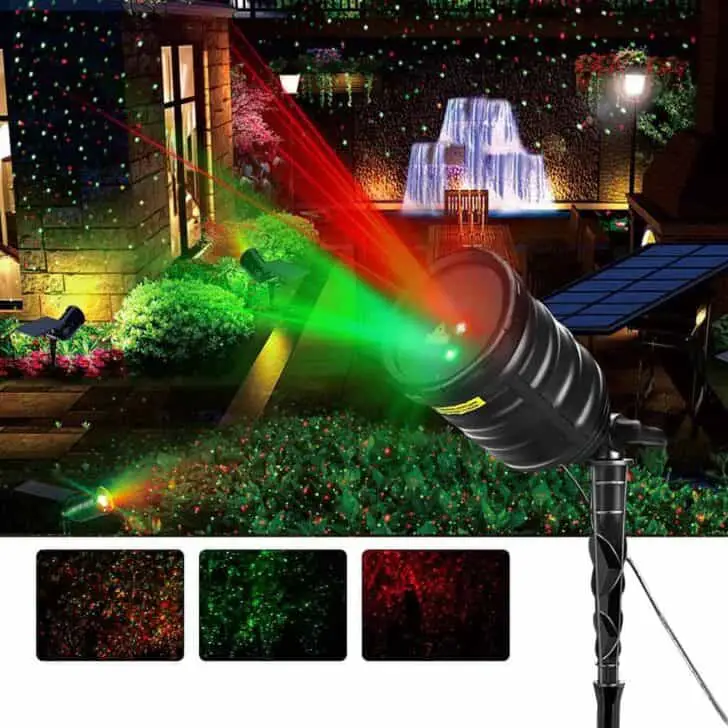 Updated on 2023-11-27 - Images from Amazon API. Logos are trademarks of Amazon.com, Inc. or its affiliates. 1001Gardens is a participant in the Amazon Services LLC Associates Program, an affiliate advertising program designed to provide a means for sites to earn advertising fees by advertising and linking to Amazon.com.