Whether you have low maintenance gravel, high maintenance and perfectly coiffured formal garden, or an area that combines outdoor dining with a play area for the kids, having the right storage is important. Efficient storage enables you to keep your garden looking tidy, can prevent you from having to store dirty garden tools in the house, and it also makes it easier to find the tools and equipment you need for more efficient gardening.
Thankfully, there are a lot of garden storage options available. If you have an existing garage, you may be able to install new shelving and new storage units to help keep everything tidy and in order. A shed can be constructed to keep the mower and gardening tools, and you can incorporate intelligent storage options into your garden seating.
For items like recycling bins and even the barbecue, you can buy specialist storage items that are designed to hold these items and their accessories. What's more, all of these options come in a variety of materials and designs, which means that your storage does not have to look out of place in your garden. You can even recycle items like pallets, reuse old bricks, and create your own storage for your garden, saving you money and giving you the satisfaction of having built it yourself.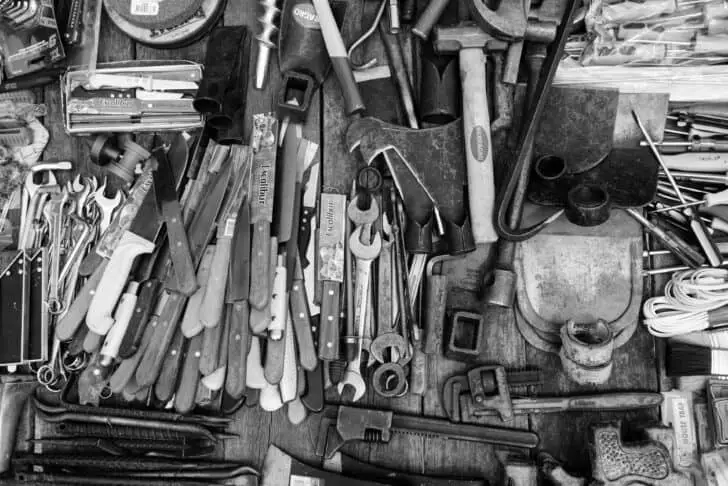 Readymade or DIY
Whether you are looking at a cold frame for young plants, or a summer house that combines storage with comfortable seating, you can buy ready-made items. These tend to come in several parts and, depending on the type and size of the item that you buy, may require several hours to put together. Buying ready-made means that you know exactly what your new shed will look when it's finished, and you can choose from a wide variety of shapes, sizes, and dimensions. However, this is usually the more expensive option, and no matter how broad the range of sheds and outbuildings that are available, there is still some limitation to what you can construct.
Building your own shed means that you can fill that awkward gap between the fence and the end of the house without leaving an even more awkward gap. It means that you can create the L shaped design that you want in order to have separate storage for bicycles and for your garden tools. It also means that, when you've finished, you will be able to look back at the hard work you've done and enjoyed the sense of satisfaction that only comes from a successful DIY task like building these sheds out of old boats!
You will need raw materials, but these are easy to come by – timber yards are found in most towns and cities, as well as in rural areas, and you want something more rustic, you may even be able to buy recycled wood. Most timber yards can work to your specification, so take your plans with you and speak to somebody at your local shop. They may even be able to point out any beneficial changes to your plan. Pallets, for example, are ideal because the wood has been cut and has often been treated so that it will last for 10 years or more even once the construction is complete. If you want a more permanent, or more robust, build, you can use bricks from the broken garden wall and supplement these with reclaimed bricks that match or complement those.
You will also need the appropriate tools, although you are likely to have at least some of these lying around ready for use and, once you've finished, you'll have created the perfect area to store your new power tools – you could even create a workshop area inside your new outbuilding, making it easier when you come to build your next DIY project.
What type of garden storage is best?
The type of garden storage you choose should ultimately be determined by what, and how much, you need to store. If you're planning on keeping your gardening tools and appliances in a new shed,  consider everything you currently use. The mower is likely to need the most space, and even if it has handles to hang the mower up, remember that you will need room for it to hang and room to maneuver it in and out of the shed.
Think about the items that you can hang up, remember that you will need regular, weekly access to some items but may only need the occasional use of some specialist equipment. Also remember that many of us end up using part of the shed as a means of storing some items that we never really access; items that you don't use, but can't throw away. For example, the antique bike your uncle left for you in his will, or your daughter's bed that you're storing "just for a few months". These all need a home until you can justify getting rid of them.
Some items will need to be stored free from damp. Motorbikes and bicycles benefit from a damp free environment and, while you can buy covers and other forms of protection, you might as well create an environment in which you can store them without having to remember to put a tarpaulin over them every time you put them back. Other items might not need the same level of protection, but if you only have a single shed or a single storage area, and it will include anything that is potentially corrosive or damaged by water, you will need to ensure a watertight finish.
If you have the room, it is better to build a bigger shed than you require. Our storage needs tend to increase over time, rather than decrease. This is especially true if we have a family, even if they leave home. By allowing a few extra feet in your new shed, it means that you won't have to have a clear out every time you want to store something for 6 months or a year.
Also remember that sheds have vertical storage options, as well as horizontal. Floor space is important, but, while you shouldn't build a shed that is too tall and certainly doesn't block light going into your own or your neighbor's property, you can add hooks to hang items, rails to keep ladders above head level, and utilize more of the overhead space that you have available in your new construction.
Build a shed
The shed is the staple garden storage option. It is usually rectangular or square in shape, tall enough to walk inside, and can be used to store almost any item. The roof and the inside of the walls can be protected to prevent rain from getting in, although sheds do tend to be cold and a little damp during the winter months. Sizes vary, and so too do the materials that a shed is made from.
Wooden sheds have a traditional and natural look that is in perfect keeping with the garden. If you want a different look, they can also be painted to match your planting or the exterior design of your property. Even window boxes and other ornaments can be added to further enhance the appearance of your shed. Wood is also a strong material. However, despite its attractive looks and strength, wood is not without its drawbacks. Real wood can be expensive, and it will need regular treatment to help ensure that it continues to look its best. It can also be difficult to clean inside, and it will attract insects like spiders.
Metal sheds are usually made from either steel or galvanized aluminum. They usually come in a kit form and are reasonably easy to build, while also being the least expensive material when compared to wood and resin. The look of a metal shed tens to border on clinical, rather than attractive or natural, but this can be countered by ensuring that you place it in a cozy corner of the garden, or blend the metal in with big plants and shrubs around the base of the walls. Metal sheds will not usually include a floor, either, so you need to have a solid or flat base to help ensure that the shed retains its use.
A final option for shed material is resin or plastic shed. There are different grades of plastic that can be used in the construction, and if you are looking for one that will last for a lot of years, then a polyethylene based shed is the best choice. These sheds are light but durable and strong. They may also use metal wall supports and other metal features to help retain the strength of the construction.
The kits also come in a wide variety of shapes, sizes, dimensions, and even colors, and plastic sheds do not need repainting or regular treatment to help retain their high-quality features. However, wood has a natural finish that blends into the garden design perfectly, and metal can be used to combine with certain garden designs, but you do need to ensure that you choose the most appropriate plastic finish to get the best looking results for your garden.
You can check our article on the best outdoor storage sheds!
Storage benches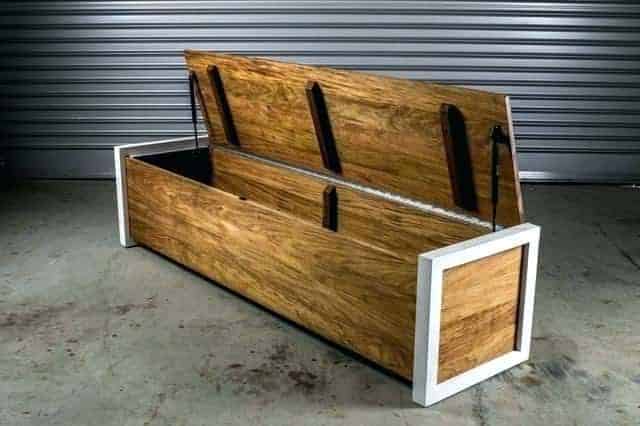 As well as needing storage, every garden requires seating. The garden can offer a tranquil setting to sit and enjoy a cup of tea and a bite to eat. It can be used to entertain friends and family, and in all these cases, you want to offer some form of seating to those that will be spending time in the garden. Benches are a convenient and attractive option. They allow two or three people to sit comfortably, without taking up too much space. They are commonly made from wood, which is a great material to include in any garden, and you can even make your own using materials like recycled pallets and reclaimed bricks.
You can make or buy benches that sit perfectly around the base of a tree, as well as those that are designed to fit against the rear wall of a property. There are also a host of other design options, but if you struggle for space in your garden, and you want additional storage without the need to have to build a second or subsequent shed, then a storage bench is extremely functional.
With a storage bench, the base of the seat lifts up so that you can store items inside. The amount of storage space depends on the size of the bench itself but will usually provide adequate space for items like cushions and covers, and you may even be able to fit a selection of your most widely used gardening tools in. Another great use for this type of storage is to hide the kids' toys away during winter, or while they're not in use.
Bestseller No. 1
Bestseller No. 2
Bestseller No. 3
Bin stores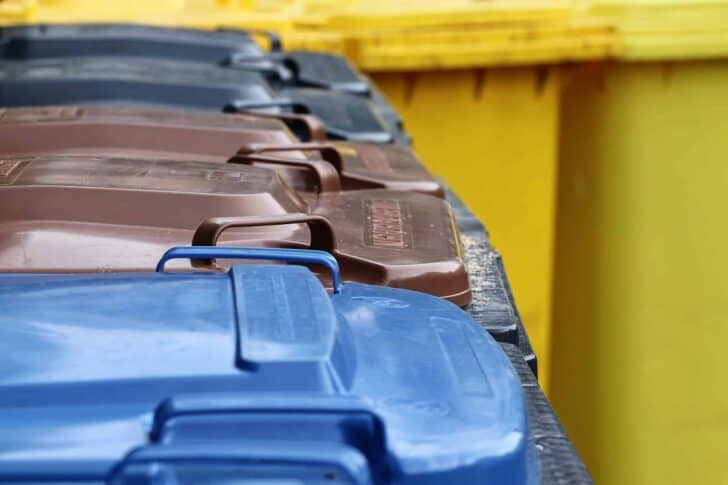 There are some items that belong in the garden, but that we don't want to have to look at. Compost bins are often made so that they blend in with the garden, but what about the waste bins and recycling bins? Councils make these so that they fit easily onto the back of the recycling lorries, and colors are determined by what goes inside rather than where they will be placed. Ultimately, this means that you are left having to find a home for orange, brown, blue, and grey bins – none of which are likely to be proudly displayed in an ideal garden design.
Bin stores are a great way to hide your waste bins, while still keeping them somewhere convenient, and there are a number of ways that you can create this convenient storage area. You can build a small fence up to the side of your property or garage. The bins are simply kept behind this area so that they are easy to retrieve but can be kept out of the way when not in use. You can even put a lid or roof on the bin store, and by allowing more space than the bins take up, you can use some of this area to store additional items like tools, lawnmowers, and other gardening essentials.
A bin store needs a flat surface, to ensure that the bins are kept straight and don't fall. You can use paving slabs if you don't have a concrete area, and you don't need to fully cement or bed these in. Add a gate and you can completely cover the area off to prevent people from having to look at your essential bin.
Coal and wood storage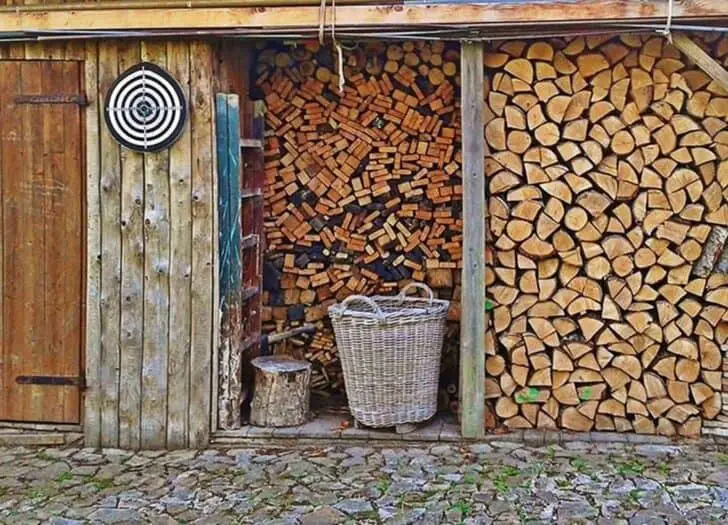 If you have an open fire in the house, then you likely have a store of wood or coal outside the house. Not everybody has the luxury of built-in coal shed, and even if you do, it is likely that this has been used for the storage of bicycles and other items. You can buy plastic coal bins, or even use an old recycling bin, but if you want a dedicated area for your coal or wood, it isn't too difficult to arrange. These can be made from wood, but they should be lined to prevent rain from moistening and dampening the fire source.
Create a small wood storage container and include a door that is easy to operate. Include a lid, preferably hinged, which will make it easier for you to open the storage and to shovel more coal in. Line the inside of the storage bin using weed liner or pond liner, and you will have an attractive and convenient place to keep your wood safe and secure.
Having somewhere to store your coal or firewood is not only convenient and simple, but it also allows you to take delivery of larger orders of these materials. Without a proper storage area, you are left having to buy small bags of coal or small piles of wood, but once you have created a store, you can buy in bulk, which is cost effective and saves you the effort of having to keep going back for more.
Carports and bike storage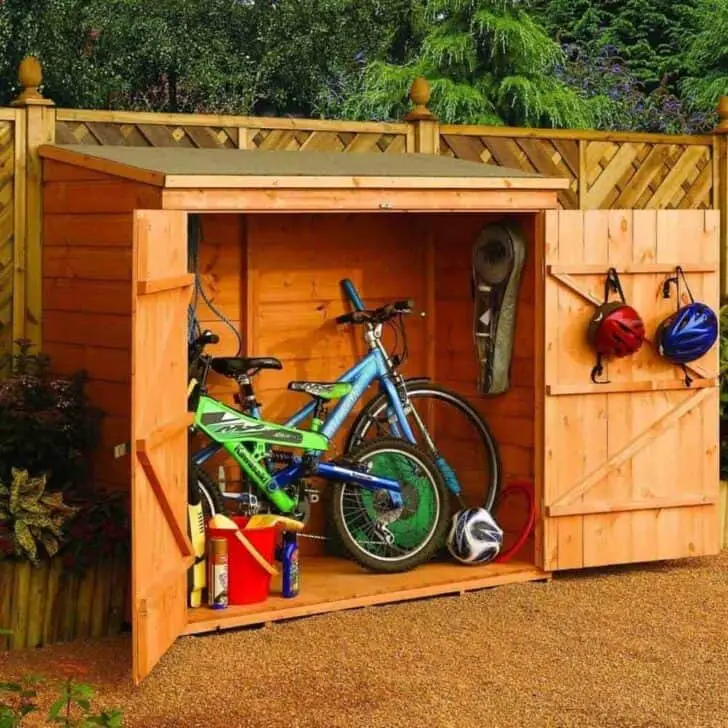 Carports are one of the largest storage options for your garden and property. They should be properly built and usually attach to the side of the house so that they are strong, durable, and fully waterproof. It is possible to build your own, and you can use reclaimed bricks to help retain the same look like the rest of the property.
If you need storage for a motorbike, you can essentially use a shed type construction. This should be waterproof and it should be big enough to adequately house the motorbike itself, as well as any accessories and other items that you need to store with it. If you have the room, you can build a bike shed that is big enough to house the motorbike, tools, and any equipment, as well as push bikes, scooters, and other similar items.
When building a bike store, consider that it needs to be waterproof to fully protect your investment, and it should be secure to prevent would-be thieves from getting their hands on it. A metal shed may be your best option unless you can get your bike around the back of the property safely and conveniently, in which case a large wooden shed with double doors might be adequately sized, but do make sure to measure the size of the doors to prevent too much struggle.
Bestseller No. 1
Sale
Bestseller No. 2
Bestseller No. 3
Garden Storage For Your Property
Garden storage is meant to provide a convenient place to store items ranging from tools to motorbikes, toys to cushions. It can take many forms and be made from a host of materials. You can even recycle items like pallets and barrels, bricks and paving stones. Not only does recycling these items save you money, but it also gives you the rustic and natural charm that a garden demands. Be creative, consider designing and building your own construction, and don't be afraid to have a go at construction your own storage buildings.