The garage, initially designed to park your vehicle and/or store furniture, can be used as a workshop, playroom or kitchen annex. In this case, heating a garage is necessary and it is necessary to think about the best way to reach the ideal temperature at a minimum cost.
Because many people give up working there as soon as the first cold weather arrives, especially since oxidation, condensation, and humidity are, even more than in the rest of the house, complicated scourges to fight.
How to heat your garage? Which heating should I choose? And how to insulate your garage for efficient heating without ruining yourself? So many questions to which we provide you with the answers.
A supplementary heating system in addition to the central heating system
Unlike a central heating system whose mission is to heat the entire house, auxiliary heating is an ideally autonomous, mobile and independent device.
It can be used as a complement to a generator or as a customised heating method: its use is intended to be local and generally limited to a single room (garage, cellar, garden, swimming pool, workshop…).
While the convector heats quickly but diffuses heat that gives a sensation of dry air, the auxiliary heater does not dry out the ambient air. Cheaper than the installation of a chimney, it provides a comfort close to perfection.
Heating a Garage: purpose and type of heating
The purpose of heating a garage is to break the cold during the winter season, or to maintain a chosen and acceptable temperature in case of prolonged use.
With regard to the frequency of use of the garage, it is therefore advisable to favour a heating system that allows a rapid rise in temperature or that maintains a specific threshold.
The power of a heater is expressed in Watt or Kilowatt (1 kW = 1000 W). To know the required power, it is necessary to establish a proportionality ratio of 100 W per 1 m² (for a room, including garage, with good insulation).
Choose a garage heater adapted to the use you have of the room
For heating a garage efficiently and appropriately, it is important to define the use you have of the room. If you only tinker with it very rarely, prefer an economical and punctual solution such as the electric radiator. Although it is less efficient, this equipment is more affordable to buy. However, use a portable radiator if you plan to use it in different places.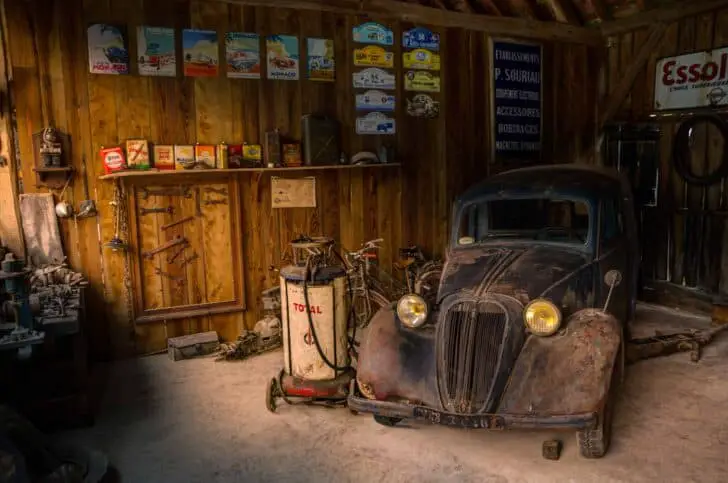 Do you use your garage very regularly? In this case, opt for a more efficient auxiliary garage heater. More expensive to buy, the hot air generator will, however, prove to be more efficient and economical in the long term. You also have the option of installing a wood stove in your garage.
Requiring a minimum of presence, this solution is only recommended if you are in your garage on a daily basis. Before you buy a garage heater, take the time to think about how you use it. A room used only to store equipment will not have the same needs as a DIY workshop. You should also know that it is possible to insulate your garage in order to save energy.
Heating a garage ideas
The various heaters have characteristics specific to their type of heating and heat diffusion:
Heating a garage with electric
Electric convectors dry the air and are reserved for the most insulated garages (convectors heat the cold air by a convection phenomenon).
Heating a garage with an electric or oil-bath heater is the most popular solution. This device offers the advantage of very fast temperature rise. A 2,000 W model generally allows a room temperature of 20°C to be reached in just two hours of use. In addition, this equipment is relatively affordable to buy (count about $50 for a first price model). However, it may be energy consuming.
Radiant heaters heat with infrared rays and distribute heat in a non-homogeneous way (the closer you are to the radiator, the hotter it gets).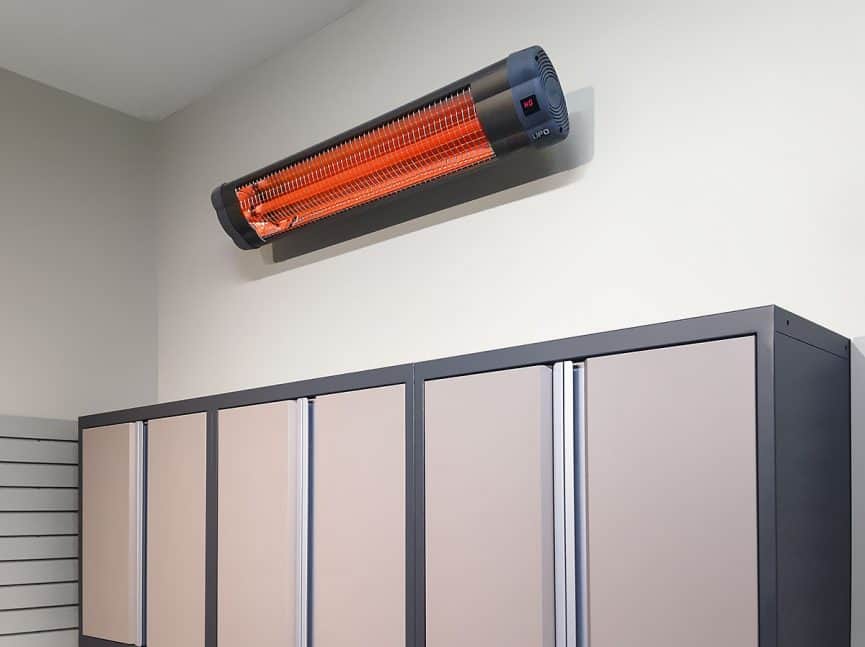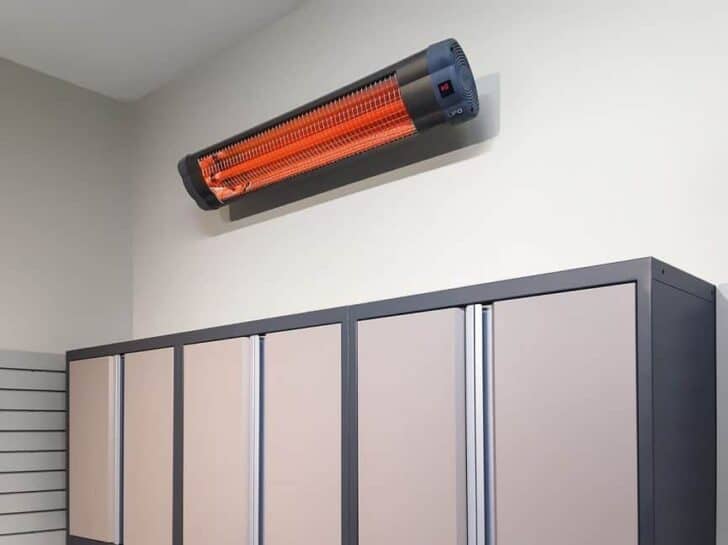 A style of radiant or infrared garage heating directs heat to nearby objects. They work in the same way as the sun, so they provide more comfortable heat than forced ventilation heaters.
Sale
The problem with these heaters though, is that you have to be close enough to them to enjoy the benefits, they are not as popular as forced ventilation garage heaters.
Inertial heaters, and in the case of auxiliary heating oil bath heaters, are economical and allow a rapid rise in temperature.
Operating on electricity, the oil bath heater shines through its simplicity and offers the advantage of quickly increasing the temperature. Such a radiator from 1500 to 2000 Watts is ideal for a garage (but also for all kinds of shelters), whether it is large, poorly insulated or surrounded by exposed breeze block walls.
With a thermostat preset at 10°C at all times, you can even avoid unpleasant surprises (antifreeze position). It should be noted that there are also hybrid appliances (between convector and oil bath).
Heating a garage with oil stoves
Oil stoves quickly heat the room where they are installed.
To heat a large garage, it is preferable to opt for a stove. Prefer a model that runs on gas or wood, rather than oil or petroleum stoves, so as not to be disturbed by fumes and bad combustion odours. There are even mobile models that will allow you to carry your stove with you anywhere. On the budget side, count at least 200€ for the purchase.
The stove benefits from good performance, excellent reliability and is more economical. It is, therefore, more suitable for large rooms where it is necessary to heat strongly (especially since stoves are generally larger and unsightly). On the other hand, there will be certain nuisances (odors, gas emissions in a poorly ventilated enclosed space, the need for a security perimeter, non-renewable energy).
Of course, wood stoves are an exception since they are 100% ecological. Otherwise, we will appreciate gas stoves, which are particularly mobile and deliver a soft heat reminiscent of a wood fire in a fireplace.
Heating a garage with blowers
Models with blower (electronic stove) are more efficient and economical.
Initially used for industrial purposes, this type of heating has existed for a long time but has only recently become more popular in the domestic market. Efficient, space-saving, easy to move (they are equipped with handles or mounted on wheels) and easy to maintain, these hot air generators are a real alternative.
Manufacturers have realized the full potential of this type of heating, and now offer product ranges adapted to the needs of private individuals. Depending on the size of the room to be heated, the generators operate either on diesel fuel for the most powerful (suitable for warehouses) or on butane gas or electricity for auxiliary heaters.
Sale
For greater ease of use, avoid models running on diesel or oil, which are more suitable for very large surfaces. For a small auxiliary heater, prefer a furnace using gas or electricity. In addition, they offer the advantage of being relatively powerful and easily transportable. Here again, you will have to spend at least 200€ to buy a hot air generator.
However, keep in mind that this device is to be used in a semi-open environment so as not to be disturbed by fumes and operating noise. But before choosing your auxiliary heating for the garage, it is essential to define precisely the use you have of the room.
Heating a garage cheaply
The price of an auxiliary heater is variable and closely related to its technology and power. Count about:
$30 an electric heater type entry level convector heater of 2 000 W;
$50 an oil bath heater 2 500 W ;
$90 a radiant heater of 1 000 W;
$100 a 2 200 W wick oil stove;
$160 a gas heater of 2 800 W;
$200 an electronic 3000 W oil stove.
Our advice to save on your heating garage system
In order to keep your garage warm and warm during the winter months, you will need to make sure it is well heated. Often, the first thing most people can think of when they consider heating a garage is simply buying a car heater.
While this will provide heat, there are other things you could do to help keep your garage warm.
Isolate – the first thing you need to do is to prevent any heat from escaping from the garage. Garages are not built to be warm, so adding insulation will ensure that there is no draught. Some people find that preventing heat from escaping from their garage is enough to keep their space warm enough to forego heating. Use a high-quality type of insulation on walls and ceilings.
Choose the right heater – when choosing the radiator for your garage, make sure it heats up efficiently. This means that you will need to measure the size of your garage and decide how quickly you want the garage to warm up. You should also keep in mind that some garage heaters require ventilation.
Installation – You should make all necessary installation plans for your furnace, including hiring a contractor if you need an installed wired electrical heater, for example.
Check windows and doors – remember to make sure your garage windows and doors are well insulated. The gaps around door and window frames can cause drafts and allow heat to escape to the outside. If there are holes, you must use putty or caulking to fill the gaps. This will keep more heat in and help reduce heating bills.
Updated on 2023-09-06 - Images from Amazon API. Logos are trademarks of Amazon.com, Inc. or its affiliates. 1001Gardens is a participant in the Amazon Services LLC Associates Program, an affiliate advertising program designed to provide a means for sites to earn advertising fees by advertising and linking to Amazon.com.