Electric pressure washers meet the vast majority of needs and are the preferred target of consumers. They have of lower flow and pressure than gasoline ones but the most powerful models bring an unequaled comfort of use.
They require little maintenance (filter cleaning and wintering) and are light and easy to handle. Their power is expressed in watts (W) and dimensioned to other characteristics such as pressure and flow. Included between 1100 W and 4000 W.
Choose an electric pressure washer according to its use
Depending on the use reserved for the high-pressure cleaner, power, pressure and flow rate are rightly dimensioned with reference to the most stubborn cleaning operations.
The accessories are also to be chosen according to the use but also according to the intensity and regularity of the cleaning work.
It should be noted that the use of a electric pressure washer can damage certain surfaces (terrace, car etc.) by removing the surface protection of the materials or by promoting the peeling of a paint or plaster.
The use of detergents should also be considered twice as they can be corrosive – especially after too little rinsing.
The pressure
Pressure is the force at which water is expelled, expressed in bars (B). The more pressure it exerts, the more it removes dirt.
The flow
The flow rate is the number of liters expelled in a given time. For a high-pressure cleaner, the flow rate is usually expressed in liters per hour (l/h). The higher the flow, the less time you spend in the same place and the faster you go!
The power
Power, expressed in Watts (W), is relative to flow and pressure. You will never find a 1200W – 600 l/h – 160 B high-pressure cleaner, it's like that, it's mechanical and hydraulic!
Tip: at an equal flow rate, the pressure increases or decreases according to the diameter of the flow pipe (i.e. the size of the outlet nozzle). Also, pressure losses are observed in the case of long drain pipes (between the lance and the cleaner).
Accessories and features
At the time of purchase, the models are more or less well equipped. And, of course, this is reflected in the price of the cleaner. It is always possible to complete your initial installation with accessories available in store (rotating brushes, hose extensions…). But be careful, these supplements are often expensive.
Morality? Depending on how you plan to use your cleaner, it may be better to buy a very complete one right from the start. Thus, the rotating brush is indispensable for effective cleaning. On the other hand, "special bodywork" brushes are not very interesting. Our comparative tests show that they are not very useful, the most effective method to wash your car being manual washing.
Conversely, the sandblasting kit can be a powerful ally for deep blasting metal grates, gates or painted walls. As for the self-feeding device, it will only be useful if you have a water supply (pond, cistern) from which you can draw the water used by the cleaner.
Choose a brand
Feel free to upgrade from your initial need if you plan to use your high-pressure cleaner regularly as several hours a week for 6 months. The first prices are not intended for such uses and result, the pump gives up the ghost, you embark on a service procedure and you regret your purchase…
To make sure you make the right choice, plan your cleaning today but also tomorrow. If in doubt, choose a more powerful model with more flow and pressure.
Like any tool, the quality of a high-pressure cleaner is relative to its price, which means that your purchase may or may not be durable. The after-sales service of a recognized brand is reassuring (standard exchange VS repair several months without loan model).
However, if you use your electric pressure washer only once a year and to clean your garden furniture or your vehicle, an entry-level model will do the trick and will last over time as long as you do not perform cleaning sessions too long and at full capacity.
Best electric pressure washer under $100
Greenworks GPW1501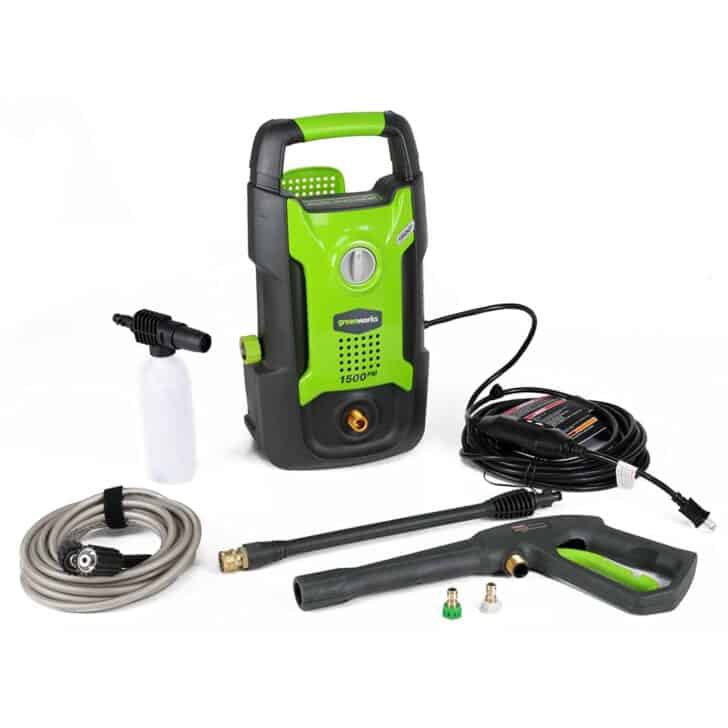 GreenWorks offer a range of systems to choose from in corded and cordless tools. Leading in innovation, the corded Lawn system offers a variety of tools to get all your yard work done quickly and efficiently. Whether you need something economical or with greater performance, the GreenWorks Corded Lawn Tools provide reliable options without the hassle of gas or the high cost of operation throughout the years. Get started within seconds and leave the gas hassle behind. Choose from trimmers, chainsaws, mowers, snow throwers, dethatchers, pressure washers.
Sale
Karcher K2 Plus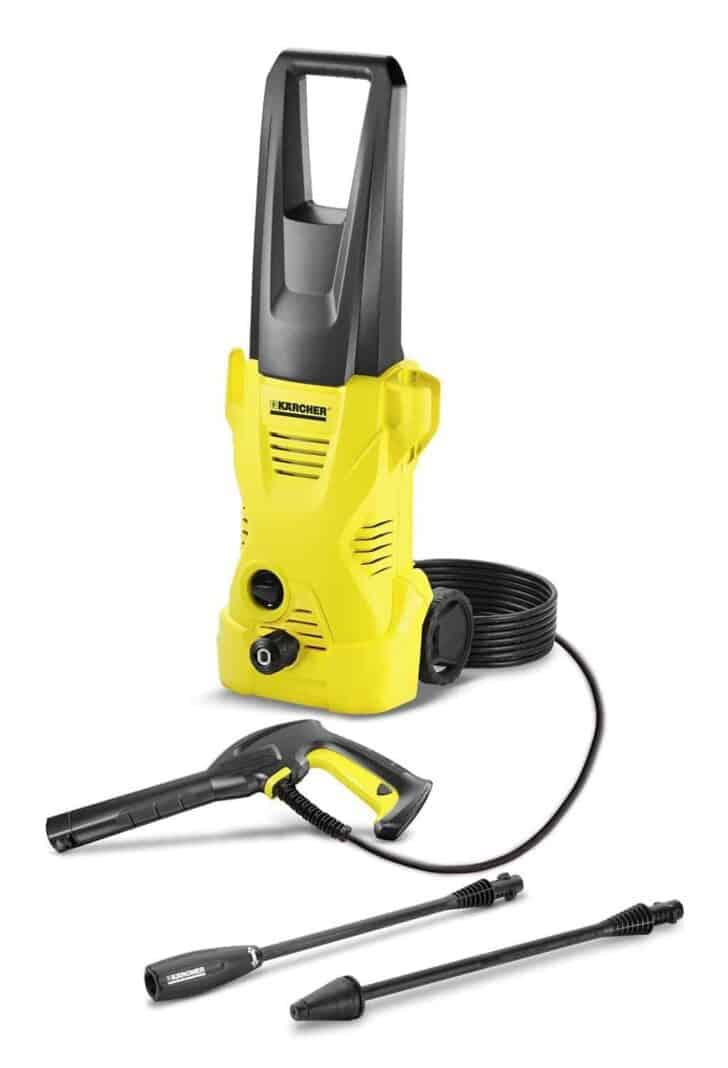 Karcher's 1600 PSI K2 Plus pressure washer delivers strong cleaning power for jobs around the house. The tall, fixed, robust handle design makes transporting easy. The Vario spray wand allows for quick adjustment between low and high pressure without the need to switch nozzles. For stubborn stains, the patented Dirtblaster spray wand will clean up the toughest chores.
Weighing only 16.8 pounds before accessories, Kärcher's K2 Plus delivers ample cleaning power for many home cleaning tasks. With 1600 PSI and a 1.25 GPM water flow rate, the K2 Plus is the affordable solution for your outdoor cleaning projects. Generous cable hooks allow tidy storage of the cable directly on the device. An ideal choice for those who place a premium on light carrying weight and minimal storage requirements.
With a 35-foot GFCI power cord and 20-foot high-pressure hose, the K2 Plus covers a wide area. Convenient 6.3-inch rear wheels and a strong fixed handle allow for easy transporting around your home or yard. The N-COR pump is durable, maintenance-free, and non-corrosive.
Sale
Best electric pressure washer under $150
PowRyte Elite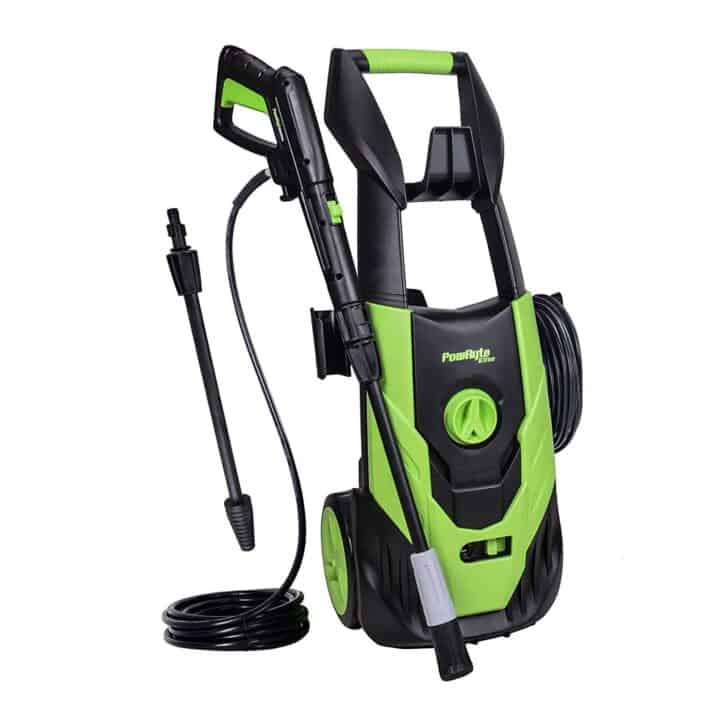 The Powryte Elite Electric Pressure Washer equipped with powerful motor generates max 2100PSI water pressure at 1.8 GPM water flow to remove dirt mold, moss and grim from the surface of patios, driveways, outdoor furniture, cars and more. It provides adjustable spray nozzle easy to adjust spray between 0-degree point spray and 40 degrees fan spray and adjust to low pressure to apply detergent, turbo nozzle features a 0-degree pencil jet which rotates 360 degrees for maximum dirt cutting action, effectively increasing cleaning performance up to 50%.
Other premium features: Onboard detergent tank ready for washing at once, 20-foot high-pressure hose, 35-foot power cord with GFCI plug and TSS (Total Stop System) trigger that automatically shuts off the pump when the trigger is not engaged.
Sun Joe SPX3000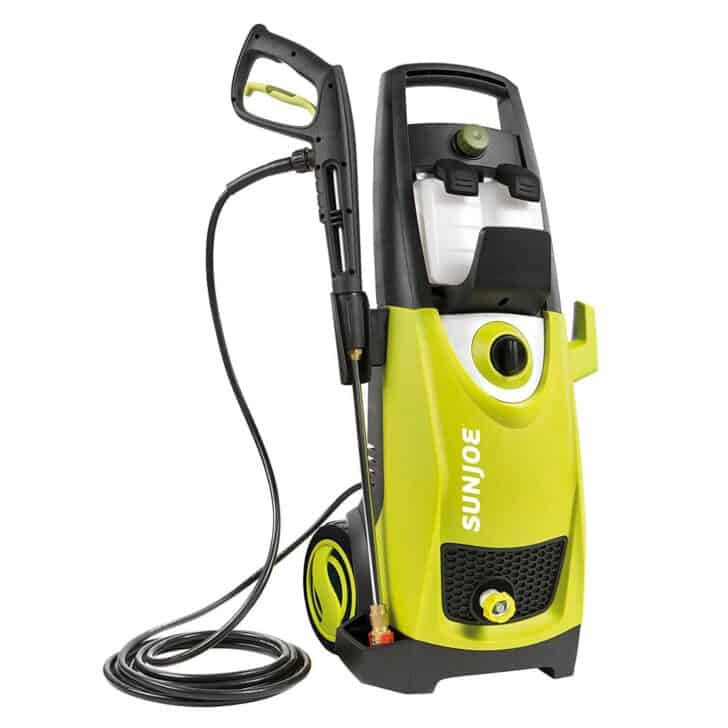 The Pressure Joe SPX3000 pressure washer delivers it all to tackle a variety of cleaning tasks: Homes, buildings, RV's, cars, trucks, boats, decks, driveways, patios, lawn equipment, and more.
Power, Performance, and Versatility: This pressure washer packs a powerful punch with its 1800 Watt/14.5 amp motor. The Pressure Joe SPX3000 electric pressure washer generates up to 2030 PSI of water pressure and 1.76 GPM of water flow for maximum cleaning power.
Consistently Works Well: Equipped with a dual detergent tank system, the Pressure Joe SPX3000 pressure washer carries and stores two different types of detergent simultaneously in its two 0.9 liters onboard, removable detergent tanks. Conveniently switch between different detergents with its detergent selection dial and blast away all sorts of grime. This pressure washer features a 34-inch extension spray wand to access hard-to-reach areas, such as 2-story buildings and the undersides of automotive vehicles and lawn equipment. Plus, its rear wheels provide easy portability around your yard.
Sale
Sun Joe SPX3000 2030 Max PSI 1.76 GPM 14.5-Amp Electric High Pressure Washer, Cleans...
POWERFUL: 14. 5-Amp/1800-watt motor generates up to 2030 PSI/1. 76 GPM for maximum cleaning power and water inlet temperature (max) is 104 degrees Fahrenheit.
VERSATILE: Tackle a variety of cleaning tasks: homes, buildings, RV's, cars, trucks, boats, decks, driveways, patios, lawn equipment, and more. With two 0. 9 L onboard detergent tanks, removable...
Best electric pressure washer under $200
Greenworks GPW1950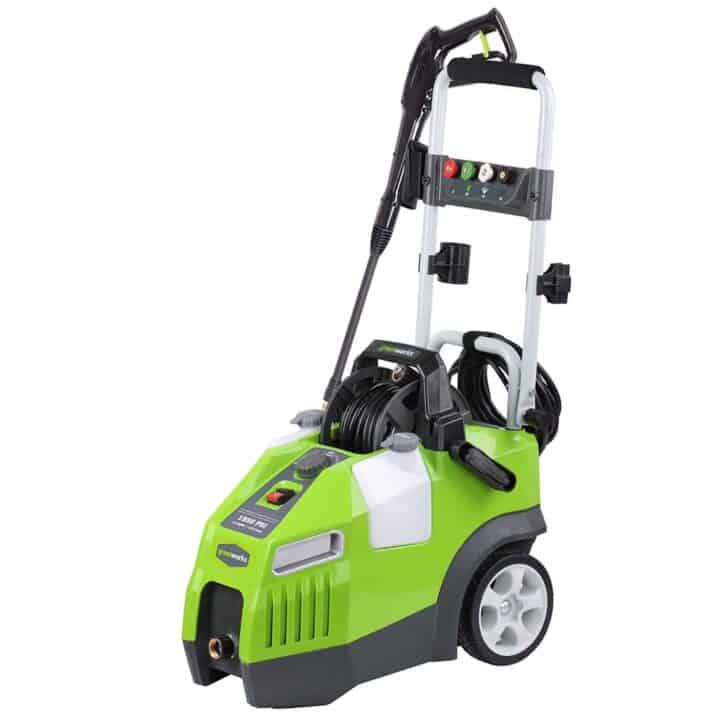 Powerful Induction Motor: 13 amp induction motor is water resistant for a longer life and more consistent power. Delivers up to 1.2 gallons per minute of water flow.
Ideal for Medium to Heavy Duty Applications: This pressure washer is perfect for many applications including cleaning siding, fences, decks, and driveways.
Pressure Washer Manufacturers' Association Certified: GreenWorks is a participating member of the PWMA which was developed in 1997 to set standards for pressure washers made for household, consumer, commercial or farm use. Participation requires manufacturers to adhere to the Performance Verification Program, which is independently controlled by 3rd Party to ensure representation of maximum pressure and water flow are verified.
Quick Connect Nozzles Included: Includes 0 degree, 25 degrees and 40 degrees Quick Connect Nozzles to accommodate any job. Additional accessories available.
Karcher K2000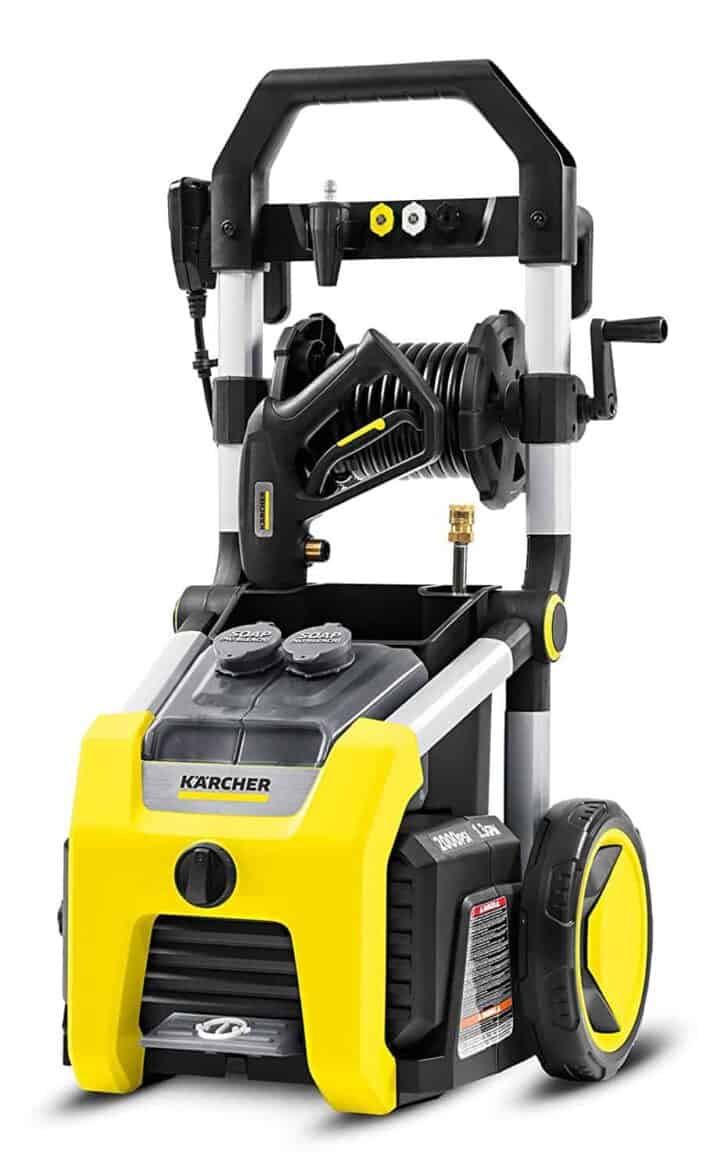 Designed for high-end performance with 2000 PSI and a 1.3 GPM water flow rate, Kärcher's K2000 is perfect for users who demand the ultimate level of home cleaning. Integrated metal extrusions, oversized wheels, and overall robust design allow you to take the product where you need to go. Key ease-of-use features include high cord wind, tall handle, bucket storage bin, space-saving rotating handle, dual removable detergent tanks, pressurized hose reel and an innovative on/off foot switch. Universal quick-connect wands and standard M22 hose connections simplify nozzle and accessory usage. The induction motor is engineered to withstand the rigorous demands of frequent residential use.
Certified Performance: The K2000 meets all Pressure Washer Manufacturers Association PW101 performance requirements, which ensures accurate PSI and GPM ratings.
Best electric pressure washers comparison table
Preview
Best Offer
Best Choice
Best Offer
Preview
Preview
Preview
Preview
Best Choice
Preview
Preview
Updated on 2023-09-06 - Images from Amazon API. Logos are trademarks of Amazon.com, Inc. or its affiliates. 1001Gardens is a participant in the Amazon Services LLC Associates Program, an affiliate advertising program designed to provide a means for sites to earn advertising fees by advertising and linking to Amazon.com.