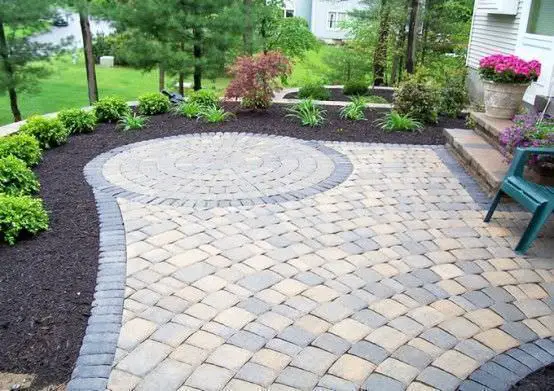 There are several types of patio blocks:
The concrete paving stone in free paving, easy to handle for an original and modern look.
The draining patio block, ideal for car traffic; it contributes to the progressive flow of water (rainwater, snowmelt…).
Natural stone paving (granite, sandstone, and limestone).
Types of concrete patio blocks and natural stone slabs
Concrete paving stone in free paving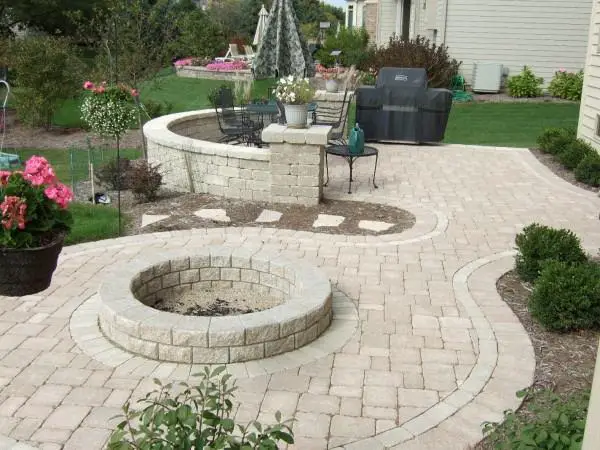 Free-standing concrete patio blocks are easy to handle and are available in several sizes. It offers an original and modern look.
Concrete paving stones are, as their name suggests, made from concrete, a mixture of cement, sand, gravel, and water. The whole is compacted and molded to form the pavement. There are two families: the solid mass paving stone and the two-layer paving stone. A mixture of a single type of concrete and colorant, the full mass paving stone inherits a homogeneous color and can, therefore, be cut and cut.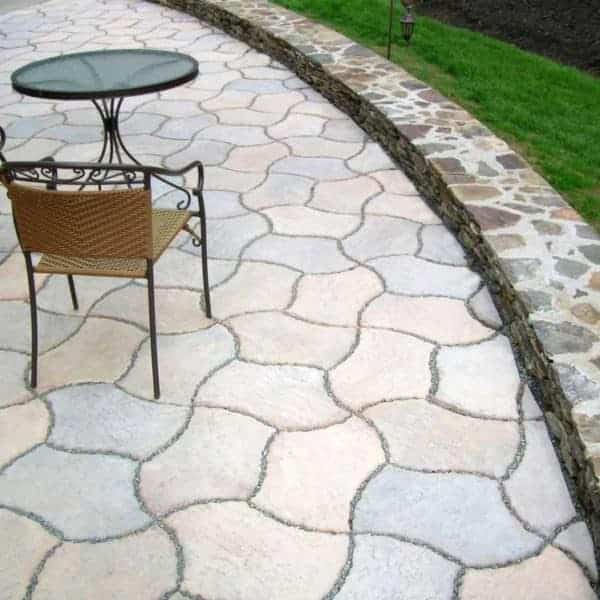 On the other hand, it patches slightly under the influence of the sun's rays but requires treatment to avoid discoloration. The two-layer pavement consists of two concretes, a paving block in the center, and a facing concrete around it. Just as solid as full mass, two-layer allows a greater variety of finishes and greater color fastness but cannot be used on the edge, since the facing is only visible on the upper surface of the patio block.
There are three types of concrete paving stones, two of which can be driven (self-locking and classic) and one which cannot be driven (molded). You can also use concrete paving stones to create a lawn paving that consists of leaving a grassed space between the stones for an aesthetic and draining effect.
Draining paving stone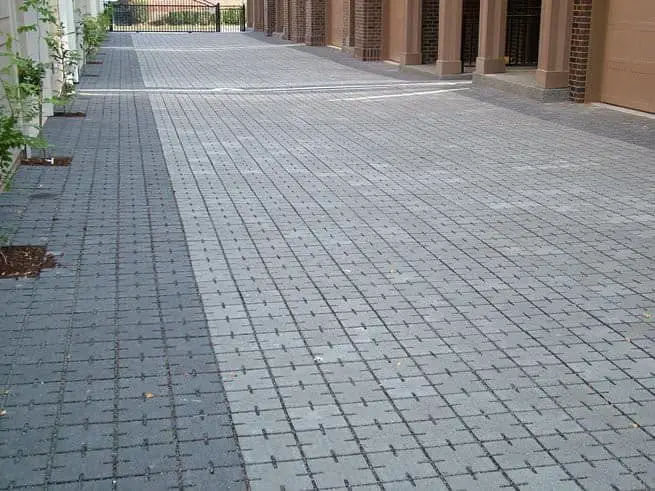 The draining paving stone is ideal for parking areas or car passageways: its grain size facilitates the drainage of standing water in the lanes and limits flows to the pipes. It, therefore, contributes to the progressive flow of water (rainwater, snowmelt, etc.) and avoids overloading underground networks.
Natural stone patio blocks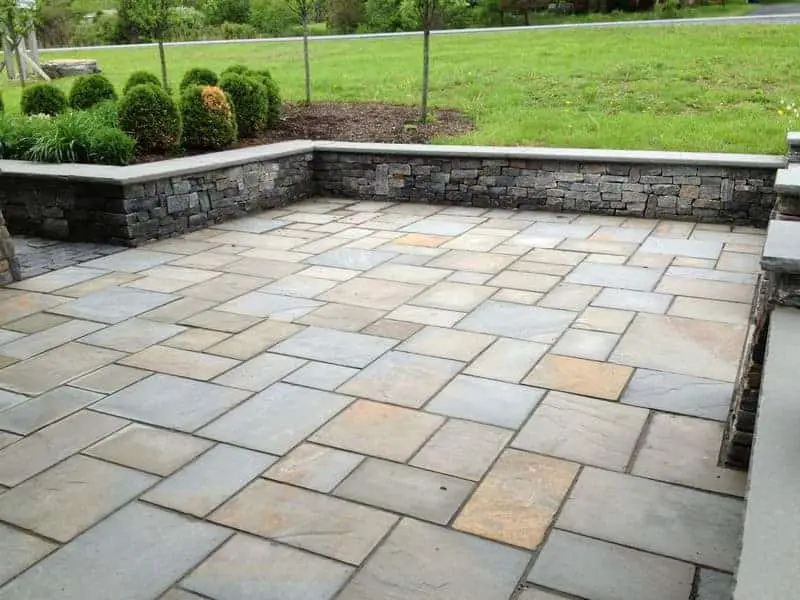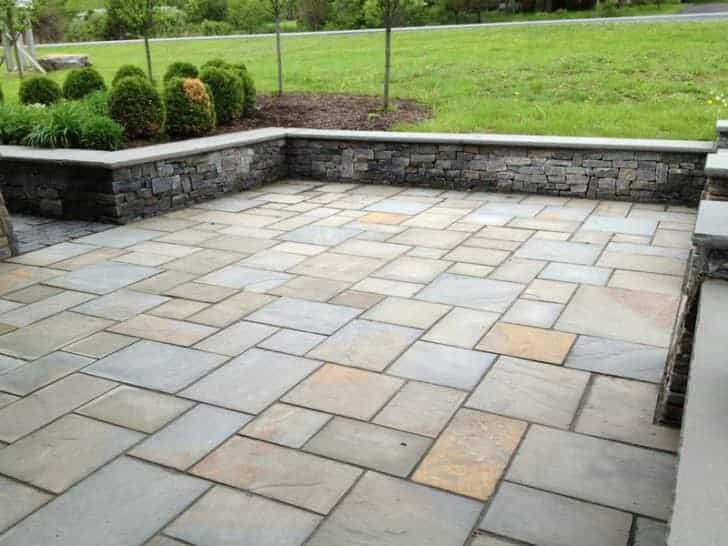 There are different patio blocks materials: granite, sandstone, and limestone. Natural materials, paving stones have rich and varied tones.
Timeless and authentic, stone pavers are not monotonous. Whether made from natural or reconstituted stone, it instantly enhances the outdoor spaces in which it is installed. Stone pavers can come from different types of rocks such as granite, sandstone, bluestone or porphyry, and can withstand a wide range of treatments and finishes (smooth, matt, glossy…) to vary the effects and create a fully customized exterior, just like decorative pavers. Each rock, treatment or finish has particular characteristics of porosity, resistance, frost influence or color and strength that must be taken into account according to your use.
Granit patio block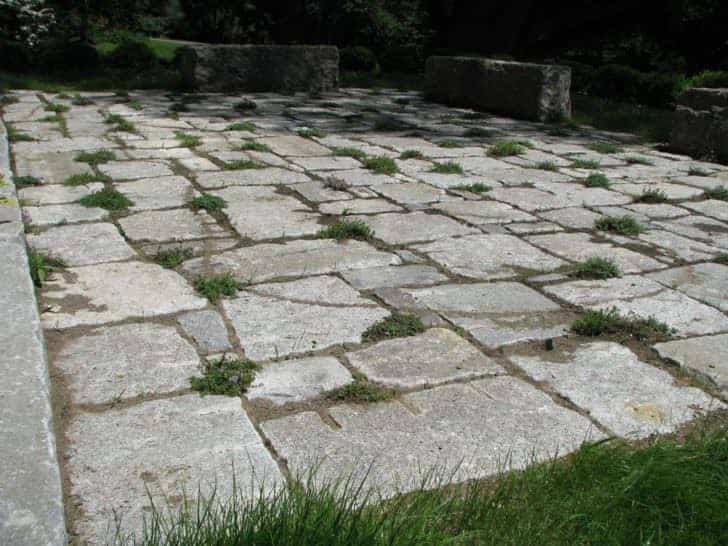 This hard stone is more resistant to wear and tear than other materials such as marble. For outdoor use, you can find it in very different formats such as paving, paving, palisade. Loaded with quartz, granite is recommended for its almost zero absorption, abrasion and scratch resistance.
Sandstone
Excellent building stone that does not freeze, is easy to work and saw. Depending on its origin, the rock can be colored in an infinite number of shades: ochre, pink, yellow, orange, brown, grey, white, purplish and veined or marbled.
Limestone stone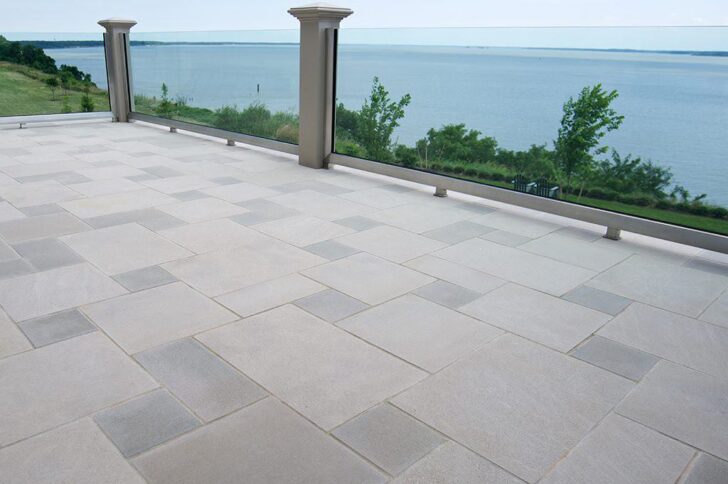 This sedimentary rock covers about 75% of the surface of the Earth's crust.
How to choose a concrete paving stone and natural stone slab
To choose a pavement in the best conditions, it is important to determine in advance its destination: driveway or pedestrian path.
Pedestrian walkway: their thickness can be less than 6 cm.
Driveway: their thickness must be greater than or equal to 6 cm.
Concrete products have color shades. In order for these grades to enhance your project, it is essential to have all the products on site before starting the installation. Draw simultaneously from all the palettes to obtain a harmonious mix of color shades.
The paving stones can be placed on a sand bed (road paving stones) or on a washed sand-cement support (garden layout). In all cases, it is important to refer to the product installation instructions before starting your work.
Patio blocks: The aesthetic choice
A square or rectangular format gives an alley an authentic character. The aged appearance of the paving stones faithfully reproduces the old-fashioned paving stones. With their nuanced colors and free installation, our paving stones allow unlimited and personalized creations: rosette, mixed colors, layering. Our borders coordinate perfectly with the paving stones.
Outdoors, natural stone is used for various purposes: driveway, terrace, swimming pool, low wall, garage entrance, collective use room.
Natural stones allow more or less frequent traffic, depending on the type. They offer a variety of finishes: totally rough, with only rough sides, regular or irregular for the opuses, with or without small cavities. They can be calibrated or not (variable thickness).
Their 100% natural origin is characterized by a play of colors and a very rich structure:
luminous or matt, their hues may vary from one color to another.
Natural stone slabs are laid using glue or mortar with or without joints.
The color
The concrete paving stone has the particularity of being able to display an infinite number of colors. You will always find a shade that matches your ideal. Choose grey tones to give an authentic effect to your exterior. If you are looking for a modern look, light grey will ensure the perfect match between a contemporary style and a natural environment.
For a more urban look, anthracite/blue stone grey is perfectly adequate. Brighter or more nuanced tones will bring warmth to the exteriors. Choose light-colored paving stones if your space is often in the shade, this will give it light. On the contrary, if this space is heavily exposed to the sun, dress the area in darker colors to contrast with the brightness and avoid being dazzled.
The finish
As far as finishing is concerned, you have three choices. First of all, you can opt for tambourine concrete paving, whose aged and raw appearance will give a rural and family style to your exteriors, ensuring a timeless character. The choice of a hard concrete paving stone is a second option that will be perfectly suitable if you want a contemporary and minimalist exterior.
Finally, classic concrete paving is the ideal choice to play the card of sobriety, without losing any aesthetic appeal.
The format
Here again, several options are possible. Small formats will give an intimate and cozy touch to space. You can also choose a combination of square and rectangular paving stones for a unique exterior. Upstage the codes and create combinations that look like you by varying the direction of installation and mixing the shapes.
And finally, patio blocks in stone or concrete?
Stone will not be taken away from its aesthetic advantages or its resistance to the passage of time, but its generally complex laying technique and high price remain a barrier for some. If you are looking for useful paving for an alley or a parking space, concrete paving (especially self-locking) will be more than enough.
Molded in a precise shape, it fits perfectly and does not necessarily require a joint. On the other hand, if you are looking for a natural stone effect (often imitated but never equaled by concrete), stone paving is essential, especially since paving stones are easily replaceable and reusable, unlike concrete paving stones which are rarely reusable.
Finally, if you have a crush on the effect of the paving stones but don't want to pay the high price or face too demanding an installation, you can make up your driveway with the imitation paving stone. In the form of a stencil or printed concrete that you simply apply to a layer of fresh concrete, trompe-l'oeil is amazing.