In the garden, no question of forgetting the decor of its pool area, especially in summer when the center of attention. For this, several options are available to you: the touch deco development that will completely change the look of your pool, you choose from our 10 ideas to pamper the outskirts of this charming place of relaxation and make a welcoming wish.
Enforce the shade sail
Forget the very traditional umbrella and opt for a shade sail. It has the good taste not to obstruct the view and not taking up space. Located in a corner, it changes the atmosphere and the location gives it a bohemian air ...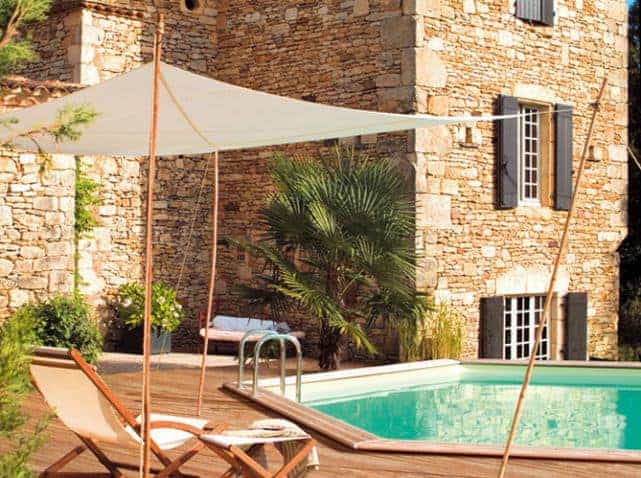 Create a paradise setting around the pool
Think outside the box and dare a totally exotic decor around the pool! This arrangement with fake rocks and wooden diving board seems straight out of an island paradise ...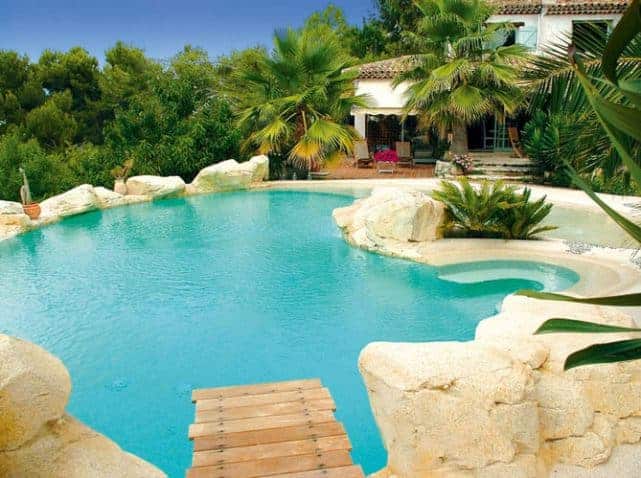 Use decorative stones to mark the lines
They evoke the beach, sunbathing, summer ... So why not sprinkle them around the pool? Decorative pebbles and help create a Zen space around to highlight its delicate lines.
Bid on a beautiful garden furniture
You will spend hours on the edge of your pool, hence the importance to equip it with a beautiful garden. Besides being comfortable, it will blend into the atmosphere. Here, we chose a garden room in chocolate and cream tones to echo gently to the floor of the teak deck.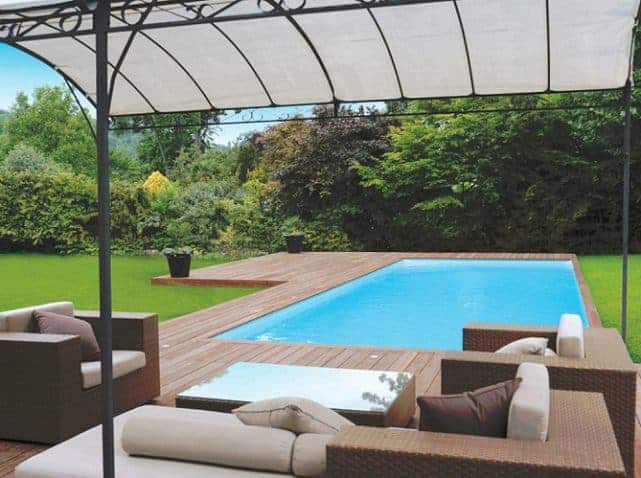 Install a large pergola
With its bucolic charm, the pergola near the pool has the ingenious idea to create a nice relaxing space in which to install sunbathing and sofas. A small patch of shade practice in the afternoon and elegant for the evenings at the water's edge.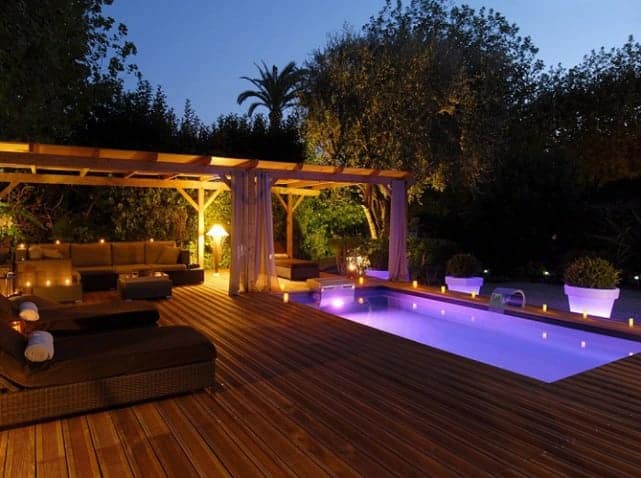 Make a border of stones around your pool
A low wall in stone, that's a fine idea to tuck the edge of the pool. In total harmony with the environment, this wall joins a beautifully elevated deck. A decor without any fault!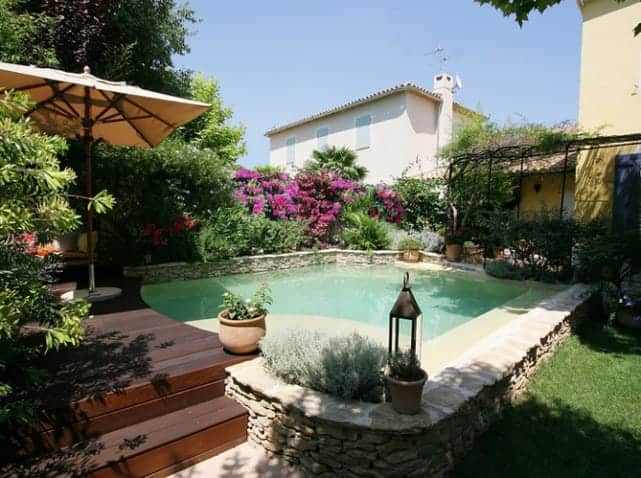 Multiply the greenery near the pool
To isolate the pool from view, nothing better than a little greenery! Warm a small wall, green plants are installed near the pool to create a small, intimate cocoon. Around this pool has varied greenery: bamboo with a beautiful height, large bonsai in pots and a large hedge on one side.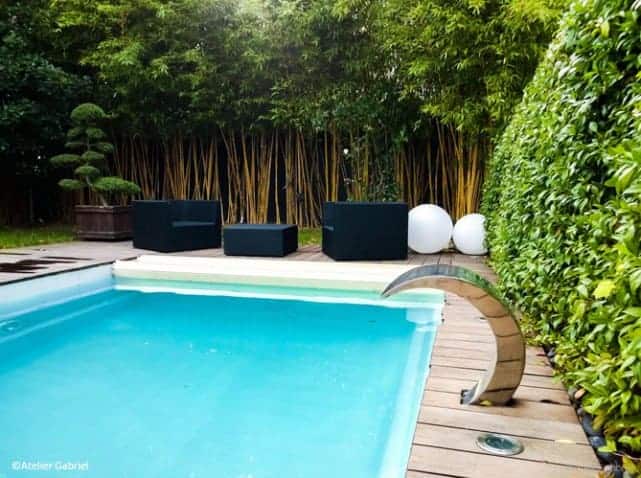 Arrange deco lanterns along the pool
This beautiful infinity pool is decorated on one side with a few metal lanterns. They are adding a special charm to this beautiful place that invites relaxation and rest.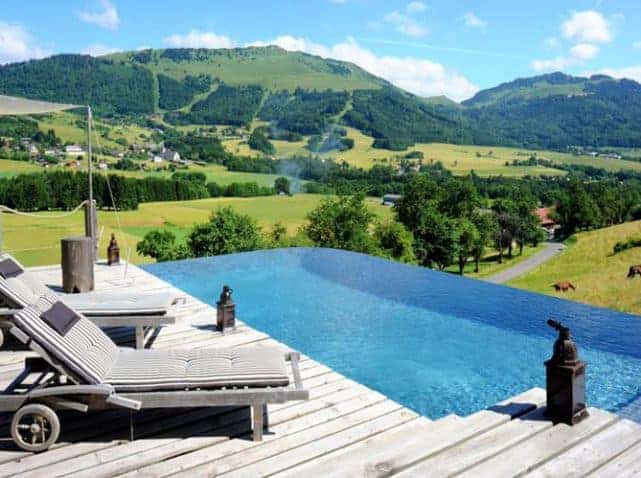 Recess bright LEDs along the pool
It is a decoration which is profitable only at night, we grant you, but bright LEDs integrated ground shed light on the place and highlight the length of the lap pool.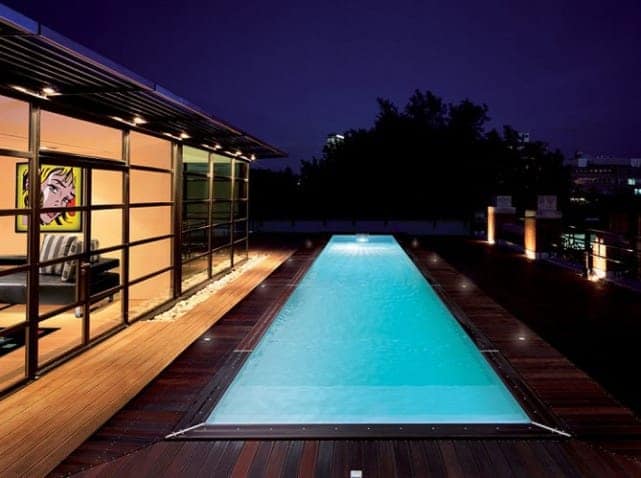 Bet on flowerpots
Rather than relegating your flower pots in a corner of the terrace, sprinkle them around the pool to create a warm space.