With the problem of the missing space, the solution add one more room in the garden is a clever option. Simple wooden shelter transformed into extra room or true extension of the home, the concept seduces trend in the country as in the city. The bonus room can be a room, a studio for a teenager, office or workshop. Multifunction room can save a few square meters cheaply. With minimal work, it proves to be a good compromise in search of space.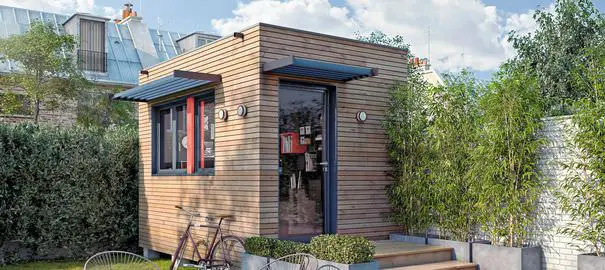 1. How do I know if my garden is adapted to receive one more room?
Small or large garden, the solutions adapt to the outer surface and the urge residents. Subject to compliance with some technical and administrative constraints. Construction, if it remains removable, can even be installed in hiring.
Other parameters are added for the possibility of installing an extra room in his garden. A construction will be possible depending on the nature of the soil, ie the type of foundation, the thickness of the concrete slab and possible backfill under it.
2. What are the candidate materials for one more room in my garden?
The major constraint to install one more room in the garden is to have a weather resistant construction and moisture. Cube represents the four squares of 1 m 20. It is divided into two parts: a lower part with a stainless steel casing in isolating and a glazed upper part with 33/2 glass. The frame is galvanized treated steel and stainless steel with the possibility of additional treatment, according to the settlements.
More traditional, wood or metal are common materials for garden sheds. They can become trim parts, as required. Increasingly sophisticated, these little houses require good insulation to be inhabited.
3. How best to isolate an outdoor room?
Good insulation of one more room in the garden is the main condition to be able to live comfortably. In conventional huts, the insulation is reduced with fairly thin walls. Ground and on the walls, insulating plates polyurethane in the coating help to control moisture. Insulation is a real problem, everything depends on the nature of the walls … We think no less but isolate the room from the outside with expanded polystyrene is another option. The finish can be a coating or cladding (wood, PVC, composite). "
4. How can you connect a room in my garden to water and electricity?
Depending on the extent of the project, connections to water and electricity can be more or less complicated. If you want to enjoy electricity, the design of an electrical panel with appropriate protections to safety standards is an option. The water supply to sink or shower, for example, can be done either from home or on a tap of the water supply. Wastewater, they can be related to the sanitation of the house by gravity or using a pump type Sanibroyeur. Before embarking on the project, it is better to consult professionals for personalized advice.
With the trend of parts ready for assembly, other simpler and greener options are emerging. If evacuation is not possible, it is proposed to adopt green reflexes users: Packsoap, solar panels, wood stove, water collector or dry toilets are solutions.
5. What is the cost of one more room in my garden?
To establish closer your budget, determine your needs and your needs first. A wooden shelter can be a spare room while a turnkey module becomes a true extension of the home. Comfort is not the same. The price either. For a simple shelter of pine with a thickness of 19 mm and an area of about 5 m2, count $ 500.
We are sorry that this post was not useful for you!
Let us improve this post!
Tell us how we can improve this post?
We are sorry that this post was not useful for you!
Let us improve this post!
Tell us how we can improve this post?