The warm weather arrives and the desire to enjoy your patio too. Need to create a place that you like and where you feel good, whether to relax or host your guests. Here are 8 terraces bohemian atmosphere to inspire you some ideas …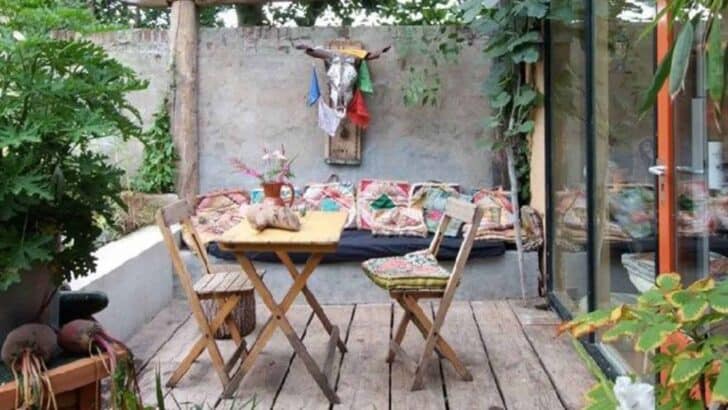 At the sight of the first sunlight, the urge to point the tip of his nose on the terrace is omnipresent. To give you decorating ideas for the bohemian atmosphere, iDLights selected 8 terraces in the trendy decoration "boho-chic".
1 – Rattan armchairs to give warmth to your patio
Rattan fits both inside and out. As chair, ottoman or carpet, it is the perfect item to give a touch of warmth to your patio. Furniture and where everyone can relax and feel good.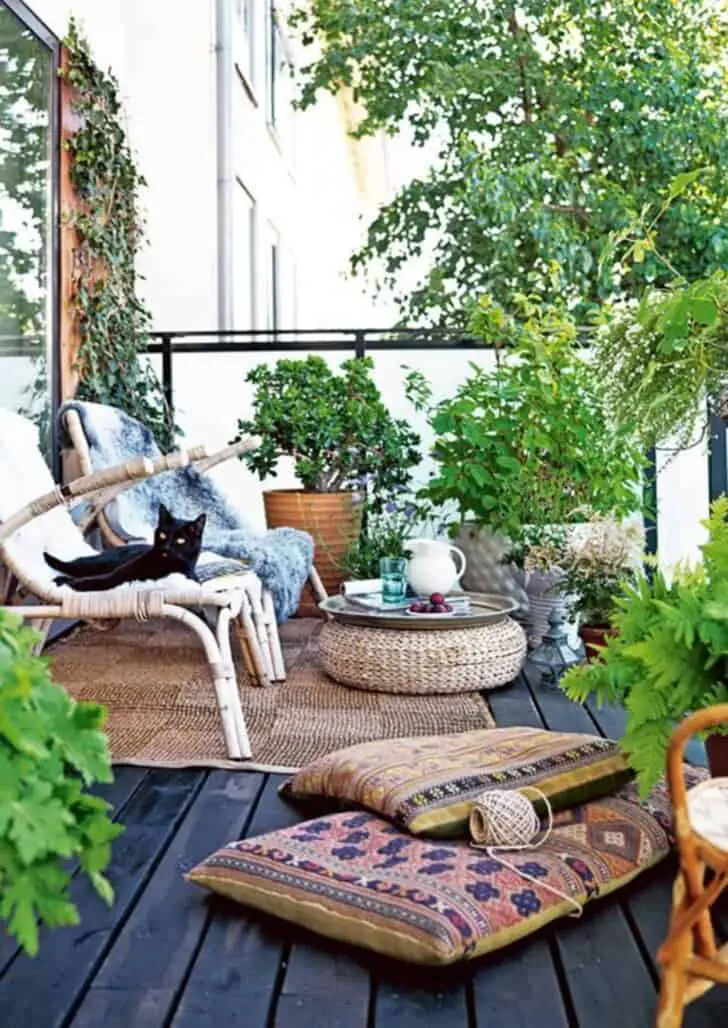 2 – A wooden workshop table for a friendly terrace
In a corner of the terrace, you can see a wooden table workshop mind. We discover there a friendly space to accommodate family and friends. Enhanced by the balustrade with oriental motifs, this little corner offers an atmosphere even warmer.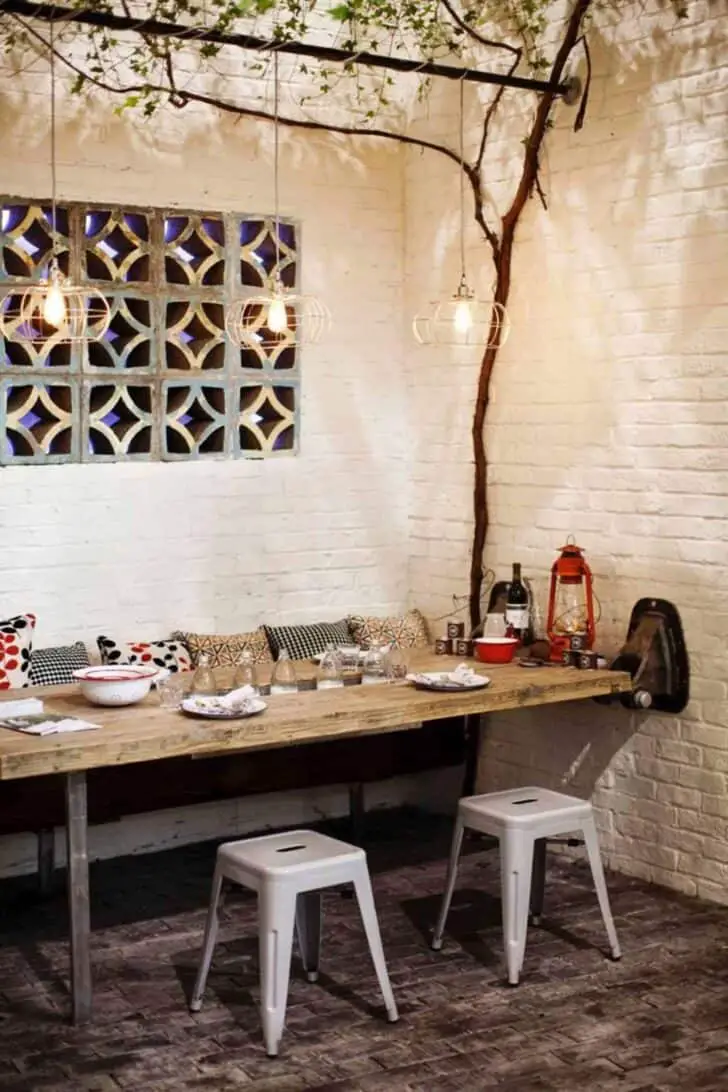 3 – Garlands strewed in vegetation for an illuminated terrace
Besides rattan furniture and graphic cushions, this terrace is decorated small Christmas lights. A bright tip that creates a cozy and intimate atmosphere for long summer evenings.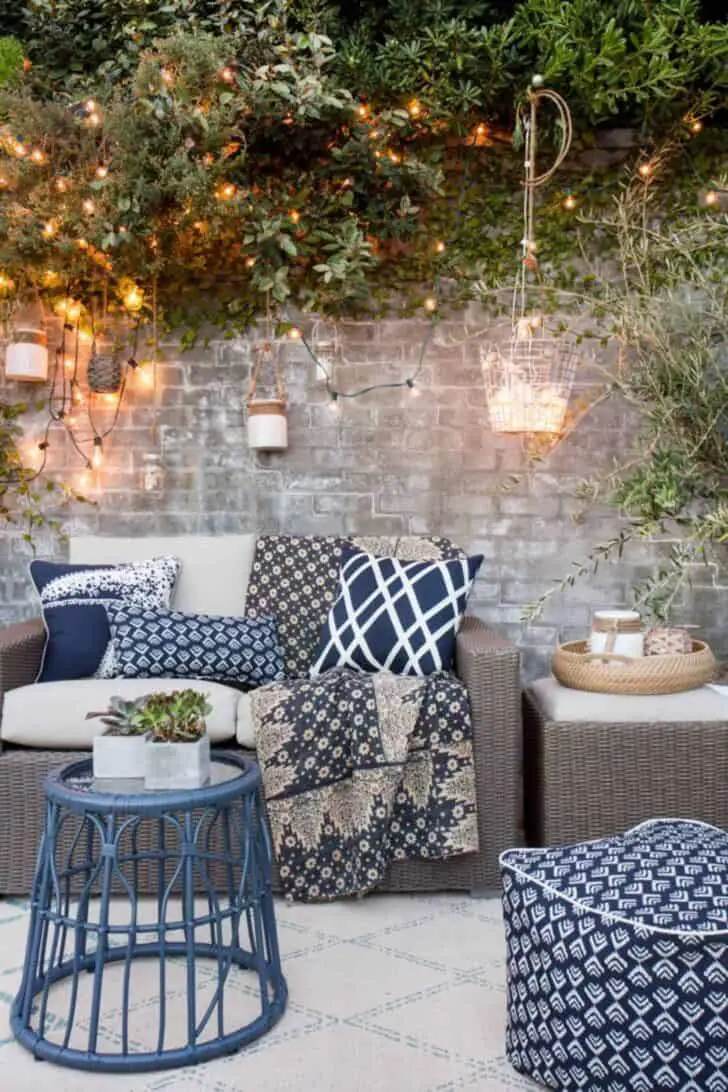 4 – Terrace all wood and dressed in green
To contrast with the wood of the terrace and the outdoor table, the terrace is wrapped in a green vegetation. An Amazonian forest spirit that gives it a totally exotic atmosphere. An exotic travel accentuated by decorative buffalo head.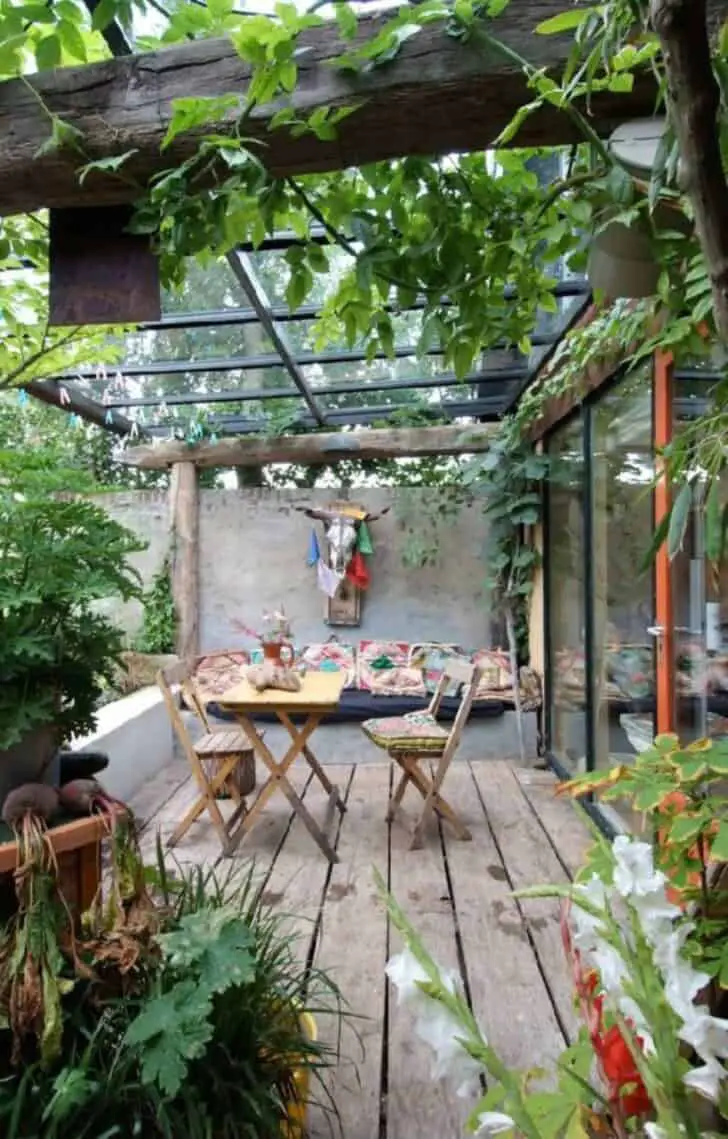 5 – A rattan ball to create a cocooning terrace
As a need to escape, take refuge or rest, better than a hammock, suspended ball is the perfect item. Here, decorated like fine embroidery, she plunges the terrace in a chic bohemian atmosphere.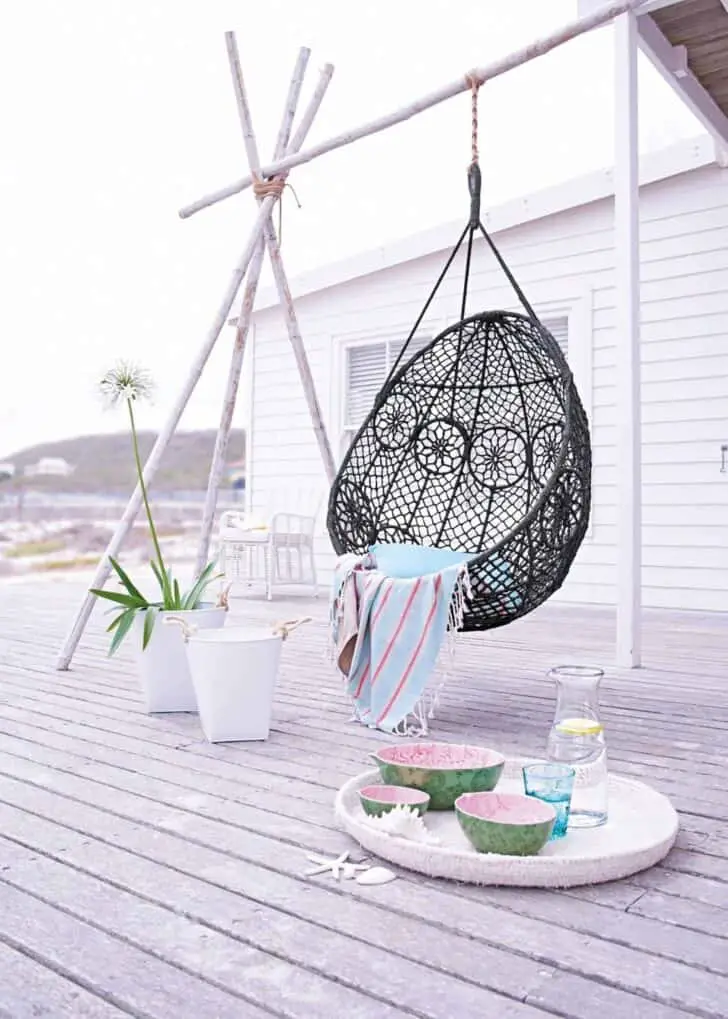 6 – A terrace shaded by a straw roof
Terrace shaded: Buried at the bottom of the multiple colorful and cozy cushions, you will not be dazzled by the sun. Straw arranged ceiling only allows passing some rays. A solution that offers so your terrace a subdued atmosphere, friendly and relaxing.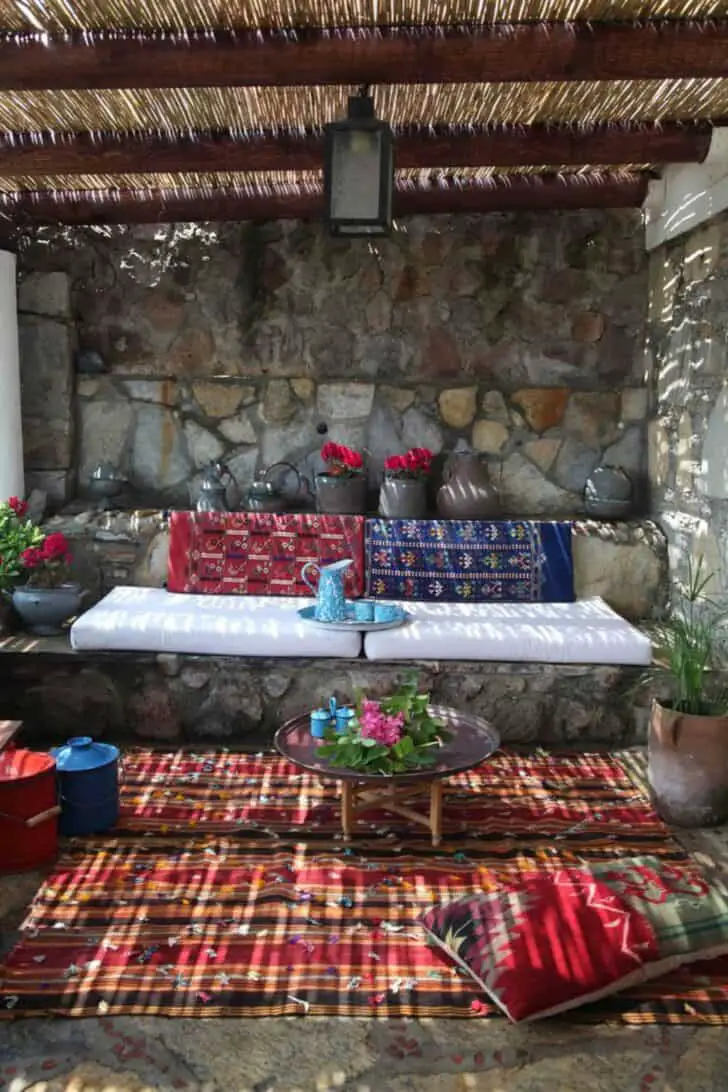 7 – Pillows and blankets on the floor for a deck like home
Forget sophisticated outdoor furniture or bulky, keeping only comfort. To revamp your terrace with a total bohemian look, play on the accumulation of pillows, blankets and other tissues. An atmosphere that will satisfy young and old alike.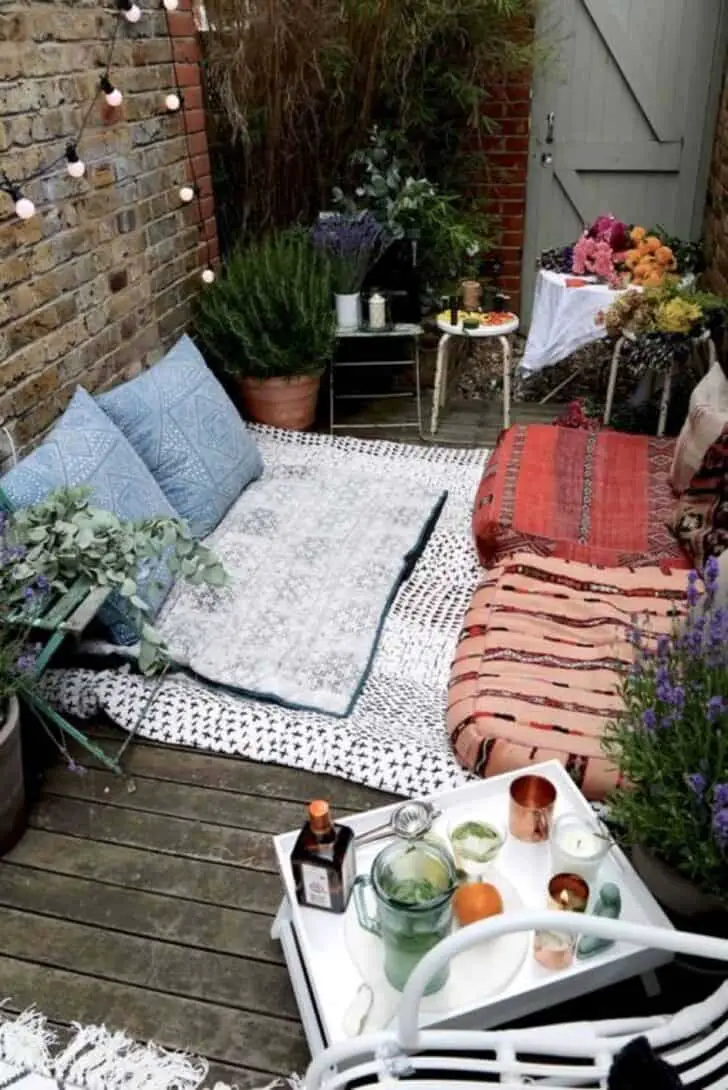 8 – Graphics for an original terrace
A little piece of heaven is built with few elements. Colorful graphic patterns for cushion and black and white for the flower pot: the atmosphere is given. Graphic and bohemian style for an original terrace.