We do not always have the necessary space indoors to be able to place a pool table or simply enjoy our outdoors on sunny days... The outdoor pool table is made for you, made with water and weather resistant materials. Water drainage, rustproof, waterproof mat...
Indeed it is necessary to know that there is a panel of pool tables dedicated to the outdoors. Some countries, such as Italy, make a habit of it and leave the tables outside almost all year round. It must be said that the billiard tables in question are made to live outside. They are made of stable materials that do not fear heat or humidity. However, it is advisable to check the flatness of the slate regularly for the perfect play.
The models of the outdoor range are perfect to be placed under a pergola, in the shade of a patio, at the edge of the swimming pool... You will appreciate a game of billiards outside with friends or family during the sweet summer evenings. Everything is designed for outdoor use: metal frame and ball receptacle treated anti-rust, varnished slate (anti-rust), carpet treated anti UV, screws drilled to allow water to drain.
These outdoor pool tables are delivered with a protective cover. It remains that the play of the ball is difficult in full sun and it is advised to put them in a shaded part of your property.
1001Gardens has selected for you an outdoor range to enjoy its favorite game all year round and without limit. What could be better than a game of pool with your friends in the sun? A pool table on your terrace, in your veranda, everything is possible!
Outdoor Pool Tables Around $1000
EastPoint Sports 87-Inch Outdoor Billiard Table - Aluminum
Take the fun of the game room outside with the EastPoint Sports 87 inch . This table has been engineered to endure the elements while maintaining a great look with a sleek Aluminum Frame.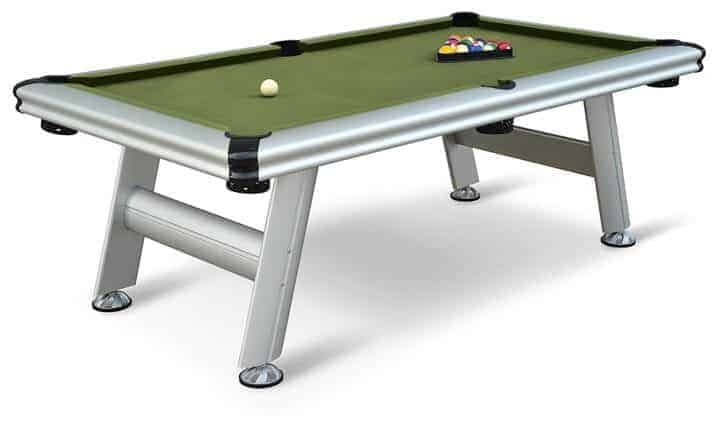 Weather Resistant Playfield covered with Sunbrella Fabric stands up to any moisture that falls on it. Play like the pros with K66 Rubber Bumpers that yield a consistent bounce throughout the table.
It's sure to keep your family or guests entertained for hours on end. These outdoor pool tables come complete with all accessories and ready to play out of the box.
When you're finished with the fun place the Heavy Duty All-Weather Cover over the table for superior protection.
MD Sports Billiard Table Set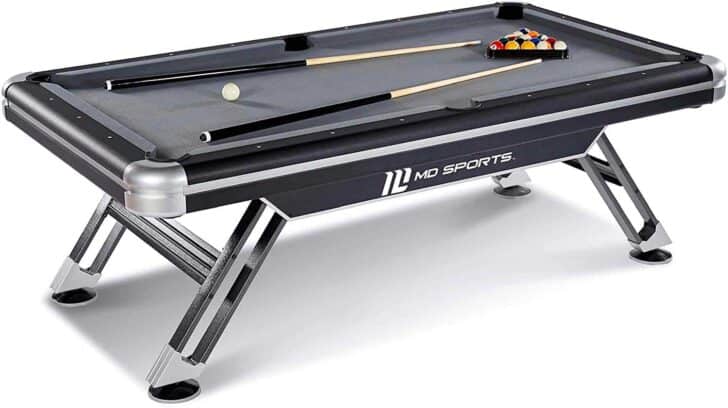 Fun times with friends and family
The MD Sports Titan 7.5 ft. pool table comes with a sleek design. This makes it the perfect addition to your home's game room or to the office's recreation room. It's just the right size for both professional and newbie players. It's what you need for more fun games with friends and family.
Fantastic Ball Bounce
There's no question that the MD Sports Titan 7.5 Pool Table is of high quality. It is the perfect gaming furniture for any space and is made with superior material and K66 rubber bumper cushions for a great ball bounce. It also comes with drop pockets for storing balls until the next pool game.
Heavy-duty Construction
Don't worry about intense games ruining this pool table. It is made from heavy-duty materials to ensure durability with steel legs and oversized leg levelers for stability. It also features a thick reinforced playfield that provides a smooth surface during the entire game.
Pool Accessories Included
With this table, you're ready to play pool at any time you see fit! It already includes the accessories needed for a game. The kit has a set of billiard balls, two chalks, two cue sticks, a triangle, and a table brush. You don't need to wait and purchase extra accessories to enjoy playing right away.
MD Sports BLL090_147M Titan Pool Table, Black, 7.5'
LUXURY PRO INDOOR TABLE - The MD Sports Titan Pool Table at 7.5 feet long is the ideal large size for indoor play with adults or teens; good for a rec or game room in your home for big time family fun
COMPLETE ACCESSORY KIT - Our table comes with all the necessary parts and supplies, including 1 set of official balls, 1 table brush, 1 wooden triangle, 2 wooden pool sticks, and 2 chalk cubes
Outdoor Pool Tables Around $2000
EastPoint Sports 84" with Table Tennis Top
The EastPoint Sports Outdoor 84-inch Billiard Table is the ultimate addition to any backyard. It's sure to keep your family or guests entertained for hours on end.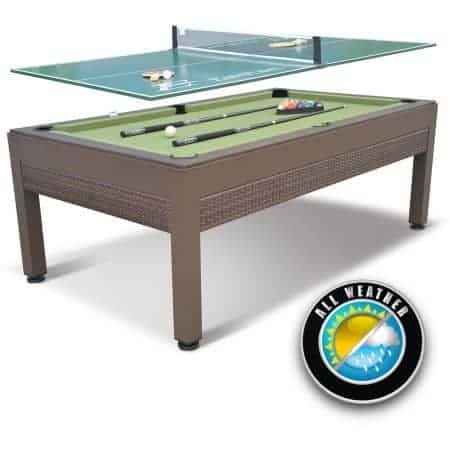 Featuring beautiful hand-woven resin wicker accents and a traditional Parlor Style Drop Pocket Design, the all-weather aluminum frame construction and engineered Sunbrella billiard cloth is durable enough to withstand all the elements of nature.
The outdoor pool comes complete with all accessories and a heavy-duty all-weather cover. There is nothing better than some fresh air and family fun around the game table!
Imperial 7 Foot with Accessories
Bring your billiard game to the backyard, porch, or patio with the rugged Outdoor Pool from Imperial!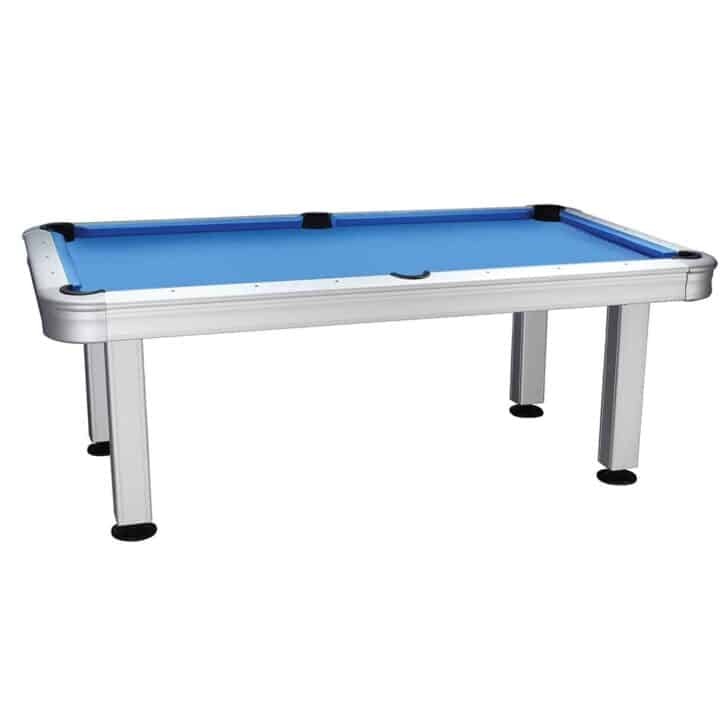 This outdoor pool table boasts anodized aluminum construction, including aluminum rails, corners, and legs for weather-resistance and durability. Leg levelers ensure stability on a variety of surfaces and K66 rubber cushions offer excellent rebound.
These all-metal 7-foot outdoor pool tables come assembled and clothed out of the box! And, it comes with everything you need to get started.
Add a game of pool to your next barbecue, party, or outdoor event with the Imperial 7 Foot. Get it today!
Imperial 7 Foot Outdoor Pool Table with Accessories
ALL ALUMINUM POOL TABLE - This 7-foot long billiards table has all aluminum corners, legs and anodized aluminum rails with K66 cushion rubber. It is tough enough for the outdoor elements and can stand...
WATERPROOF AND FIRE RESISTANT PLAYFIELD SURFACE - The pool table bed is made of 0.63-inch pearl board, 140 layers of Formica sheets and polyester resin and was put through a high temperature and...
Playcraft Extera Outdoor Billiard Table with Playing Equipment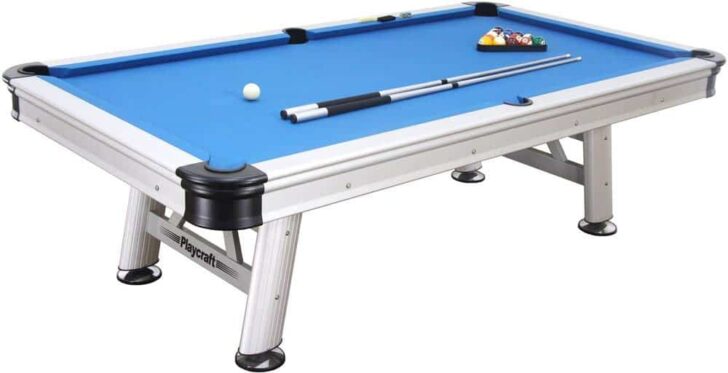 Bring the best of indoors outdoors with the Playcraft 8 ft. Extera Outdoor Billiard Table with Playing Equipment. It's all weatherproof, so relax and enjoy! Constructed with sturdy extruded aluminum 5-7/8 in. top rails, plus 5-1/2 in. aprons, plus the legs and square tubular beam sub-frame are all aluminum. It's treated with an anti-rust coating to brave moisture. You'll appreciate the 1-inch composite weatherproof playfield.
A large unified aluminum corner post and top cap anchor the table, and large tubular beam legs with cross truss bracing and 6 in. diameter adjustable feet levelers ensure this table is solidly placed. K66 profile cushions. Electric blue weatherproof UV-resistant polytech billiard cloth adds style, color, and protection. Come out and play!
About Playcraft Playcraft has been in the business of producing high-quality pool tables, game tables, and recreational accessories for over two decades. Making products suitable for commercial, institutional, and home use, they pride themselves on consistent value and superior craftsmanship. Playcraft is committed to continuing their mission with an ever-expanding line of high quality, innovative equipment designed to keep everyone's favorite games alive.
Imperial Outdoor Pool Table 8ft
Need a centerpiece for your game room? Presenting Imperial 8ft with its modern look plus capability for out-of-doors! It features all-aluminum parts along with tan coating which is perfect for outside elements.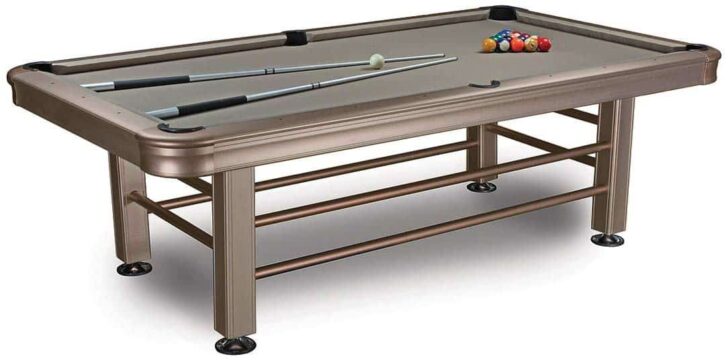 Moreover, it comes in mostly assembled already. All you need to do is simply bolt on legs and level them to the ground. Large leg levelers provide stability and measure 5 inches. In addition, this gaming table boasts anodized aluminum rails, corners and legs, and K66 cushion rubber for true rebound.
The bed board, on the other hand, is made from 140 layers of Formica sheets and polyester resin. In effect, this makes it waterproof, fire-retardant and durable! Additionally, it measures 18-mm thick with a Camel color Taclon cloth.
What's more, these outdoor pool tables are inclusive of accessories:
2 cues
1 set of polyester balls (withstands cracking and chipping)
2 pieces of chalk
triangle
and a playfield cover.
Sale
Other Pool Tables ideas
Fusion Table And Dining
You have heard about the fusion of generations, the fusion of cultures, fusion cuisine, fusion music. Today, there is Fusion furniture. Functional, with a timeless and elegant design, the Fusion outdoor pool tables create a relaxed atmosphere for dinner with family or friends.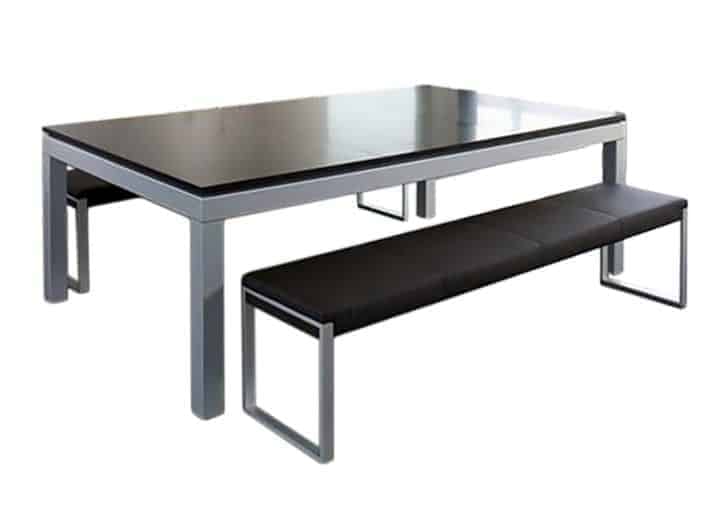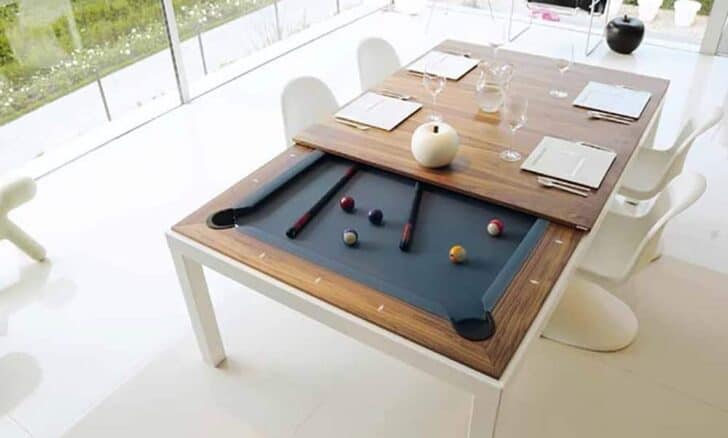 Able to seat 10 people comfortably, the Fusion is perfect for family or professional meetings. After the meal, it takes less than a minute to turn the Fusion into a top-of-the-range billiard table. Just slip the benches under the table and remove the three table tops. You are ready to start a game.
With a simple click, the patented "easy-lift" system allows you to optimize the table's height for the game.
Features:
Sleek European Design
The Fusion table's sleek design uses a rigid aluminum powder coated steel Space
Frame to accommodate the strength and stability required to hold the single piece slate playing surface in place.
All of the pool accessories will fit on the table without anyone ever knowing what lies under the table leaves. Patent Pending Pocket Design - In order to fit everything in the Fusion 4 ½" / 115 mm narrow top, a unique solution was created for the pockets. Using hi-tech nylon stretch cloth with memory, the patent-pending pockets stretch out when they collect balls, and revert to their 1/8" / 3 mm thickness after the game. Ready To Play Anytime!
Ibigbean Foot pool Table Set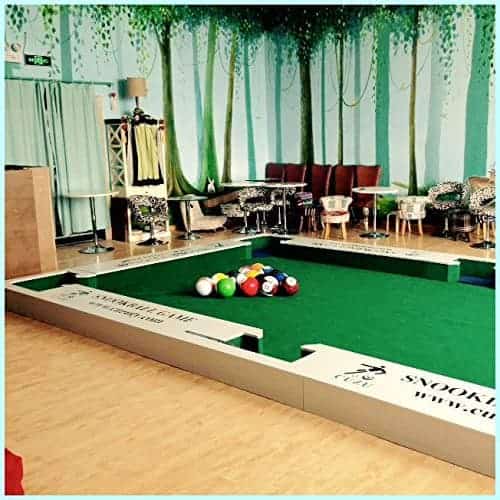 Snookball by Ibigbean is a combination of pool and football.
It's crazy fun because you actually get to kick the balls into pockets instead of using a cue stick. The sport is played on a giant table that multiple players can walk on. All the rules are the same as pool, except that you use your feet instead of a cue and the balls are replaced by soccer balls.
Accessories:
1x Plywood + Stainless steel
16x Soccer balls ( #4 default)
1x Carpet
1x Triangle
1x Installation Instructions
ibigbean Snookball Pool Table Set 6.6x3.6x0.2m
Important: The price is Free shipping by sea to your nearest SEAPORT, Not to DOOR. You need custom clearance. If you'd like shipping to door, contact us for a quotation please.
This poolball table is 6.6x3.6x0.2m (22x12x0.66ft)
And if you are looking for a table tennis table, have a look at our guide: Best Outdoor Ping-pong Tables 2018
We are sorry that this post was not useful for you!
Let us improve this post!
Tell us how we can improve this post?

Updated on 2020-04-01 - Images from Amazon API. Logos are trademarks of Amazon.com, Inc. or its affiliates.