Installing an outdoor thermometer is wise, as much for your personal comfort, for the safety of people and property as for the health of your garden and plantations.
What is the use of an outdoor thermometer, how to choose it? Answers now!
Outdoor thermometers: instant or recorders?
The outdoor thermometer is divided into three main families that group several categories. The three main thermometer families are instant reading thermometers, minimum and maximum thermometers:
Minima thermometers are direct reading outdoor thermometers in which a toluene compound moves a cursor by expanding under the effect of cold. When the temperature rises, the toluene contracts, leaving the cursor at the position where it was moved by the cold. Simply read the position of this cursor on a graduated scale to know the value of the minimum temperature for the period.
Maxima thermometers are classic outdoor thermometers (formerly mercury thermometers) with direct reading and a kind of non-return valve in the thermosensitive liquid tank. The fluid expands under the effect of heat but cannot return to the tank when the temperature drops. Just read on the scale the level reached by the liquid to know the maximum temperature of the period.
Conventional direct reading thermometers have a particularly heat sensitive liquid that expands and contracts with temperature. The reading on the scale of the liquid level indicates the temperature at the time of reading.
Different outdoor thermometer reading modes
Among the external thermometers with instantaneous reading one still distinguishes thermometers with direct reading and those with remote reading.
The direct reading outdoor thermometer
The temperature reading on the outdoor thermometer must be done directly on the device. In this family of thermometers, we distinguish between:
Garden thermometers: these are the most basic, they can either be hung at viewing height on a support stand and sometimes combined with a rain gauge 1and / or a weather vane. These models are among the most economical but require you to go out and get close to them to read the instantaneous and precise temperature. Unless they are placed in a window lintel but their measurement is then distorted by the near heat and by the shelter formed by the lintel.
Glazing thermometers: often it is a suction cup or a sticky patch that keeps the outdoor thermometer stuck to the outside of a glazing. It is easy to read because it can be read immediately from the inside. But its measurement is necessarily erroneous because of the heat loss from the interior acting on the glazing and by the shelter constituted by the lintel of the frame.
Good to know: Temperature measurements recorded and communicated by the weather are made from outdoor thermometer readings but placed at a height and under a ventilated shelter which allows an air circulation speed of 5 m/s. They, therefore, differ from measurements made with an outdoor thermometer without shelter.
The remote reading outdoor thermometer
Temperature sensors have been designed from an electronic system which transmits their information by wire or radio to a central station or weather station ;
The sensor can then be placed as judiciously as possible outside while indicating on an inside screen the temperature measured.
Good to know: from a single outdoor temperature sensor, most central and weather stations can record extreme values (minimum and maximum) of temperatures over a given period.
Outdoor thermometer materials and styles
Thermometers contributing to the decoration of the garden, they come in different forms and materials :
in lacquered iron for a classic or modern style depending on the shape and colors;
in epoxy steel or aluminum;
cast iron for one retro side;
in a painted wood of simple or elaborate shape;
plastic and in the shape of a small house, animals, etc.
Criteria for choosing an outdoor thermometer
Choosing an outdoor thermometer depends on the accuracy of the data you want to collect. When it is a question of whether or not it is time to put winter tires on your vehicle and whether there is a risk of snow and ice, you must choose a thermometer or a central sensor capable of indicating the minimum temperature recorded.
Whether you choose a minimum direct reading thermometer or a remote reading thermometer, make sure that the device (thermometer or sensor) is located in an open area without shelter or shade.
Good to know: as a general rule, apart from occasional weather phenomena, the minimum temperature of a day (24 hours) occurs 1 hour after sunrise.
If you want to observe how temperatures change to see whether plants need to be protected or retracted, the standing thermometer is particularly well suited because it is exposed to the wind as is the vegetation around it. However, the wind contributes to the drop in temperature and it is this cumulative drop in the effect of the wind that the earth and plants suffer.
Whether it's how to dress to protect yourself from the cold, or whether to turn on the heater again, the glazing or lintel outdoor thermometer gives a valid indication. Even if its measurement is distorted by the proximity of the house and the shelter it provides, it reflects the real conditions of the building and the environment most often visited (premises, vehicles, city streets...).
If complete and accurate outdoor temperature readings are required, a standard weather shelter and accurately calibrated thermometers should be used.
Good to know: The Weather Station or Temperature Sensor Unit is a complete and practical device but it is necessary to make sure that the temperature sensors have been correctly calibrated or check their calibration before considering them reliable.
There are several criteria to consider before buying a garden thermometer.
Accuracy: rely on a thermometer capable of indicating the minimum temperature recorded.
Installation: garden thermometers can be placed, hung on a support stand, planted or fixed with a suction cup.
Meteorological functions: to optimize their use, some outdoor thermometers propose various functionalities like a rain gauge, a hygrometer or a weather vane or an indoor and outdoor temperature display.
Display: Most direct reading thermometers offer temperature display in degrees Celsius °C and Fahrenheit °F.
Outdoor thermometers: price
Unless you want to buy an outdoor thermometer in a garden store or supermarket that is more decorative than precise, you should go to specialized stores or Internet sites to find precise and, if necessary, aesthetic materials.
For weather stations and their temperature sensors, they can be found both in stores and on the Internet. But while stores only distribute a few brands, all brands are present on the Internet and prices can easily be compared.
An outdoor thermometer to hang or stick on a glass pane is around $3 for a classic liquid marker thermometer but with very few guarantees on the reliability of its measurement.
Dial thermometers with a metal spiral probe are even less accurate but are often at $ 1! From about $10 you can find power stations with a wired thermometric sensor and you have to count a little more than $20 to find radio-controlled thermometer power stations (wireless).
Good to know: whatever type of outdoor thermometer you choose, think that in summer, the sun's rays can easily raise its temperature to damage it.
Best outdoor thermometers
ThermoPro TP65 Digital Wireless Hygrometer Indoor Outdoor Thermometer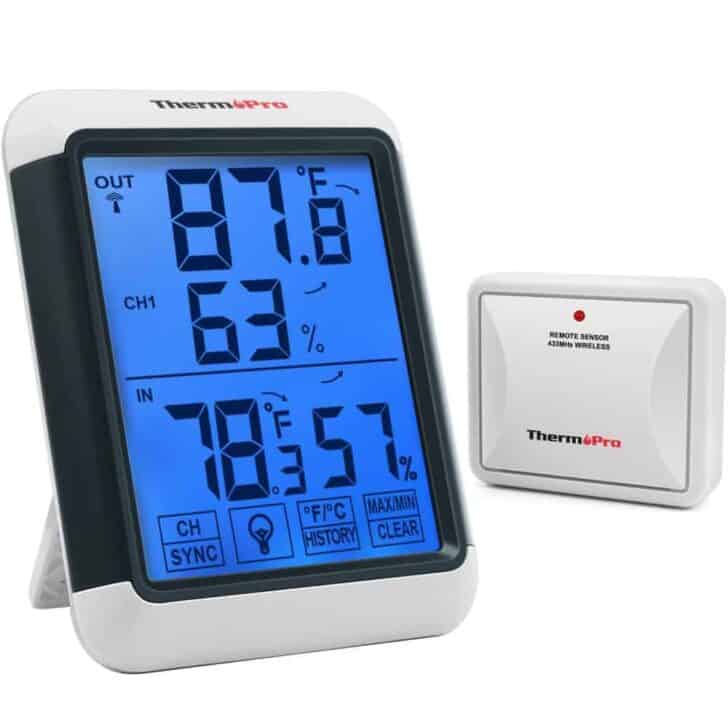 Equipped with professional grade sensors, the ThermoPro TP65 thermometer provides the most accurate measurements, be it for indoor humidity or temperature, allowing you to be aware if adjustments are necessary for your household.
The indoor thermometer and humidity gauge are not just highly accurate but extremely user-friendly with a backlight for those last-minute nighttime checks on current readings before bed.
That's not all, no longer will it be necessary to unmount the device of your wall or fridge to switch settings, simply use the sleek touchscreen display. Furthermore, this temperature gauge provides an abundance of valuable information, such as displaying 24 hour/all-time high/low records and current trends for both humidity and temperature and humidity level icons that indicate if your home is too humid, too dry or just right!
La Crosse Technology WS-9160U-IT-INT Digital Thermometer with Indoor/Outdoor Temperature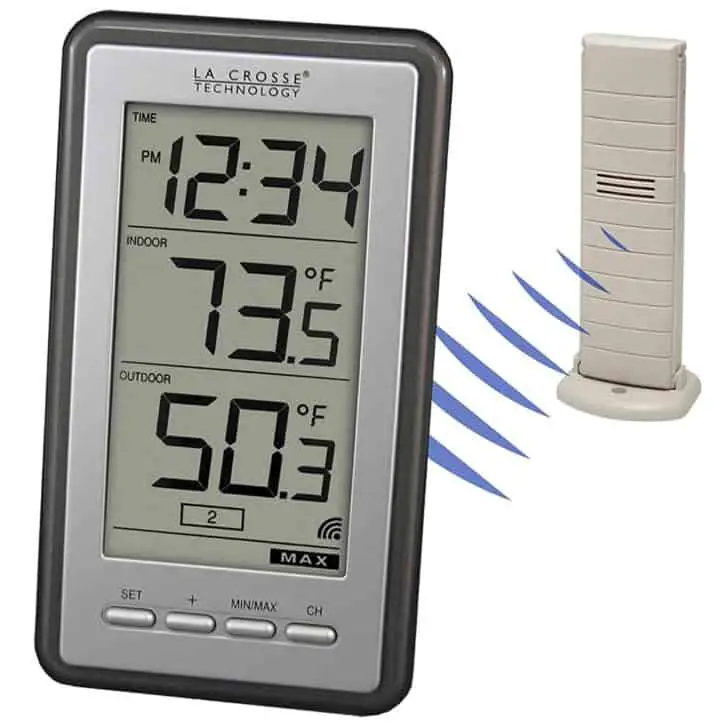 Extra Large Digits for Great Viewing! One of our Top Rated models makes this one of the Best Sellers! Wireless temperature transmits from weather resistant outdoor sensor, within 330 ft range and updates every 4 seconds depending on obstructions. 12 or 24 Hour manual setting time and will receive up to 3 outdoor sensors. Records MIN/MAX temperature values.
AcuRite 75077A3M Wireless Weather Station with Large Display, Wireless Temperature Sensor, and Atomic Clock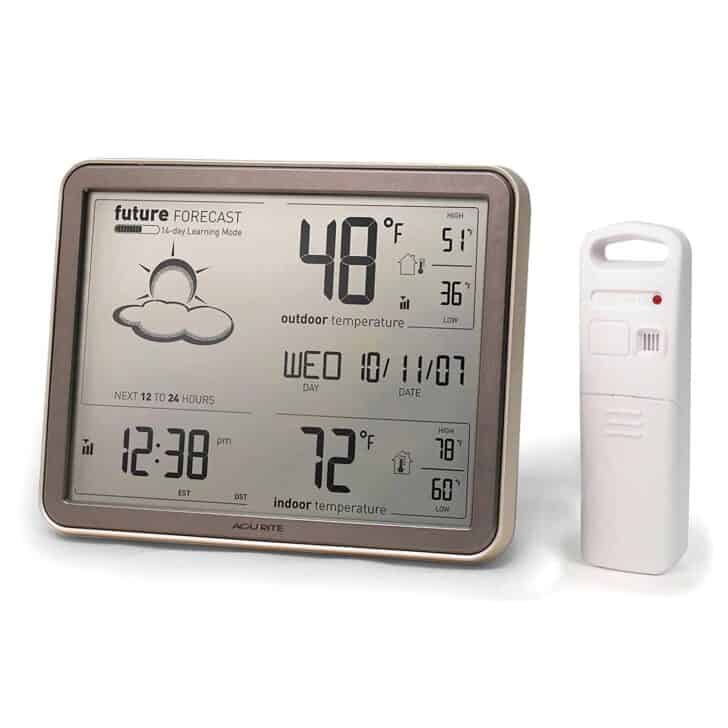 Plan the day with confidence with your own weather and weather prediction information – pinpoint accuracy right from your own backyard with AcuRite's Jumbo Weather Station. The Weather Station uses patented Self-Calibrating Technology to provide your personal forecast of 12 to 24-hour weather conditions. Self-Calibrating Forecasting is generated from weather data measured by a sensor in your yard - giving you the most accurate forecast available for your exact location.
Sale
Taylor Precision Products Wireless Digital Indoor/Outdoor Thermometer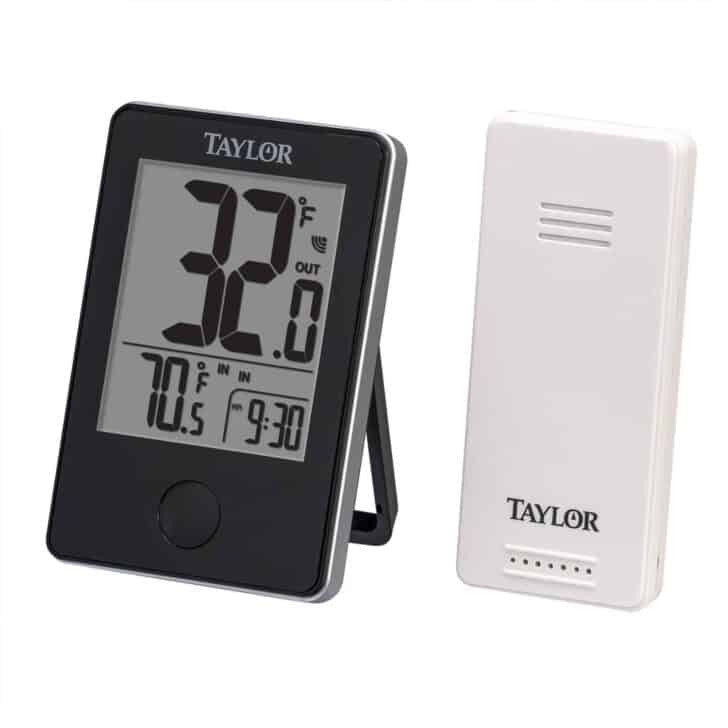 How do you prepare for the day ahead? The Taylor Wireless Indoor and Outdoor Thermometer serve as your personal weatherman, providing reliable at-home temperature readings in °F and °C. Sleek and contemporary, this wireless weather thermometer displays extra-large digits for enhanced readability and daily minimum and maximum temperature recall. The remote sensor transmits up to 200 ft. away, ensuring you'll never be far from checking the weather in the comfort of your own home. With alkaline batteries, this digital weather station will display outdoor temperatures from -4 to 140 °F, while lithium batteries provide an outdoor temperature range of -40 to 140 °F. Both alkaline and lithium batteries will record indoor temperatures ranging from 32 to 122 °F, ensuring accurate indoor and outdoor temperature readings in any weather condition or season.
Sale
How useful was this post?
Click on a star to rate it!
Average rating 3.8 / 5. Vote count: 4
We are sorry that this post was not useful for you!
Let us improve this post!
Thanks for your feedback!
Updated on 2019-11-21 - Images from Amazon API. Logos are trademarks of Amazon.com, Inc. or its affiliates.