The best outdoor projectors to use in a garden, on a balcony, a terrace or in a garage… Summer is particularly suitable for outdoor cinema. Unlike television, it is easy to create a spontaneous installation for a movie night under the stars. The open-air cinema also lends itself very well to camping. Read on to learn more about the ideal setting for your outdoor projection.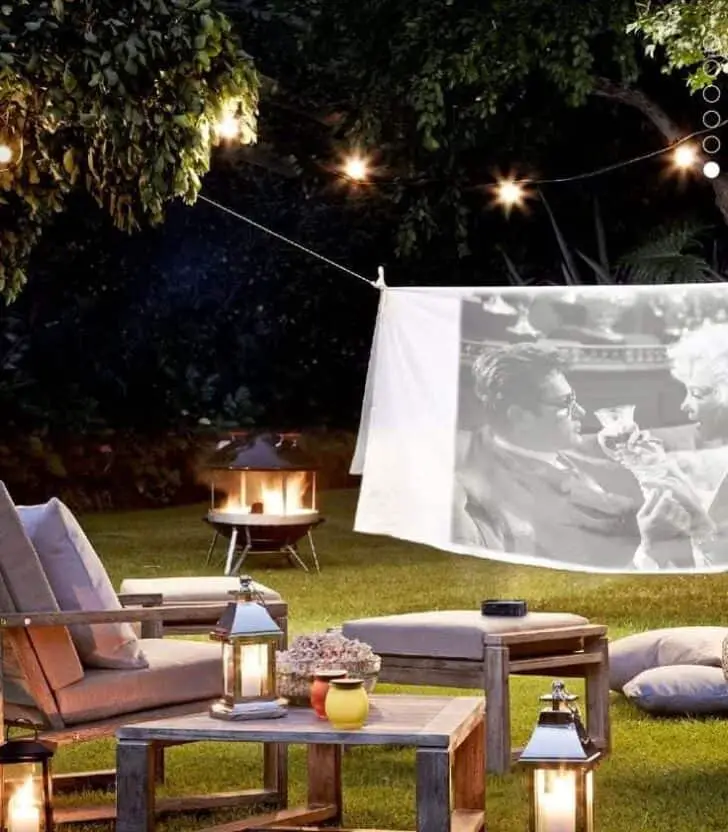 The best outdoor projectors for outdoor cinema
There are not yet any models specifically designed for outdoor projection. No matter what, several major professional quality brands are ready to give you satisfaction to perfect your movie nights or your outdoor presentations. The features listed above may be your first selection criteria when purchasing your projector.
In order to project large images, for which outdoor projectors are known and appreciated, we strongly recommend using an HD model. Most home theater projectors broadcast in 720p or 1080p, which is more than enough. You can also search for a professional projector with a resolution of 1280×800 or higher. Non-HD projectors can also work well outdoors, but the image quality will not be as accurate as their counterparts with higher resolution.
To complete your installation, you will also need a computer with an HD connection or a DVD or Blu-ray player. Some of the latest Home Cinema projectors have a built-in DVD player or iPhone interface and are in fact a perfect'all-in-one' solution. Just don't forget the power cable!
Last little trick! No matter how often you use your cinema outdoors, we strongly advise you never to leave the projector outside after use. This also applies to the canvas!
Recommended specifications to choose one of the best  outdoor projectors
During a wedding or during a seminar, a screening of a series of photos, a report, a film or a football game can be very appreciated. But some recommendations are to be taken into account to ensure the success of your event. Knowing that we are talking here about equipment requiring electrical installations, one of the first things to do is to pay attention to humidity that could disturb and damage the equipment. The power of the projector display is the second guarantee of the visibility of your projection, but above all, be aware that projection in full sun is to be avoided, so wait until dusk for a correctly readable image.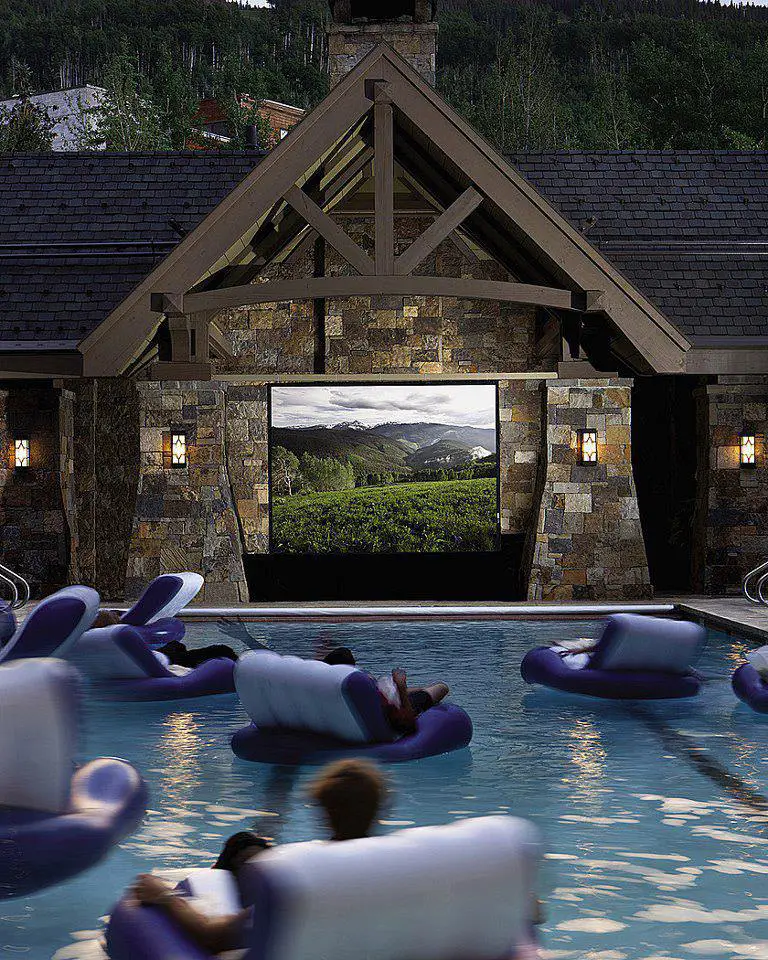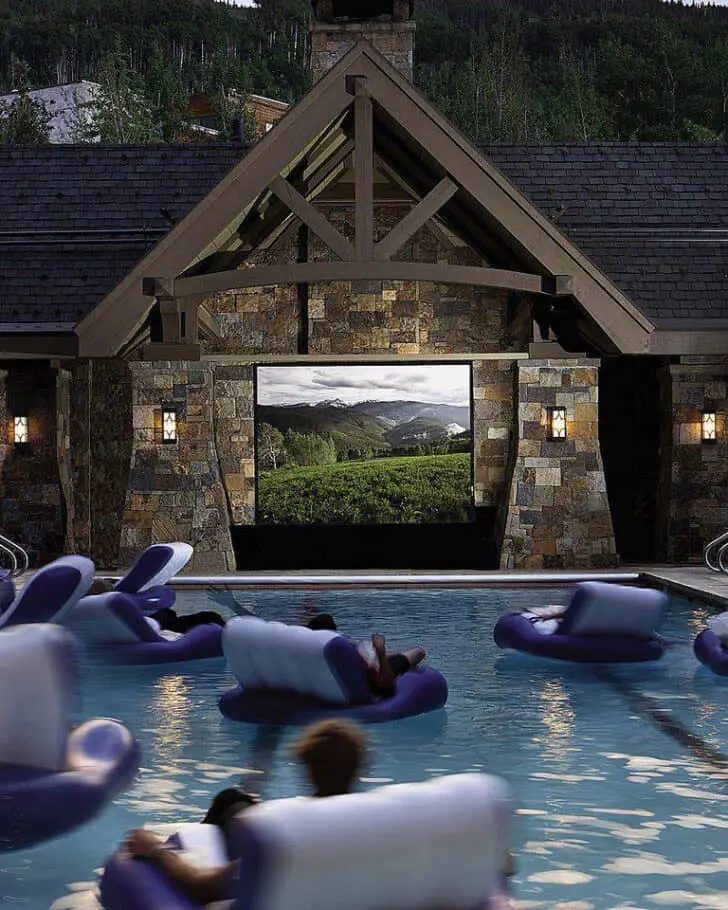 An outdoor projection requires a fairly large investment. You can find video projector rental service providers who can promise you a good rendering in any environment, but even with a power of 10000 lumens, in broad daylight, it will be difficult to distinguish anything on the projection surface. The minimum power required for an outdoor projection is 3000 lumens when planning your projection at dusk. A long focal length is required for a display beyond 5-7 meters distance between the projector and the projection surface.
The use of an outdoor projector requires at least one HD display. A minimum of 720p is required for a sharp image, but of course, if you have the ability to use full HD or 4K, or 8 million pixels, the comfort for your eyes will only be better.
Brightness: 3,000 Lumens or more
Resolution: HD (720p or 1080p)
Connectivity: HDMI or video component
Projector Sound: Some projectors have built-in speakers. If there are none or you simply want better audio quality, you can get portable speakers (with or without power).
Is it possible to install an open-air cinema without a screen?
The answer: of course! You can create your own projection surface by using, for example, one of the walls of the house, the garage door, a plaque or a sheet. Where and how you want to do it ultimately depends on your desires. The best outdoor cinemas simply consist of a projector and a sheet stretched between two trees.
Don't forget:
A multi-socket extension
A power cable
A cheap DVD or Blu-Ray player (if your outdoor projector doesn't have one)
A good film
External speakers (if your projector does not have one)
Food and drink (food and beverages must always be kept away from electronic devices)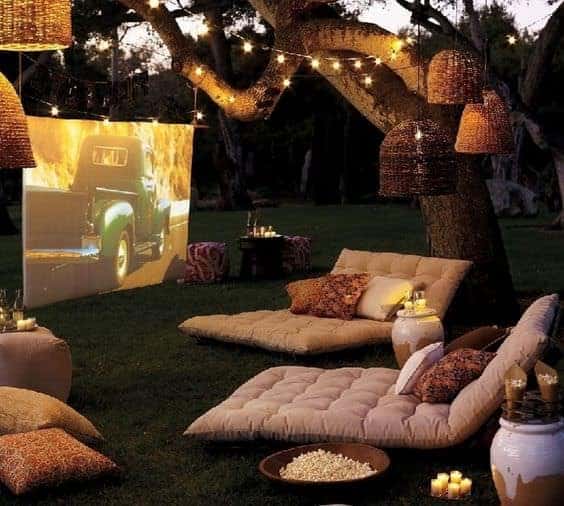 Advice for your garden projections
Invite your neighbors or at least inform them that pictures will appear in the garden or that noises will occur.
It's best to start an open-air movie show at dusk.
Pay attention to cables on which you can risk tripping.
Keep your electronics away from pools, barbecues, and pets
Turn off your automatic sprinklers before setting up the installation
Remember that a video projector is not a coaster for beer bottles or wine glasses
Follow the instructions for specific outdoor installations
Store your outdoor projector and monitor after use to avoid the effects of humidity
Make sure your projection screen is not wet before rolling it up and storing it.
As soon as the screen size exceeds a certain diagonal, TV prices tend to soar! The purchase of the best outdoor projector represents an ideal compromise for all those who have a beautiful projection surface and a comfortable set-back distance. LED, Tri-LCD, Full HD? 1001Gardens presents you the best devices according to your budget.
Best Outdoor Projectors
Meyoung TC80 LED Mini Projector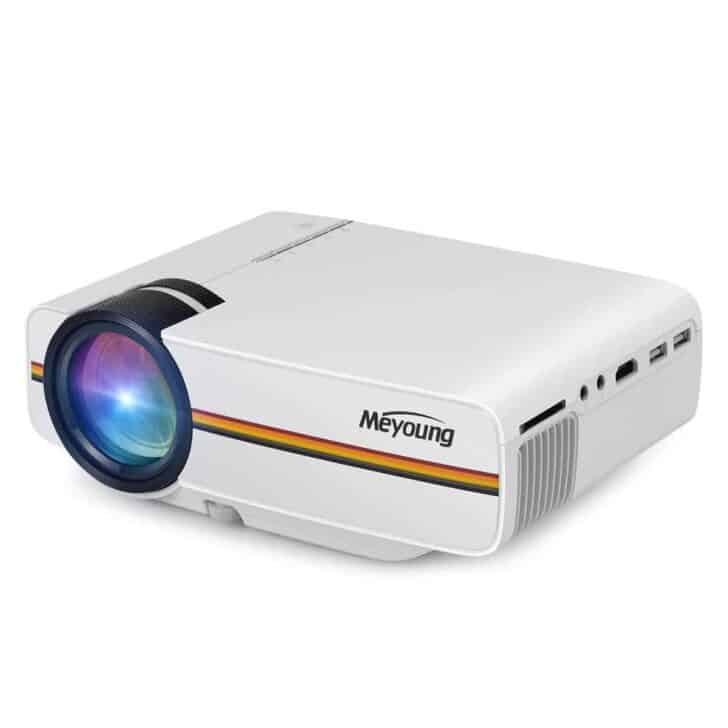 Meyoung TC80 mini home tv outdoor projector in richer colors 1200 luminous efficiency native 800×480 resolution. Outdoor indoor movie night, up to max 1080P throw screen size 150″ for home theater movies with family and friends in completely DARK NIGHT! Fits right into our best outdoor projectors list.
Support HDMI-enabled blue-ray DVD player, PCs, Laptops, Tablets, Blue-ray DVD player, Media players, Games HD Ready, such as PS4.
Support Smartphones, (Notice: You need to purchase an HDMI ADAPTER separately)
Compatible with USB Flash Drive, Mobile HDD, SD Card to play Videos, Music, Pictures etc. Comes with a built-in loudspeaker powerful amplifier.
Resolution: 800 x 480 (native), 1200 luminous efficiency, Throw screen range: 50-130 inch, Throw Distance: 4.9~13.12 feet, Throw Ratio: 1.4:1, Aspect Ratio: 4:3/16:9
Warm Tips!
External Speaker required if you use a VGA cord to connect the LCD cinema projector while watching videos, VGA cable can NOT transmit audio signal. Remove the remote to the back of the projector's IR receiver.
The USB port only supports USB flash drive, DO NOT support cord connection and data transfer.
It will be easy to operate the Meyoung home projector by using a remote controller.
More for quick presentations and Events, NOT recommend for professional PowerPoint Presentation.
If you need a much louder sound, an External Speaker is required.
Choose "PCM" Digital Audio Output in your Blue-ray DVD player.
Notice: A HDMI ADAPTER (You need to purchase it separately) is required if you connect the outdoor projector to tablets and smartphones.
Meyoung TC80 LED Mini Projector, Home Theater LCD HD Movie Video Projectors Support 1080P TV HDMI...
Meyoung portable projector perfect for connecting to any HDMI-enabled devices such as PCs, Laptops, Tablets, Blue-ray DVD player, Smartphones, Media players (Music, Pictures, Video, TXT).
Meyoung home portable projector can display Music, Pictures, Videos from Smartphones (You need to purchase Special Cords). Supports Video Games in HD by the projector,such as PS4. Enjoying games on...
Wsky 2019 Newest LCD LED 2800 Lumens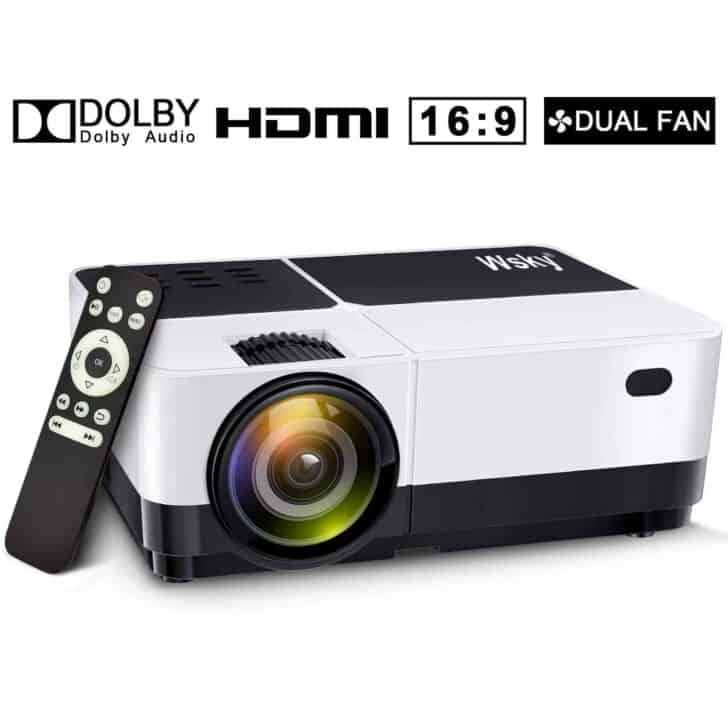 Authentic Big Screen Home Theater, Wsky Direct 2019 Upgrade Projector, Projection Image Capability is up to 176 inches, 20% larger than our 2018 model. The light is 90% brighter than a regular projector. That's why it hightailed all the way into our best outdoor projectors list.
Dolby Speaker and Dual Fan Cooling System
Dolby Audio technology is a powerful set of technologies for providing rich, clear and breathtaking sound effects for home theater. The technology can further enhance the appeal of entertainment by providing a dynamic auditory experience.
Dual Fan design, the Cooling system is more efficient, which protects the light bulb and makes the lifespan longer, up to 40000 hours.
Easy to Set Up and Adjust
You could choose Rear, front, ceiling, three ways to make a projection, with screw holes under projector (screw is not included) for ceiling mounted, operate with a remote control or manually. Support ±15°vertical keystone adjustment.
Multimedia Interfaces Enhance Your Entertainment
PC, Laptop, PS4, Xbox One, Xbox One X, TV BOX, USB Driver, HDMI device, VGA, SD etc. Enjoy gaming and TV shows through a Big screen. Never worried about the subtitle too small.  If you want to connect to iPhone or iPad, please purchase additional MHL cord.
DOACE P3 HD 1080P Video Outdoor Projector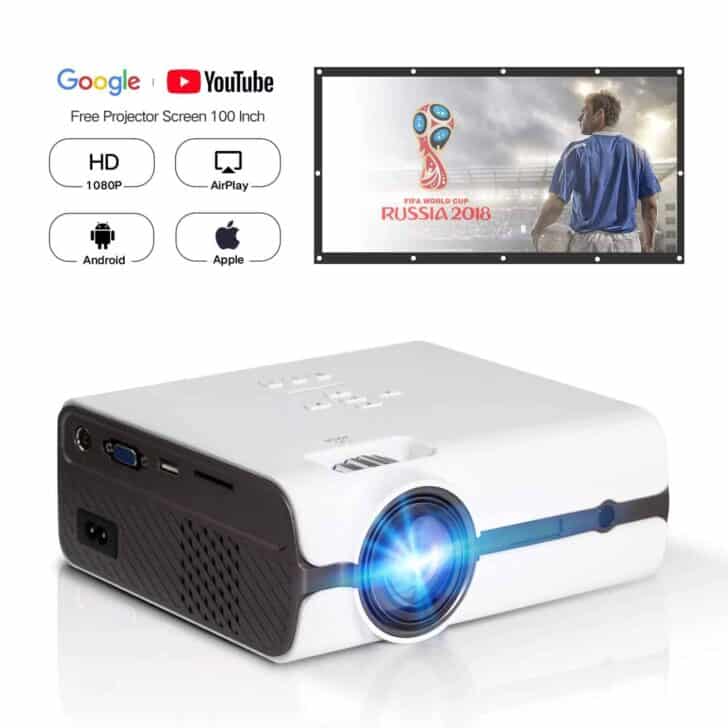 Extended Lamp Life
Extended lamp life for about 50,000 hours. To avoid overheating and extend its working life, to take a break after 3-4 hours using.
Low Fan Noise
Equipped with double tube cooling technology with heat dispersion, as well as the fan sound cut in half with noise suppression, so the fan noise is lower than other basic LED outdoor projector, which will not influence you during watching movies or football games.
Indoor & Outdoor Using
Mini Size: 8.27 x 6.5 x 3.23 Inch, easy to carry, provides you with a wide viewing area for backyard party/camping/movie theater or live sports streaming.
Built-in high-quality speakers
Surround sound home theater effect enjoy the shock of music.
Crenova XPE496 2018 Upgraded Outdoor Projector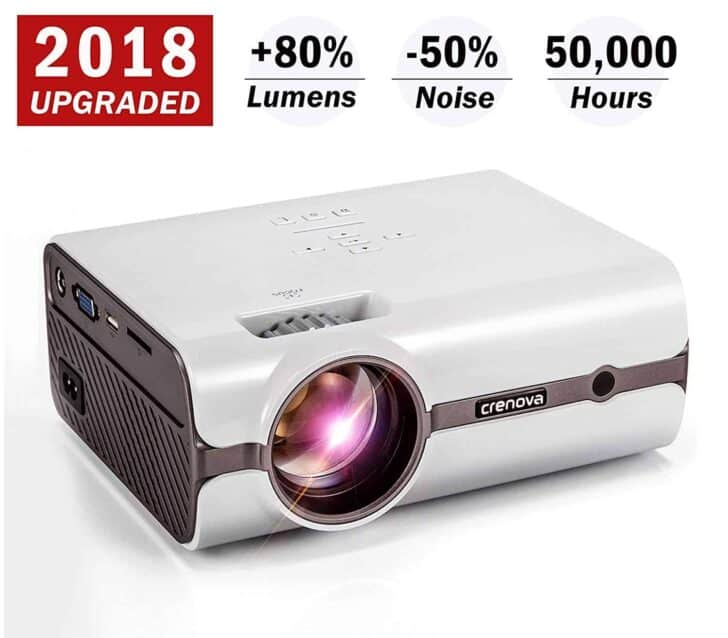 SEAMLESS CONNECTIVITY
Discover your new home entertainment hub with the Crenova XPE496. If you or a loved one is looking for the biggest and brightest HD content from all of your devices, look no further than this stylish and user-friendly video projector. That's why it hightailed all the way into our best outdoor projectors list.
SQUARE PIXELS = BETTER PICTURE
Bold & bright 1080P supported clarity for an amazing viewing experience.
2200 Lumens provides the clearest picture in its class due to innovative square pixel technology.
Finally, see true color without any jagged edges or blurred images.
ENHANCED COOLING & FAN SYSTEM
Outstanding R&D and engineering produce the most noise reduction from any Crenova projector.
Zero overheating provides a user-friendly, superior viewing experience.
Experience Crenova silence, it truly is golden.
ADVANCED LED TECHNOLOGY
An enhanced LED bulb produces better brightness in all lighting conditions.
Low-voltage allows the outdoor projector to use less energy for money-saving benefits.
The bulb's longer lifespan eliminates having to buy costly replacements.
CRENOVA XPE496 Mini Projector, Full HD 1080P and 170'' Display Supported, Portable Mini Video...
BIG-SCREEN PICTURE - 80% HIGHER LUMENS & BRIGHTNESS– Cremona's portable projector has new, square-pixel technology that provides a movie theater viewing experience with 80% higher resolution and a...
CONNECT TO ANY DEVICE– Cremona's mini portable projector easily connects with any desktop, laptop, tablet or phone so you can watch big-screen entertainment anywhere there's an outlet. It's...
HD LED 3600 Lumens Portable Outdoor Projector
Good for Your Eyes: Exclusive Bridgelux LED light source produces diffuse reflection light, which is uniformity and soft, compared to TV's direct light, this won't hurt your eyesight after long-time looking, it is a good replacement for TV, and it can relax the family's eyes truly, no eyestrain any more. Moreover, the bulb produces low heat, no radiation, lamp lifespan lasts up to 50000hrs, saving costs on bulb replacement. Green, eye-friendly and durable, ideal for your family entertainment
Customized Home Theater: Front/rear/ceiling projector, you can put it on a desk or mount it on the ceiling to project movies, photos, games onto walls/screens. Projection image size: 50-200 inches, Throw Distance: 6.56-21.9FT, 16:9 cinema-level widescreen display, support 4:3. Powered by 3600 lumens brightness, 4500:1 high contrast ratio; high resolution determines the sharpness of the image, this projector features WXGA 1280×800 native resolution, support 1080p/720p HD picture quality.
User-friendly Design: Built-in dual 5w hi-fi speakers, allows external speaker connectivity via RCA audio port and read media files from the usb flash drive without the need for pc, you can connect USB stick or external hard disk, simply plug & play. For everyone's easy use, this unit offers ±15° vertical keystone correction, digital zoom, 360°image flip, get a perfect image in seconds. The system supports up to 23 kinds of languages such as English, German, French, Spanish, Portuguese etc.
Preview
Best Offer
Best Choice
Title
Meyoung TC80 LED Mini Projector
Wsky 2019 Newest LCD LED 2800 Lumens
DOACE P3 HD 1080P Video Projector
Crenova XPE496 2018 Upgraded Projector
HD LED 3600 Lumens Portable Projector
Connectivity
HDMI, USB, VGA, AV, TV, Audio
Display Technology
LED (Light source) +LCD (Display)
Best Offer
Preview
Title
Meyoung TC80 LED Mini Projector
Best Choice
Preview
Title
Wsky 2019 Newest LCD LED 2800 Lumens
Preview
Title
DOACE P3 HD 1080P Video Projector
Display Technology
LED (Light source) +LCD (Display)
Preview
Title
Crenova XPE496 2018 Upgraded Projector
Preview
Title
HD LED 3600 Lumens Portable Projector
Connectivity
HDMI, USB, VGA, AV, TV, Audio
Updated on 2023-11-27 - Images from Amazon API. Logos are trademarks of Amazon.com, Inc. or its affiliates. 1001Gardens is a participant in the Amazon Services LLC Associates Program, an affiliate advertising program designed to provide a means for sites to earn advertising fees by advertising and linking to Amazon.com.