The history of the Adirondack chair
The Adirondack chair name come from the Adirondacks mountains, located in upstate New York. With 24,000 km² National Park Adirondacks is the largest of the "Historic landmark" parks in the United States. It was founded in 1885.
The history of the Adirondack starts in 1903. Mr Thomas Lee spent his holidays in Stony Sides, his summer residence in the heart of Westport Adirondack mountains. Dissatisfied with its garden furniture he decided to make the best lawn chair in the world! Optimal chair to observe nature, read, eat, drink, relax.
He made various prototypes and test made by 22 members of his family. Using planks and nails, he created this chair would become the Westport chair. A chair for use inside as well as outside, provided with wide armrests possible to ask them books, glasses, cups, etc … and a small ottoman. He decided to make this chair for his own use by a carpenter friend in Westport, Harry Bunnell. It wanted then add a winter activity for his carpentry work. He quickly realized that these would be popular with residents of the summer holidays.
Unbeknownst to Thomas Lee, he filed the patent application on 4 avril1904 which was granted July 18, 1905 under the name of "Westport Chair" and for a period of 25 years. His patent prevented others from making this chair. However his "Westport chair" was distributed only around Westport She did not have the expected success and today is the Adirondack inspired by Weston flesh that is most popular.
These chairs were made of pine and painted dark green or brown. Many variations inspired by the original model were created in rocking chair, head to head, with an Ottoman foot rest … This chair was popularized thanks to the gentleman farmer style, present among the rich families of the East Coast of the USA. Today it is present in most of North America gardens. It also bears the name of Muskoka.
Now they are manufactured in the world, the United States to China fir, cedar, teak, plastic, painted, etc. s In the end, the idea of Thomas Lee has toured the world of gardens.
1 – Adirondack Beach Chairs

Check out these Adirondack beach chairs with themes such as tropical, palm tree, flop flop, margaritaville and many more for the perfect summer chair!
2 – Unique Wood Adirondack

3 – Adirondack-style from Chicago

A chair titled "Playful Paisley" by Ashley Hadfield which sits in front of Eichten's Market and Bistro in Center City is part of the Highway 8 Chairs project in Chisago County that has 37 Adirondack-style, each painted by an area artist, along the stretch of highway between Chisago City and Taylors Falls Friday July 26, 2013.The project was launched by a local nonprofit group to draw visitors to businesses who have suffered during recent road work.
4 – Skull Adirondack Chair

5 – Fish Adirondack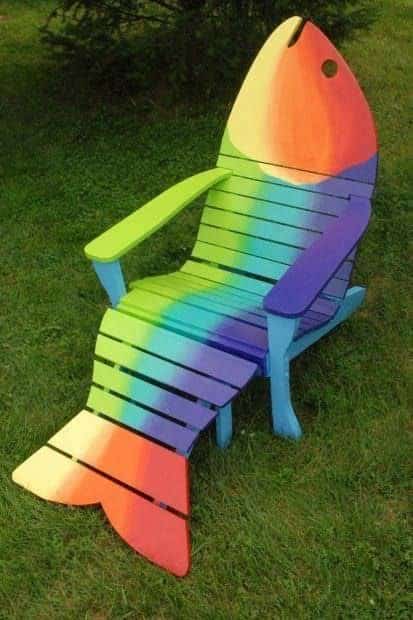 This is certainly the most funky Adirondack chair I've ever seen…All made from recycled pallets!
6 – ONE-of-a-KIND Chicago Blackhawks

7 – DIY Double

8 – Hand Painted Pittsburgh Steeler folding Adirondack

9 – Margaritaville

Our Margaritaville Adirondack Chair features everything you love about classic Adirondack furniture but with a tropical twist
10 – Star Wars Storm Trooper Adirondack Chair