According to your desires and needs, the terrace can reinvent itself every summer with some deco and a few hours tinkering. First, set the mood for this relaxing. bohemian atmosphere, design, country or shabby chic? A comfortable landmark for friends, family or lovers? Discover the best of our decorating ideas to develop a beautiful terrace and original!
Invest in Colored Chairs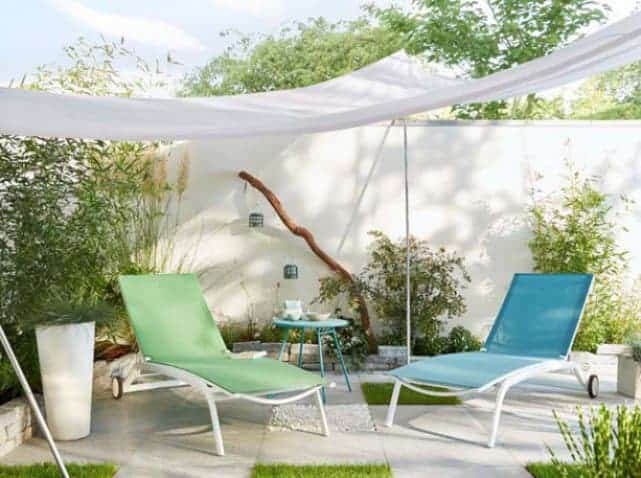 To bring a fresh and modern wind on your patio, why not succumb to pastel color? In the trend, these colors create a cheerful and bright atmosphere.
Create an Elevated Urban Garden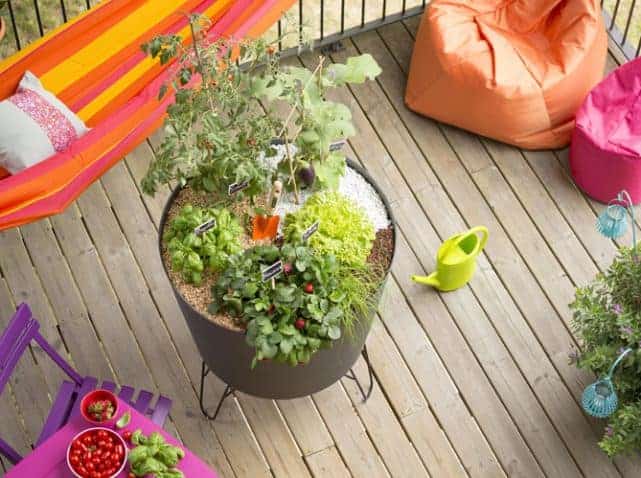 Why should vegetable gardens stick only to large gardens? Elevated so you do not have to bend. This one is completely round and cute. I love the flooring of this terrace, a nice idea for a pallet deck.
Buy Flashy Furniture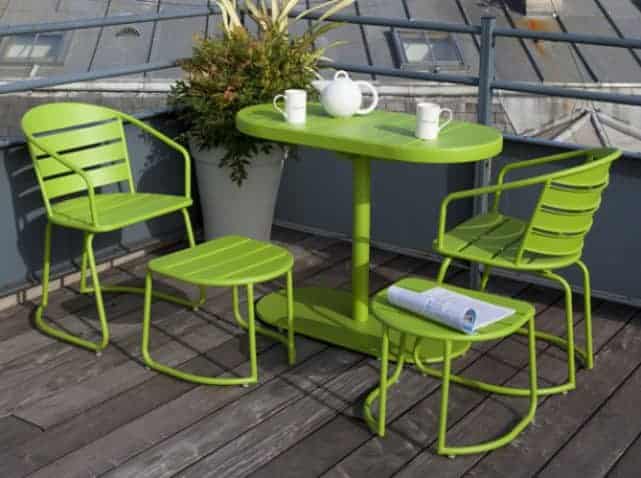 Clever furniture and practical, yes, of course, but they can also be in bright colors, then one is in love. The chairs and patio table are then the only decoration of the terrace, they are sufficient unto themselves.
Choose a Nice Recycled Sofa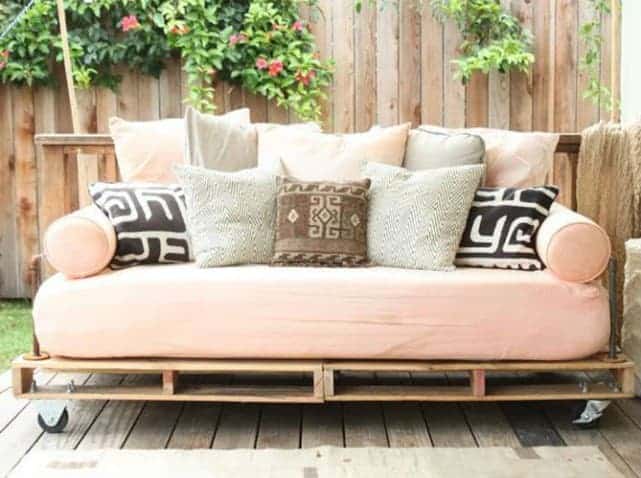 Sometimes we had some fears to invite our textile outside. The idea? Two recycled wooden pallets which are fixed together and add their wheels. Now put mattresses, loose cushions … This beautiful sofa recycling settles on the terrace and when the rain arrives, its wheels help us to get it inside!
Multiply the Outdoor Carpets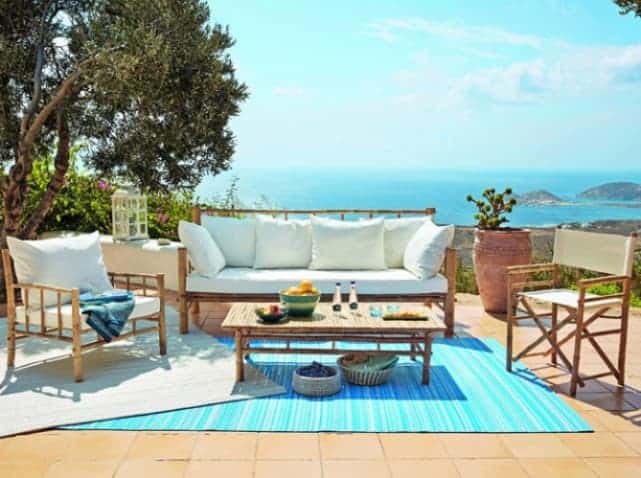 Create a cozy space by multiplying the carpets on the floor on your terrace. This will hide a floor you do not like or to bring an ethnic spirit to all. One solution is worshiped, especially with the outdoor carpet, no obligation to return them at night.
LITA Realistic Deluxe Artificial Grass Synthetic Thick Lawn Turf Carpet 3.3 FT x 5 FT (16.5 Square...
MATERIALS: Made of high quality synthetic material,superior resilience and durability,Constructed of the highest quality UV resistant polyethylene and poly polypropylene yarns,70 oz total weight per...
ENVIRONMENTALLY FRIENDLY: It is eco-friendly and non-toxic,Its 4 tone pattern is soft, lush and the thatch looks just like natural grass,providing you with year round green and turf enjoyment, Perfect...
Install a Chinese Ball Pendant Lamp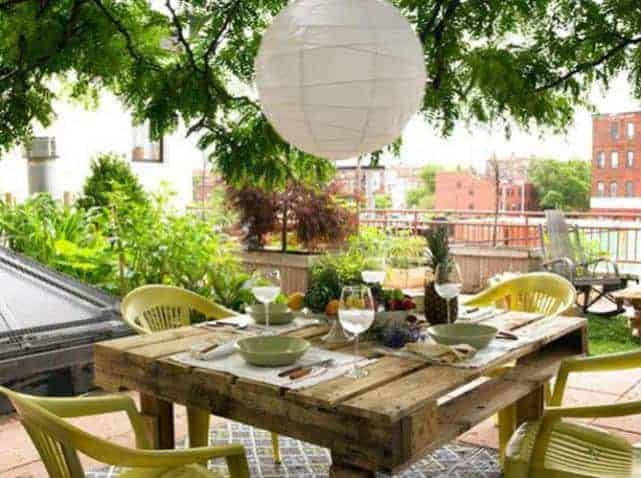 If your terrace enjoys a lovely garden, nestled under a tree or pergola, install a suspension as a Chinese ball over the big table. Simply decoration, it allows you to customize the location and showcase this friendly space.
Insulate your Terrace with a Vertical Garden
Increasingly in vogue, the vertical garden wall is invited on our terrace. Here placed end table, it can be isolated quietly with his guests without completely undermine the nice view from the terrace.
Choose Solar Lights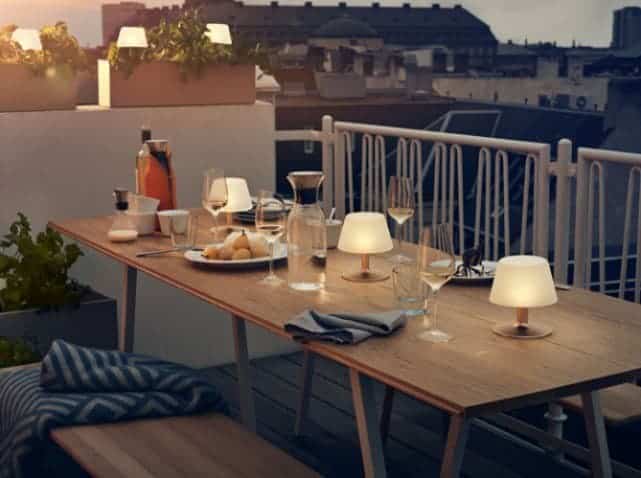 It's the right idea for decor and cozy terrace when night begins to fall: Solar Lights. No catch, no wire, no problem for the move: the perfect choice for many accumulate freely bright spots.
Solar Lights Outdoor, Solar Disk Lights 8 LED Waterproof Solar Lights Outdoor for Patio Pathway...
🎄The upgraded outdoor powerful 8 LED Solar Disk Light with bright but soft white light color: 8 Ultra bright LED lights in each solar disk for more brighter light. Much brighter than the 4 LED...
🎄Improved solar panel and working much longer times: Solar rechargeable ground light do not require electricity. Powered solar disk lights outdoor are cost efficient because solar light utilize...
Hang Christmas String Lights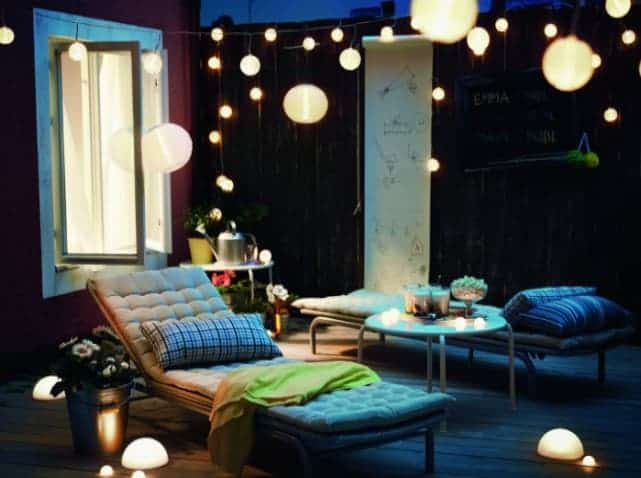 Consider decorating the heights of your deck and thus multiply the suspensions. Small decorative elements that are never tired when summer came, the light string like pennants customizes the terrace space, but mostly gives it a rustic side that fits like a glove!
Brightown Outdoor String Lights-25Ft G40 Globe Patio Lights with 26 Edison Glass Bulbs(1 Spare),...
【Dimmable Compatible & Energy Saving】G40 outside string light come with 25 glass bulbs and 1 spare bulb. 1.5 inch light bulbs have E12/C7 candelabra socket base, 5W per bulb, warm white dimmable...
【Connectable & Portable】25 hanging sockets, 6 inch lead with male plug, 12 inch spacing between bulbs, 6 inch tail with female connector, total length 25 feet. End to end connect up to 3 strands....
Decorate your Table with flowers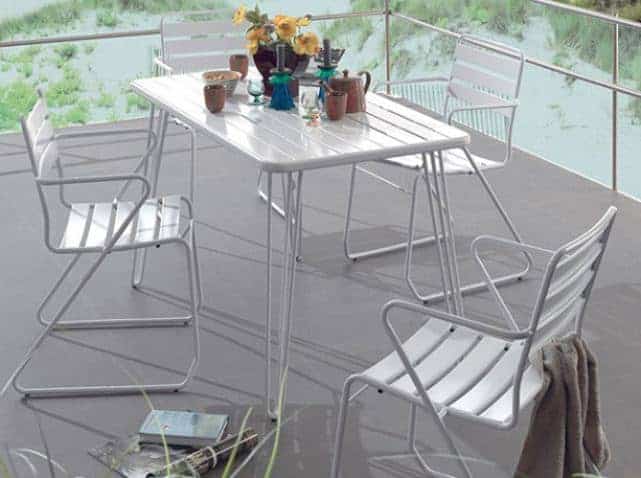 It's the detail that will change everything on your deck: the bouquet of flowers! Place it in the center of your garden table for a touch of freshness and greenery.
Updated on 2023-11-27 - Images from Amazon API. Logos are trademarks of Amazon.com, Inc. or its affiliates. 1001Gardens is a participant in the Amazon Services LLC Associates Program, an affiliate advertising program designed to provide a means for sites to earn advertising fees by advertising and linking to Amazon.com.