Roses. Tulips. Lilies. Carnations? Have you ever walked into a flower shop and been overwhelmed with the choices? From an expression of love, a congratulatory bouquet for another milestone in life your loved one has achieved, a bit of holiday cheer, or an offering of condolences to show your sincerest sympathy, the language of flowers says a lot without using a single word! So, let's talk about which flowers you can choose for whatever occasion you're celebrating.
Flowers have symbolized many things, including love, chastity, beauty, passion, and even conceit and bitterness. How you give flowers can also have meaning. Handing over flowers with your right hand was a "YES" answer, and with your left was a "NO".
Even a rose is not just a rose! Different colors of roses can have different meanings, so make your choices wisely and then wow your significant other when you tell them the real meaning behind that bouquet.
Here are a few examples from the Farmer's Almanac:
White rose: purity, innocence, reverence, a new beginning, a fresh start.
Red rose: love, I love you
Deep, dark crimson rose: mourning
Pink rose: grace, happiness, gentleness
Yellow rose: jealousy, infidelity
Orange rose: desire and enthusiasm
Lavender rose: love at first sight
Coral rose: friendship, modesty, sympathy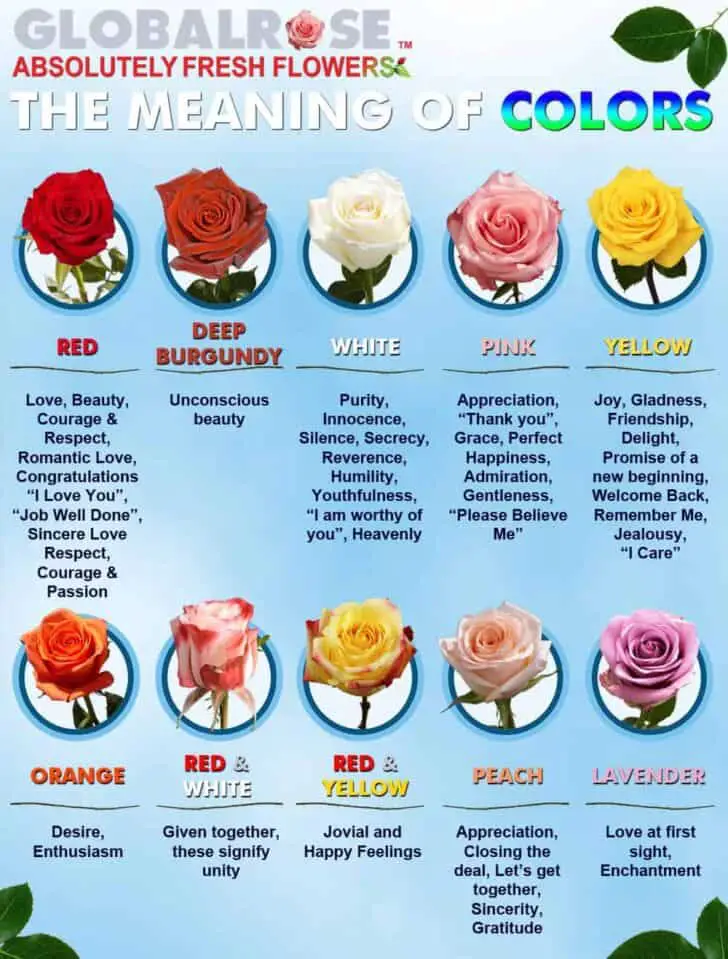 Are roses out of your budget? Try carnations! Give pink ones, since they mean "I'll never forget you." If you want to tell someone they're sweet or lovely, give white ones. If you want to show your disdain, give yellow carnations – but don't tell your boss why you got them a bouquet of yellow ones.
Now that you have an idea that flower types, colors, and the way they're presented have meaning, then how do you know what to give for special occasions? Here's a list of ideas for those holidays and celebrations.
New Year's Eve
Show up to that party with white carnations, as they represent remembrance. They'll help you remember why you want to make those resolutions! Start the new year fresh as a daisy, as they represent innocence. Baby's breath, although typically seen for wedding bouquets, represents festivity. They're perfect for that holiday celebration!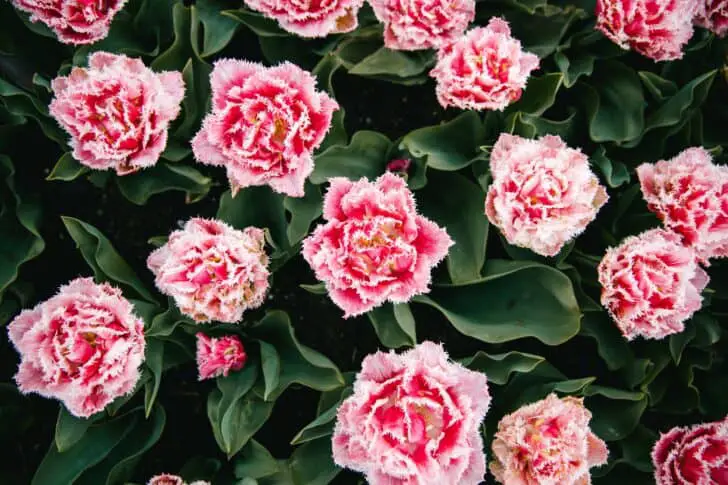 Valentine's Day
Try peonies! These fluffy, pretty flowers are associated with romance, prosperity, and some believe they bring good luck to the receiver. Roses for Valentines are a classic choice but refer to the color chart above to send the message you want to say. Show your passion while staying on a budget with red chrysanthemums.
If you want to show your attraction, give ranunculus – also known as buttercups – to tell that special someone you're dazzled by their charms. If it's your tenth anniversary, add some daffodils to the bouquet, as they're reputed to give 12 months of good luck and happiness! The elegant tulip stands for perfect love, so don't forget them as they're classic and affordable. If you want a more exotic message, give orchids for that wilder love of your life.
Easter
This holiday is well-known for flowers, but why do we give Lilies and daffodils? White lilies are considered the classic flower of Easter, as they represent love and hope. Daffodils represent respect, love, and chivalry.
Mother's Day
Regardless of meaning, your best bet is to go with your mother's favorite flowers, in the color she likes best! However, if you don't know what she likes, impress her with your new-found flower knowledge. Try chrysanthemums. It's got "mum" in the name. They're associated with truth, sharing, and secret admiration – all the things your mom taught you! Don't forget those carnations, as they represent gratitude, remembrance, and cheer.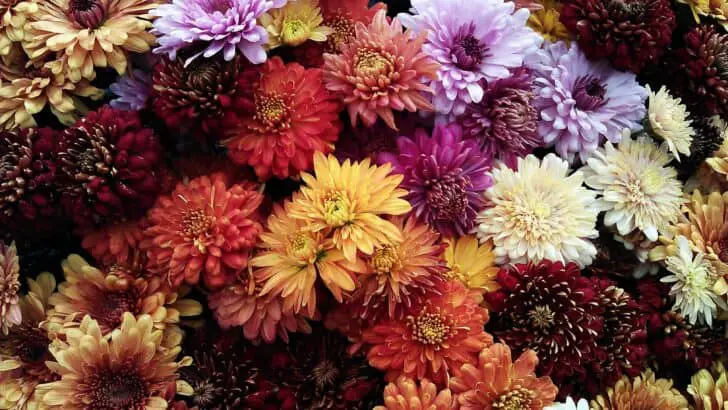 Father's Day
Dads like flowers too! The traditional flowers are red and white roses, but go with strong, bold lines and skip the pretty ribbon and fluffy fillers. You can wear a white rose in his memory too.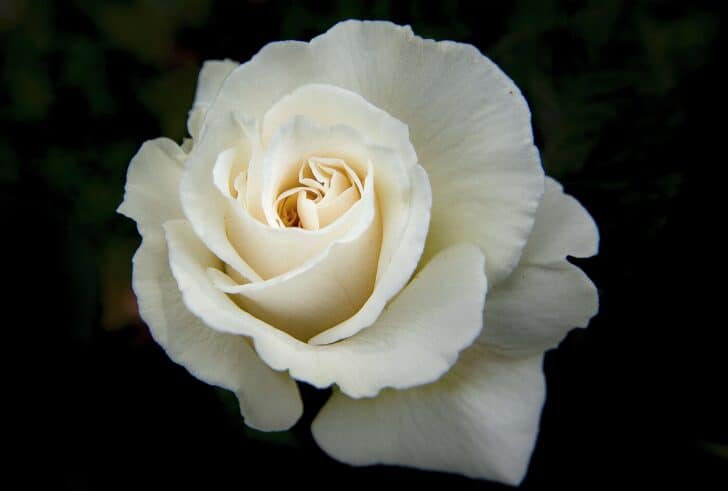 Grandparent's Day
Did you know the official flower of Grandparent's Day is the forget-me-not? Of course, any bunch of cheery flowers to let your grandparents know you love and cherish them is always a great idea.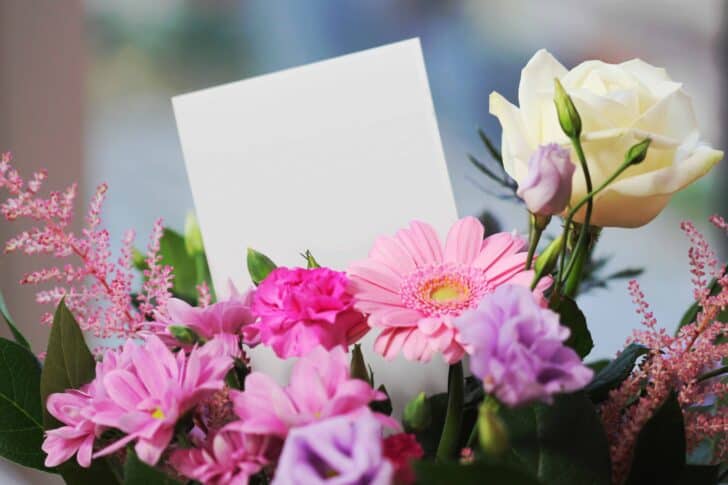 Halloween
Pull out the stops and choose any colors for your holiday party. Go bold with bright reds, yellows, and oranges, or add some deeper, darker colors, including the blues and purples. You can choose anything you like, but be creative with the accessories, such as using a plastic skull as the vase.
Carnations, roses, sunflowers, lilies, and orchids can set the mood, and you're not stuck with fall colors. A vibrant wreath of reds and whites can look amazing with a single glittery spider ornament on them.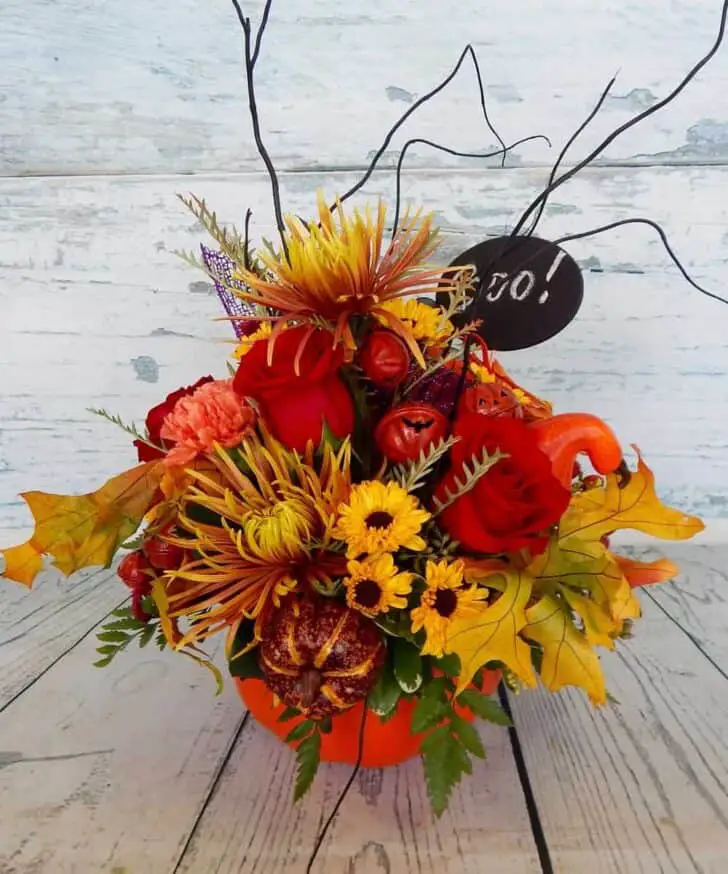 Thanksgiving
Flowers with vibrant fall colors are a must and a great way to thank those Thanksgiving cooks/hosts for gathering the family. Mums are a classic flower for fall arrangements that come in a variety of colors. Peruvian lilies embody the warmth of gatherings with their shades of red, apricot, lavender, white, orange, green, and flecked/striped varieties.
If you're having a smaller, intimate gathering with your loved one, roses offer timeless elegance. Sunflowers make a grand, bold choice that makes everyone smile. Don't forget the daisies and carnations to fill in that bouquet.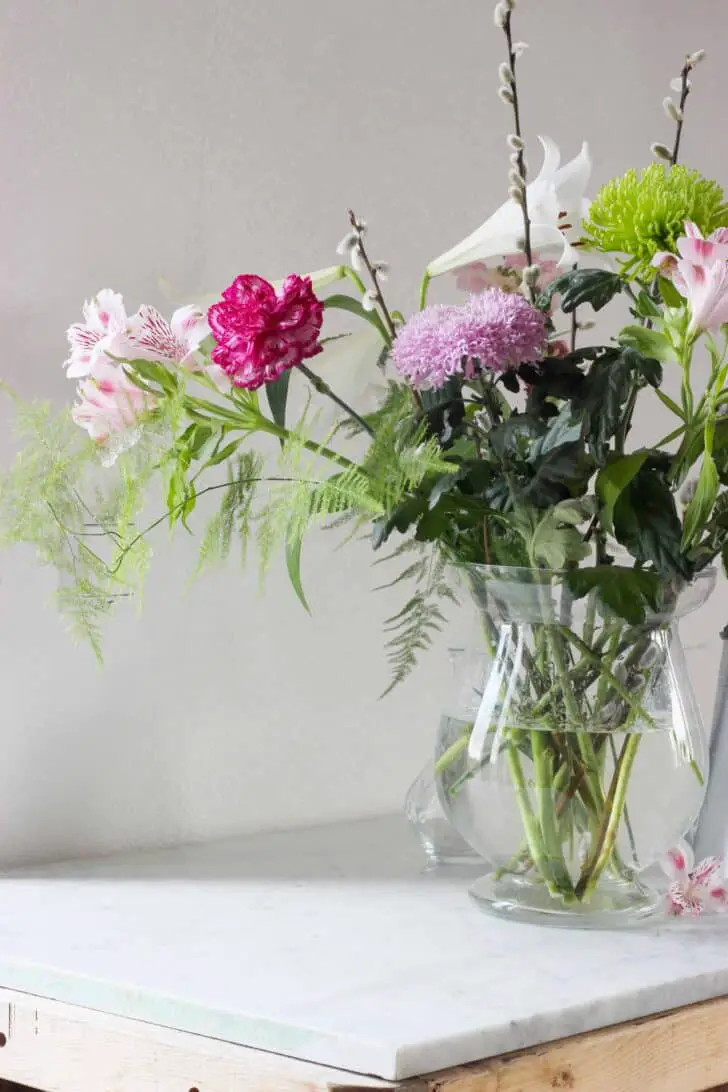 Hanukkah
Blue and white are the colors of Hanukkah. The lily is the traditional flower and provides a peaceful, tranquil look in any arrangement. You can use them alone, add some green, leafy accents, or even other white flower blossoms. Small silver and gold globe ornaments add a touch of sparkle!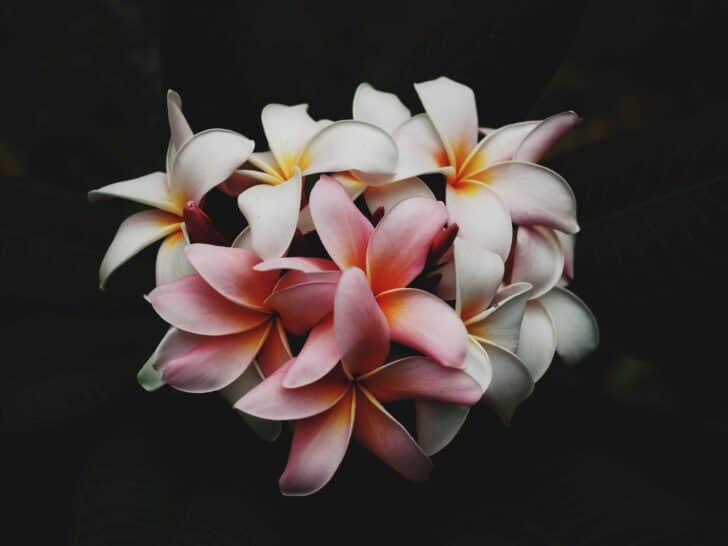 Christmas
An easy choice is Amaryllis, as they're breathtaking when alone in a vase, without any accent flowers! Hydrangeas are bright, fluffy bursts of color that still go with your holiday theme, and is a nice change from the traditional red, green and white. Roses are always a welcome gift or bouquet but have some fun with accent colors. Carnations are now coming in a wide array of colors and can be mixed in eye-catching combinations without breaking your budget. Lilies are long-lasting and they're beautiful.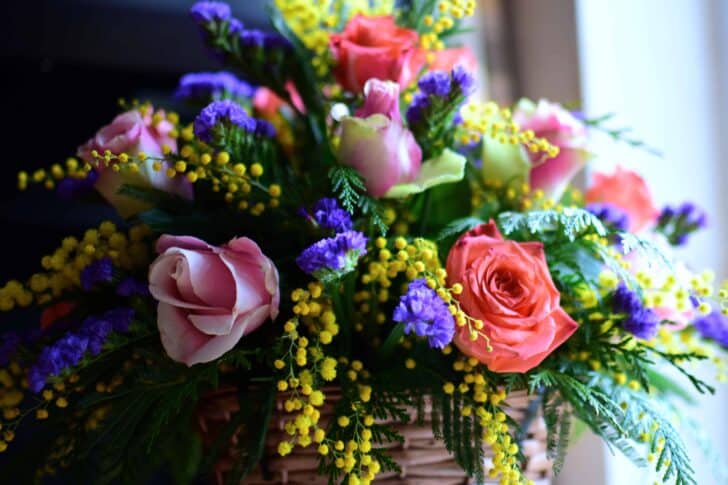 Add contrasting accent flowers to make a stunning arrangement. Daffodils are an excellent choice for a rustic look. Just put them in mason jars or farm crates and you can make them as small party favors too. Grab some modern red and pink tulips for a twist on your holiday bouquets and light up the room!
When in doubt, pick a bouquet that appeals to you with a variety of bright, cheery blooms. A heartfelt gift of flowers is guaranteed to make the recipient smile.
General Tips When Ordering Flowers for Any Occasion
There's no golden rule of what flowers to choose for any occasion. It all depends upon your culture and tradition, or acceptable practices carried out in your area. Different flowers have different symbolism or meanings. As they say, it's the thought that counts.
However, how do you ensure you'll be sending fresh and beautiful flowers when ordering online? Check out the following tips:
Deal with a Reputable Online Flower Shop: Reviewing the flower shop profile where you're planning to order a bouquet of flowers is important for your peace of mind. Check client testimonials, where the brick-and-mortar flower shop is located, or whether the florist is an independent or freelance seller.
Know the Source: Ask the seller where the flowers are being sourced. You want to ensure that flowers are fresh but without too many chemicals or preservatives sprayed to affect its scent, as well as your health and safety. Choose one sourced locally or, if sourced abroad, check what preservation means the florist employs to keep flowers fresh.
Know the Policy: Determine the policy to avoid delays and ordering flowers or bouquets not as described on the listing. What happens when the flowers are not sent on time? Who's responsible for late deliveries, missing orders, and not as described items?
Order Early: Make sure to order early before major public events or celebrations, such as Valentine's Day and Mother's Day. Ordering days before the occasion may run you out of flowers available. Confirm your order a few days and before the event to ensure everything is set.
Avail of Special Offers: Flower shops or sellers online offer good deals from time to time. If you're planning to order ten bouquets for your loved ones in every occasion all-year-round, you can inquire about available loyalty programs or rewards.
Conclusion
Now you're all set to choose the best flowers for every occasion and surprise your loved ones or special someone. Remember, you don't have to follow any rule when choosing flowers. Just follow the tips shared above and order the best bouquet to make someone happy today.