Garden furniture is one of those things that come in a wide variety. There are plenty of different furniture you can pick from depending on your needs, as well as your family's. Aside from the difference in function, there are many other ways to customize furniture, whether it be by choosing the color it comes in or the pattern it may have. 
Buying the right furniture can bring a boring outdoor space to life by turning it into a new outdoor dining room or a second family room during the beautiful spring and summer months. It can also revitalize an old patio, which can come in handy during summer cookouts.
You can get your garden furniture at gardencentreshopping.co.uk or other online stores, furniture stores, and even department stores like your local Walmart. When it comes to garden furniture, your options are near limitless. Remember to have your family's needs in mind to narrow down your choices.
Here are a few other things you should consider when choosing garden furniture:
Figure Out Their Purpose
Your garden furniture can serve several purposes. If you go shopping for garden furniture without knowing what you want your outdoor space to primarily serve as, then you will be overwhelmed with your choices. The smart thing to do is to sit down and make a list of what your outdoor space's purpose will be. If you want it to serve as an outdoor area, you'll want to purchase a table and enough chairs for your entire family. Or maybe you want somewhere you can relax and enjoy the sunset, so a better option for this scenario is to buy yourself some reclining garden chairs.
Don't Forget About The Weather
Many people think all garden furniture is made to resist all types of weather and that's not always the truth. If you've ever been garden furniture shopping, you've likely noticed that the number of material options is enormous. The truth is, although all of the materials are meant to withstand external elements, every type of material has its strengths and weakness. One example of this is if you live in a place where summer gets really hot, you might want to stay away from buying metal furniture. Another way weather might influence what you buy is if you don't have any shade around your garden, so it might be a good idea to buy a patio table that comes with an umbrella.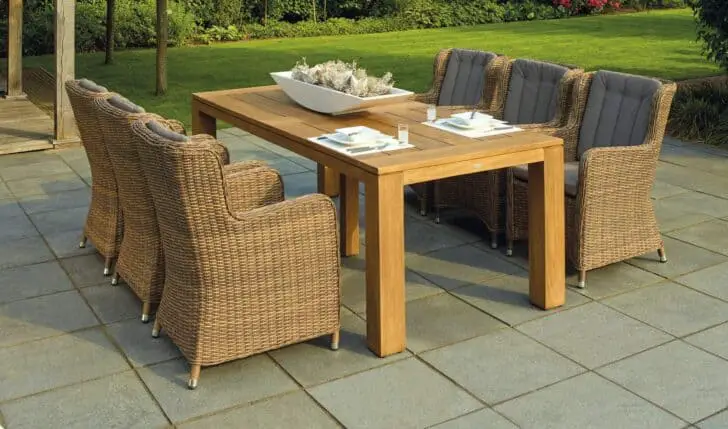 Make Sure You Have Enough Space
Furnishing your patio should be like furnishing any other room in your house: you should know the measurements of the area that you're working with. When looking at furniture, remember to not only make sure your furniture will fit in your patio, but you have to also make sure you have plenty of room to walk around the space without tripping or having to ask others to move for you to get through. If you have limited backyard space, you can always switch your dining table for a bar table and stools, allowing the same amount of people to fit into a smaller area.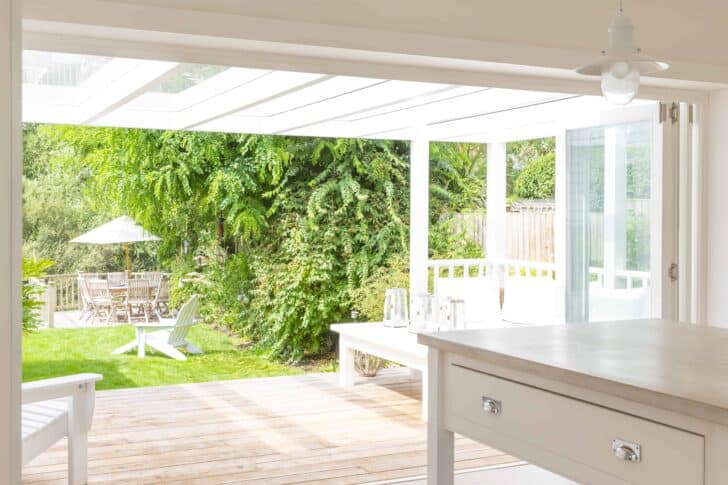 Remember That You're Investing In Furniture
One common mistake people make when buying any furniture is they try to go for deals and get the lowest price possible. Furniture should be one of the things you and your family should invest in and not be afraid to spend an extra dollar or two on. After all, furniture is one of the things in your house that should last for years before having to be replaced.
Unfortunately, when you buy cheap furniture, you're paying for poor quality and this can lead you to spend double—sometimes even triple—of your initial budget because of maintenance or because you need to replace the furniture more often due to damage. If you pay for quality from day one, the furniture will last you longer and save you money in the long run.
Try It Out Before Buying
If you're out shopping for furniture in person, don't be afraid to test them out. Buying furniture without testing it out can lead to a few problems, one of the main ones being comfort. As mentioned earlier, when you're buying garden furniture, you're making an investment. Keep in mind that furniture can get pretty pricey and will be with you in years to come. Buying something uncomfortable will lead you to spend more money to replace it or, worse, abandoning the furniture outside, unused.
Think About Maintenance
Something most people don't think about when it comes to patio furniture is having to clean them up. Your patio furniture is guaranteed to get messy one way or another. Getting furniture that's easy to clean will let you spend more time enjoying your new fixtures instead of cleaning them. Some materials that are easy to clean and are weather-resistant include any metals, wicker, and hard plastics. If your furniture is going to have cushions, make sure you have extra covers you can use while you clean the other dirty ones.
Make Sure Your Furniture Matches
Having all the right furniture will make your patio more enjoyable, but it can be an eyesore if they don't match the design of your outdoor space. If you already own patio furniture, make sure to keep in mind their color scheme and the overall design of your patio so the new furniture you purchase won't stick out like sore thumbs.
On the other hand, if you don't own any furniture, pick your favorite color and color scheme, and try to purchase all furniture matching your choice. Doing this will ensure your patio both looks and feels amazing.
Think Of The Possibility Of Storage
Most patio furniture is made out of tough and durable materials that can withstand all kinds of weather. While this might be true, storing your furniture when not in use will keep them looking new and beautiful, as well as add years of life to them. The sun and the elements can do a lot of damage to furniture regardless of the material. If storing your patio furniture is an option, try buying furniture that are foldable and made for easy storage.
Conclusion
There are hundreds of options out there when it comes to patio furniture. Picking the right furniture will keep your patio comfortable and beautiful for years to come. Although the number of options that you have might seem overwhelming, following the tips above will help you find the perfect outdoor furniture for you and your family.