You don't have to stop showcasing your garden when the sun goes down. Strategic use of lighting in the garden makes it easy to navigate at night but also shows off the work you've done. Lighting at night won't disrupt the growth stages of the plants, but it will deter critters that want to snack on tender leaves and shoots as they break through the soil. Putting lights in the garden also creates a peaceful atmosphere that invites you and your guests to sit down and relax for a while. These three tips will help light up your garden and transform it into a wonderland at night.
Determine the Purpose of the Lighting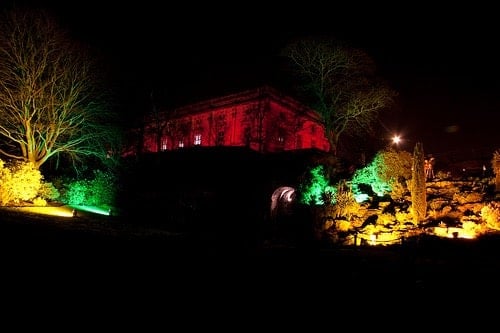 Image via Flickr by ian.plumb
You know you want to light your garden, but what do you want the light to do? Is it to highlight a cluster of plants, or is it to light a pathway? Maybe you have a water feature that you want to showcase, and you need to restrict the lighting to that one particular location.
Highlighting plants is relatively straightforward, as is lighting a water feature. The use of spotlights in the right locations serves to bring up the plants and show off their arrangement. The same goes for a water feature that has plants or goldfish, although timed lights are a good idea for goldfish so that they can get some sleep.
Decorating for a Summer Holiday or Wedding
Image via Flickr by Ted Fu
A garden is an excellent place to hold a summer holiday party. Lights are essential so that guests can make their way around without tripping and spilling their food. Consider using patriotic decorative lights such as those available from Christmas Lights Etc to add an air of festivity to the event. Go with red, white, and blue for the patriotic holidays of Memorial Day and July 4. Make sure to use enough to express the theme of the day, but don't go overboard with lighting — you might drown out your garden backdrop.
Weddings are another event that uses gardens well. Sprinkle miniature white lights throughout the flowers for a fantasy-like appearance, or wrap them around trees. Consider using candle lanterns clustered together for soft lighting. Candle lanterns use flameless LED candles for safety, so there's no worrying about setting the garden on fire if someone knocks over a lantern.
Bring Some Drama to Your Garden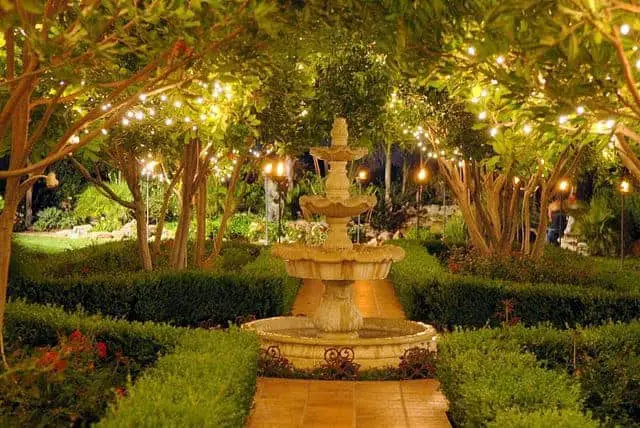 Image via Flickr by Eleen R.
Spotlighting trees and shrubbery turn your garden into a stunning and dramatic scene at night. Use white lights to create a stark contrast, or have a bit of fun with color. Do this throughout your yard wherever you have greenery you want to show off to effect, or light up a favorite section and make it the sole showcase of your lawn. Always make sure to put the lighting low and aim it upward to create contrasting highlights and shadows.
Lighting your garden is an opportunity to get creative with lights in ways you never thought possible. Light is an excellent medium with which you can paint your plants and bring out their potential when the sun goes down.