Here is a tutorial to easily make an outdoor coffee table with wood and some simple tools, beginner DIYers, this DIY is for you!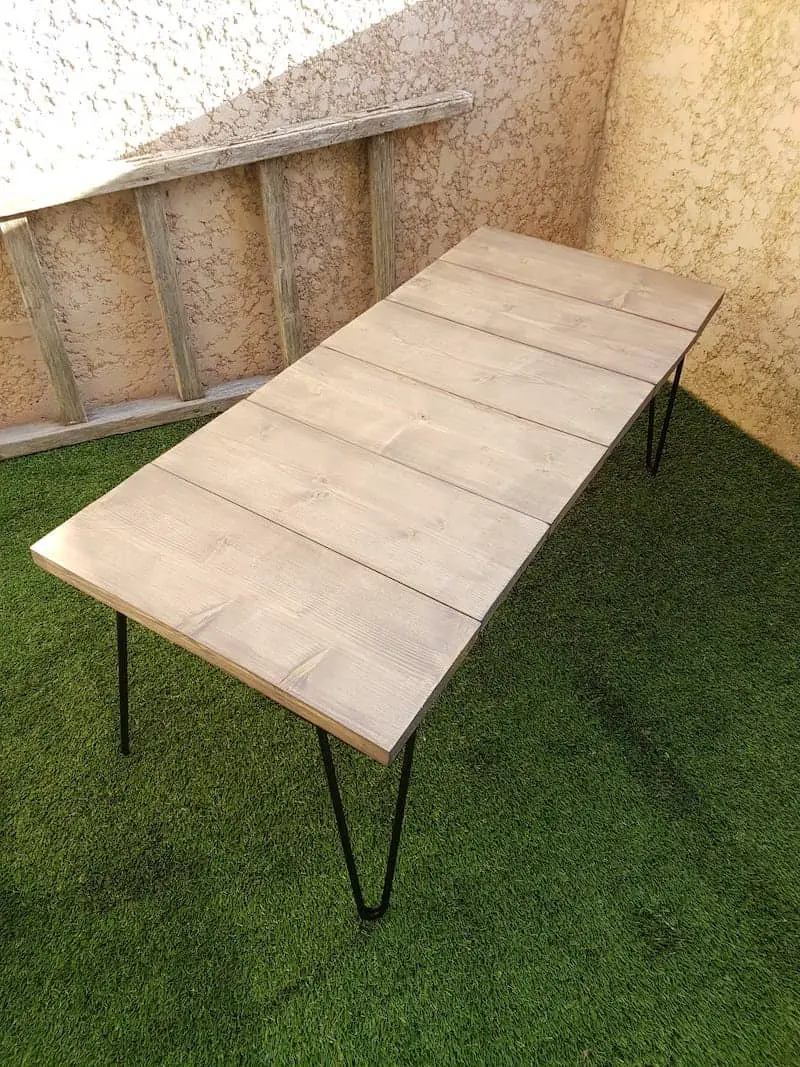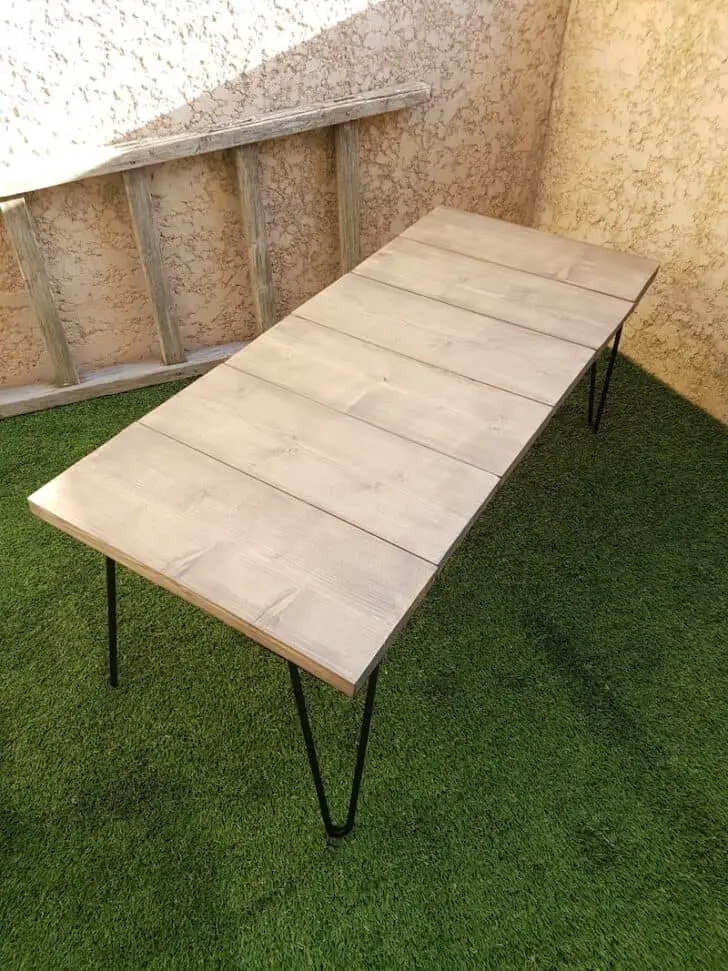 Materials required
1 wooden board (Pine) 28 x 196 mm, L.3 m
I chose to use Pine as wood because it is a very good quality/price ratio and can be found everywhere, and it absorbs wood stain very well, unlike oak which is much denser.
4 steel Hairpin table legs
AECOJOY 16" Black Hairpin Legs, 3/8" Diameter, Set for 4 Heavy Duty 2 Rods Table Legs, for DIY Desk,...
AECOJOY 16" Hairpin Table Legs, the set of 4, 20pcs 4/5" screws,4 rubber feet, 3/8" Solid Raw Steel and Stain Black finish
IDEAL FOR ANY DIY PROJECT: apply to coffee tables, night stands, end tables, media console, self-designed desk and bench.
High-performance matt exterior anthracite glaze
The wood is very light, I chose a grey/anthracite microporous glaze to "age" and embellish the wood. For an outdoor coffee table, choose a wood stain for difficult climates
1 wood strip of 240cm section 35x27mm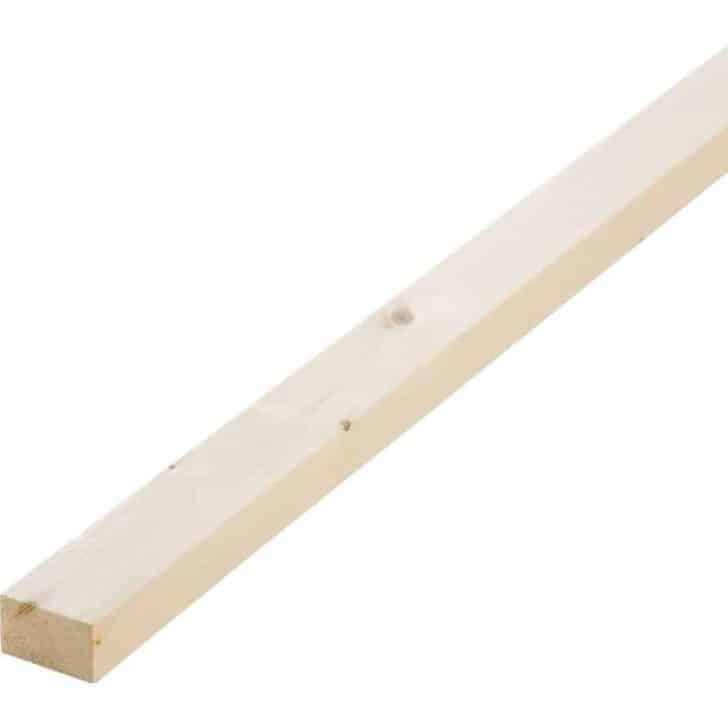 around 40 outdoor screws: 24 screws 4.5xL45mm, 12 screws 4xL20mm
2/3 small mounting brackets
Tools
Circular saw or jigsaw
Orbital sander, 120/240 sanding disc
Screwdriver
2 Brushes, 1 large and 1 fine
Gloves
Protective glasses
Protective mask
Steps
Cut the wooden board into 6 pieces of 50cm each with the circular saw or jigsaw. Take the measurements well before cutting because it is important to have pieces of the same length.
Cut the wooden strip into 2 pieces of 120cm each.
Position the 6 pieces of wood in parallel to simulate your finished table, place the 120cm cleats on the boards 10cm from the long edges and 5cm from the short edges.
Mark the drilling points on the cleats so that each board is fixed with 2 screws.
Remove the cleats and drill them.
Sand all wooden parts with grain 120 and/or 240 depending on the condition of the wood.
Apply a coat of glaze with brushes to all wooden parts: the 6 boards and the 2 cleats.
Wait at least 6 hours for drying (it depends on the glazes).
Lightly sand all wooden parts.
Apply a second coat of glaze with brushes on all wooden parts: the 6 boards and the 2 cleats.
Wait at least 12 hours for the final drying (it depends on the glazes).
Choose the most beautiful faces of the boards and position them against the ground/support. So you see the underside of the table.
Position the 4 Hairpin table legs to the corners of the table and secure them with the 12 4xL20mm screws.
Position the cleats as before and secure them with the pre-drilled holes using the 24 4.5xL45mm screws.
If you see cracks on the boards, use small flat mounting brackets to prevent them from growing.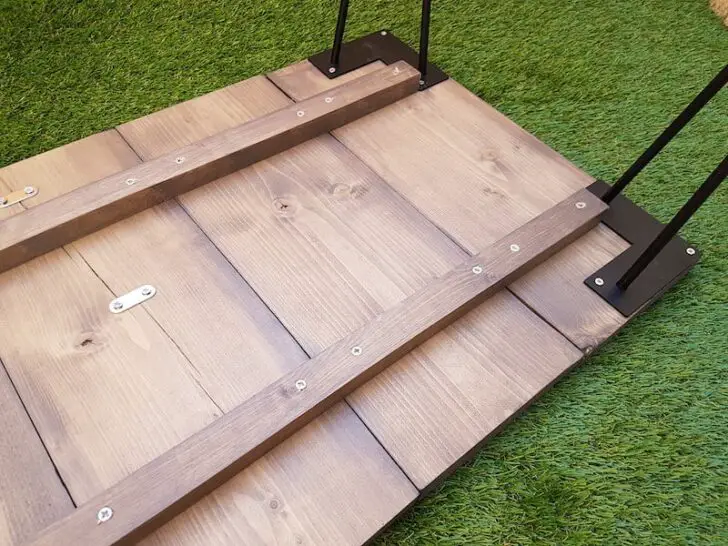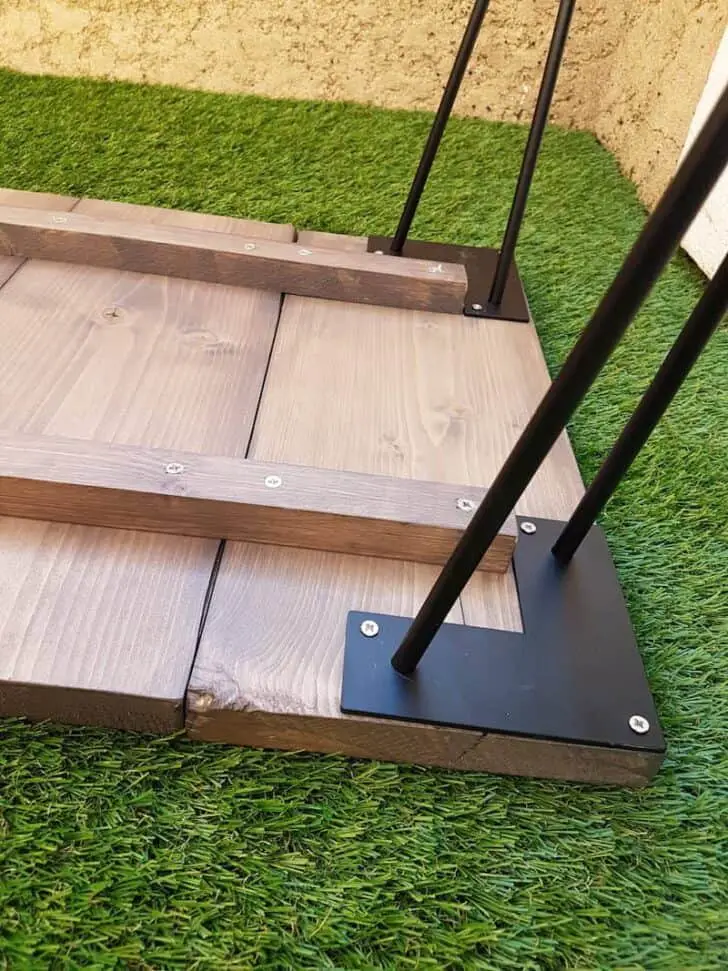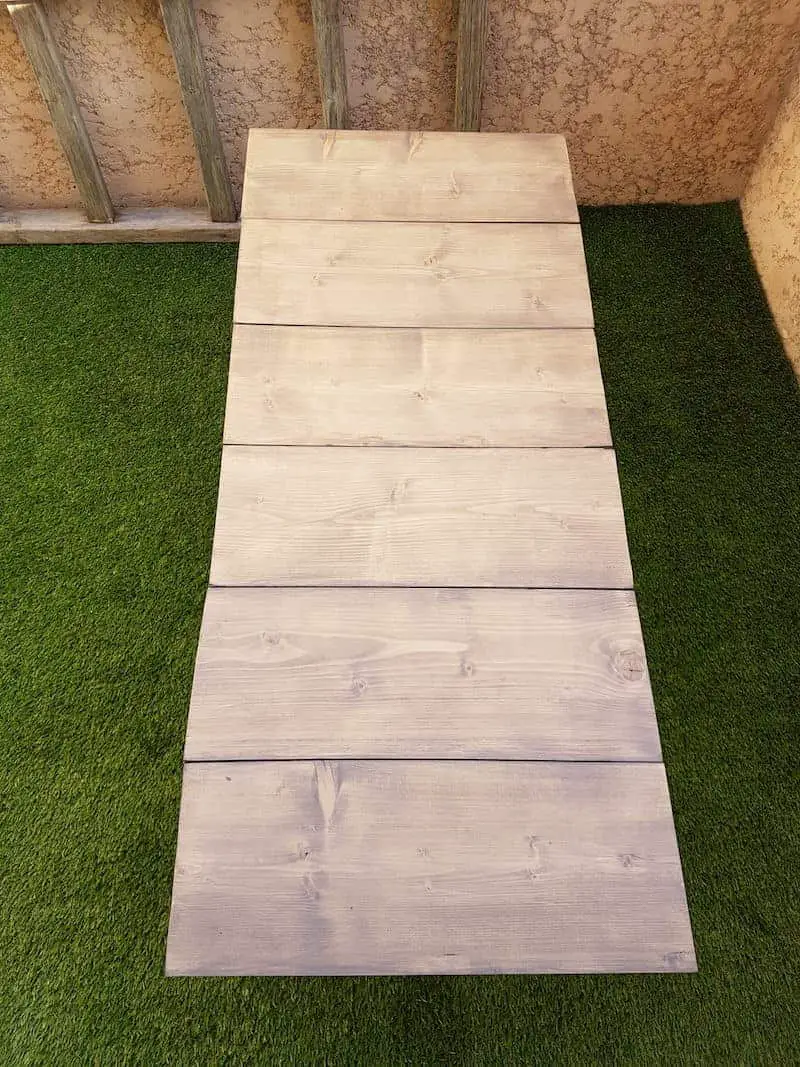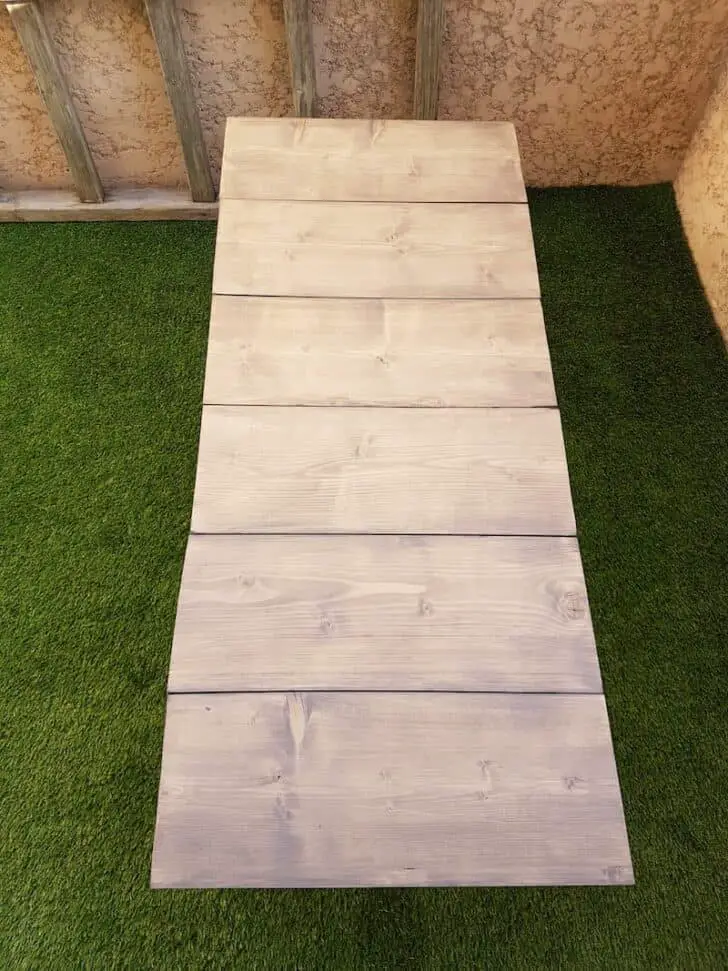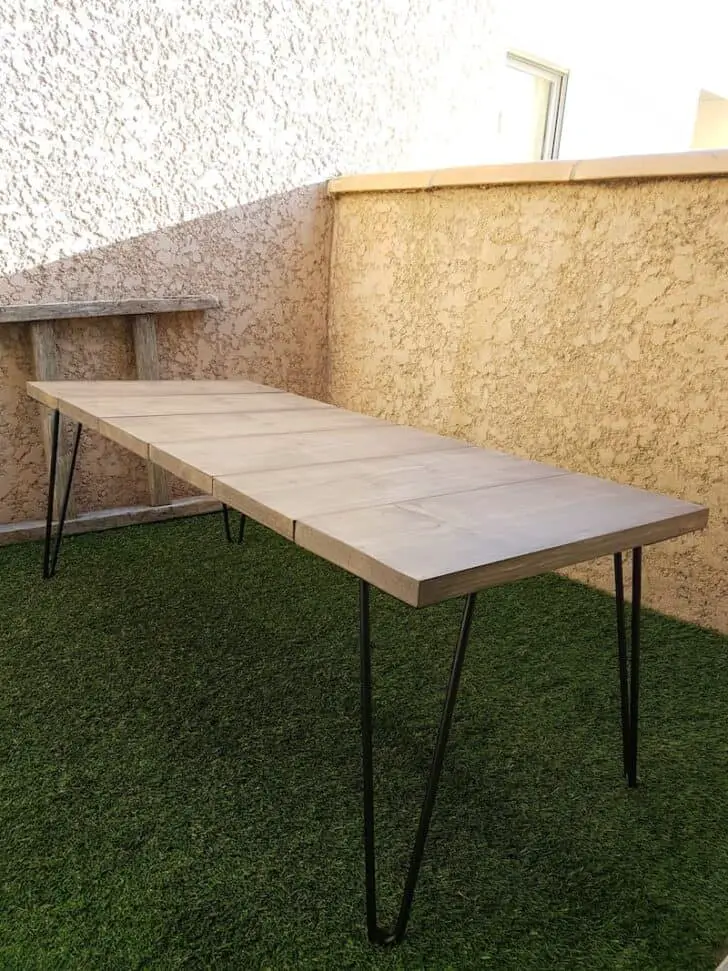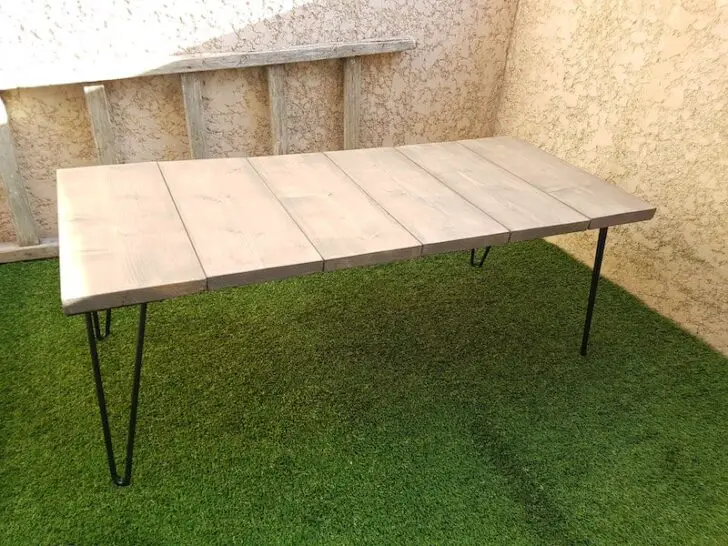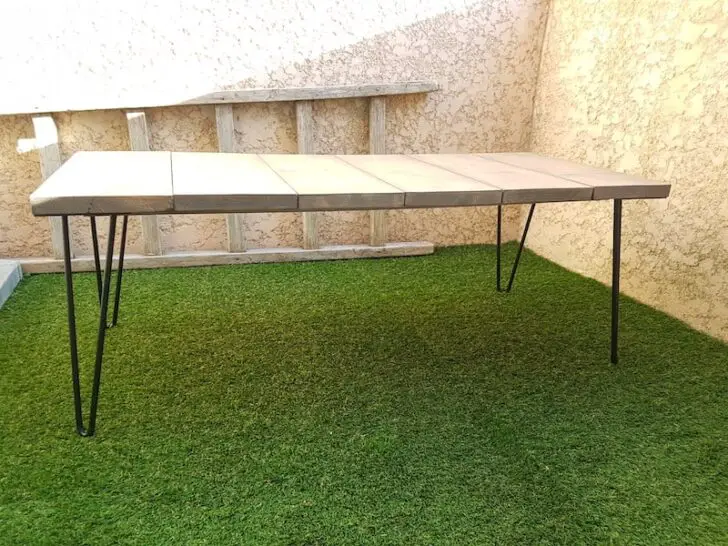 Here you go, your wooden outdoor coffee table is finished and ready to be installed in your garden!
Updated on 2023-11-27 - Images from Amazon API. Logos are trademarks of Amazon.com, Inc. or its affiliates. 1001Gardens is a participant in the Amazon Services LLC Associates Program, an affiliate advertising program designed to provide a means for sites to earn advertising fees by advertising and linking to Amazon.com.