Plenty of patio cover ideas to create shade in order to fully enjoy its small outdoor space in the middle of summer. For shading patio, balconies, or terraces, simple, economical solutions are available that are suitable for small areas. Ideal to combine practicality and aesthetics, they do not require complicated work or major expenses!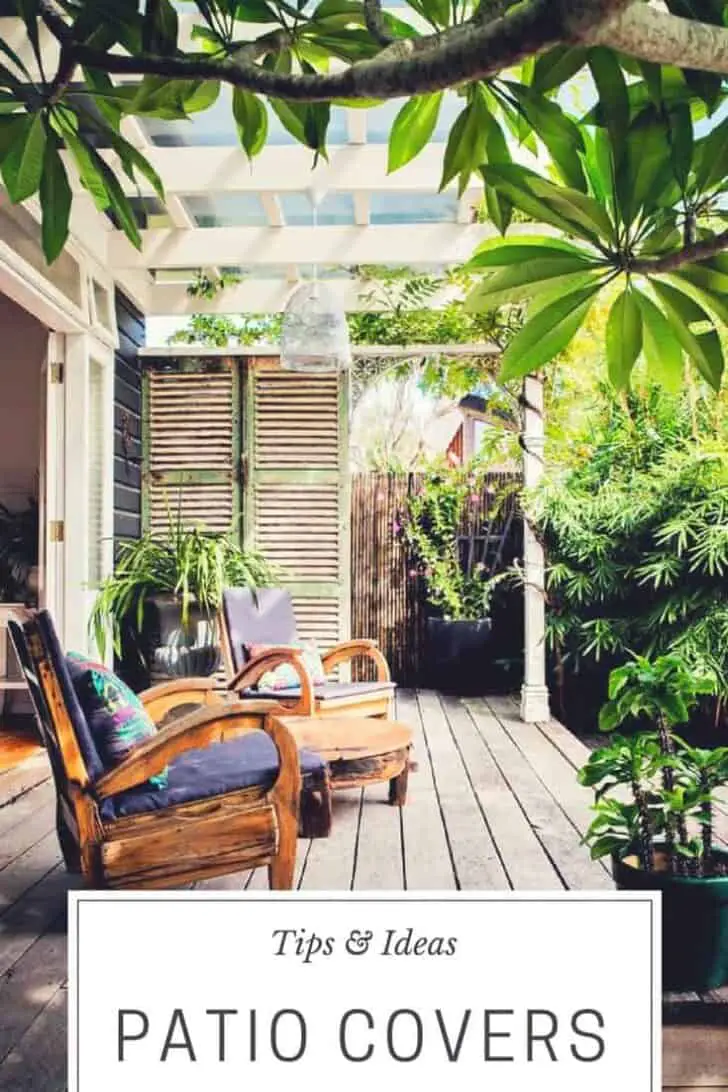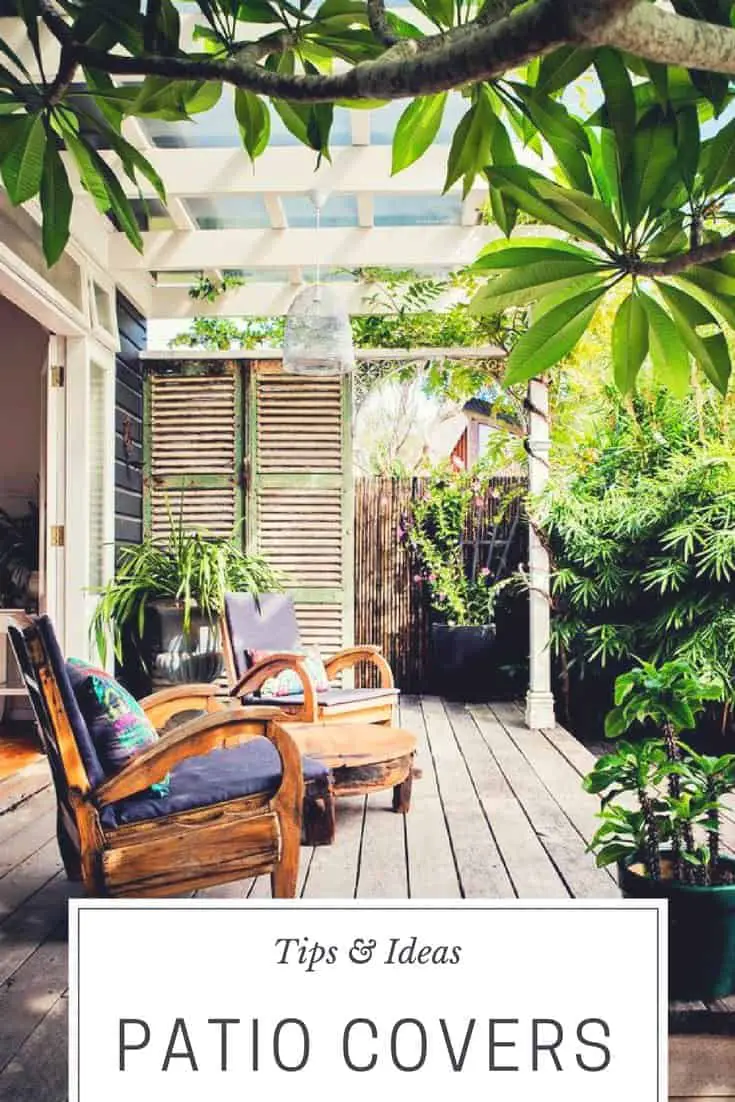 Summer is synonymous with sunshine and the sun is good for morale. But it also has less positive aspects. Especially when it comes to enjoying it in your backyard sitting on the best patio chairs you could find! Heat, brightness or the harmful effects of radiation are some of the disadvantages that need to be protected. Patio covers are then indispensable.
When outdoor space is limited, it is best to use temporary solutions that are easy to install, move and store. This is all the more true in the case of condominiums where the installation of fixed protection may require the consent of the receiver.
Parasols, sails or shade blinds offer perfect alternatives to awnings and other pergolas. Selected in suitable formats, they allow you to shade balcony, terrace or patio, with style and efficiency. In addition, the variety of shapes and colors makes it possible to adapt to each individual's tastes and environment.
On sunny days, we are delighted to finally live outside… but when the first spring heat sets in, soon to be followed by the real summer suns, a terrace is not tenable without a saving shade! The good news is that lightweight solutions are available in all budgets for those who want to install a last-minute patio cover…
Patio cover idea 1: A custom-made parasol to shade patio, balcony or terrace
Small space parasols are designed to provide maximum protection with minimum space requirements. Thus, half-parasols are particularly practical and clever. Whether half-moon or half-rectangular, these parasols have the advantage of being placed against the facade. This makes it possible to shade balcony or terrace while preserving space for a dining or relaxing area. In addition, their small surface area offers less wind catch, which is an advantage especially in the case of a balcony in height, more exposed!
For more classic shaped parasols, it is advisable to choose the rectangular format, which is easier to place along a wall. Also, it is better to choose a model with a small width to avoid eating all the space!
Whatever the umbrella, the surface of the canvas must be adapted to the space to be covered. Thus, the deported umbrellas are to be avoided to make shade in a small space. In fact, they are generally large and rather cumbersome.
For added strength, use aluminum masts that are both strong and lightweight. An essential accessory, the parasol stand is often used to complete the device. Choose it sturdy and space-saving, whether it's a foot specially designed for semi-format umbrellas or a more classic central leg. In this case, the modular systems are particularly ingenious because they allow you to adapt perfectly to the needs and size of the sunshade!
The deported parasol offers the elegance of patio covers with balanced and timeless lines. Elegantly inclined, it presents the beauty of its canvas with soft, natural or acidic tones and its articulated frame. Thanks to its mobile character, the deported parasol creates a small corner of a sheltered terrace that moves over the hours of the day. Its strength lies in the extreme lightness of its structure which makes it easy to move and orientate. The deported parasol is always pleasing and contributes to creating beautiful terraces with elegant comfort.
Patio cover idea 2: Small sails as patio covers shade
When it comes to shading, sails play both a protective and decorative role. They are real architectural elements that allow shading balcony, terrace, patio or small garden, with style.
They can be used in many ways and in a wide variety of space configurations. Whether triangular, square or rectangular in shape, a small veil of shade can easily find room for a dining or relaxing area.
Thus, it can be used to create shade in front of a door and act as an awning. It can also be stretched between two patio covers style walls or to protect a corridor space.
Selected in a suitable format, a sail is perfect for shading balcony or small terrace. Simply attach it to the top of the wall on one side and to the railing on the other. In this case, the rectangular format is more appropriate than a triangular shape. It is also possible to fix it vertically for a double effect of shading and shading!
Whatever the use, it is better to choose a reinforced model in periphery and extremities that will be less fragile and more durable than a first price model! Likewise, machine-washable sails are easier to maintain and age better.
In all cases, it is advisable to have at least two fixing points on a wall. The device can be completed by one or two anchoring points on the ground depending on the shape of the sail. It will then be hooked onto it with a combination of ropes, karabiners or tensioners.
You can also vary the height of the fixing points to create a more aesthetic decorative effect and to facilitate the drainage of rainwater.
Sails offer an economical decorative solution for a small outdoor area. In fact, depending on the color (sober or fancy) or the combination of colors chosen, they will not only shade balcony and terrace but also give them style!
For shading, a balcony or terrace, custom sunshades, and small shade sails are effective solutions. Also think of the vertical awning, which is very practical, especially in the case of a western orientation, to protect against glare caused by the sun's rays while also acting as a screen. With adequate means, shading balcony and terrace becomes child's play!
Light and airy, the patio cover shade made with sail brings its profiled lines and sea air to the terrace. With its very contemporary look, the shade sail invites itself elegantly in all environments: contemporary house but also traditional or regional house. A shade sail is an economical and trendy solution to bring a shaded corner to a terrace. Less expensive than a blind and easier to install, it brings a real aesthetic advantage to the home. Be careful though, the shadow zone that it brings is limited and does not redirect itself like the shadow of a parasol.
Patio cover idea 3: Garden tent with washable canvas
Elegant and practical, the garden tent offers a cool and light roof for lunch in the shade. Its wooden structure combined with a white washable acrylic fabric combines robustness, ease of maintenance and an indisputable chic. Far larger than a parasol, the garden tent can be used to shelter large family tables from the sun. Is the meal over? Suddenly, a little rain comes suddenly? The fabric rolls up effortlessly thanks to an ingenious crank handle system.
Patio cover idea 4: The elegant simplicity of the patio covered by an awning
In the shade of an electric awning, the terrace is cozy and shady even during the hottest hours of the day. With it's large, gently sloping anti-stain and anti-UV fabric, the awning remains a truly effective solution for a shady terrace and even keeps the house cool. As elegant as ever, the awning brings its generous amplitude and chic look to the terrace.
Patio cover idea 5: The lightness and romanticism of a wooden arbor
Combining the romantic charm of the arbor with the modularity of a removable system, the wooden arbor gives the terrace a space of softness and relaxation. The light veil reinforces this voluptuousness while softening without obstructing the sunlight. The structure of this kind of patio covers also offers the possibility of attaching a tarp cover to create a covered terrace space full of character. With the canvas for arbor fixed on the frame, no more canvases that fly away at the slightest gust of wind and meals interrupted in a catastrophe by an unexpected rainfall! Canvas fabrics for arbors are available in different materials such as acrylic, cotton or polyester, more or less resistant to moisture and discoloration.
Patio cover idea 6: A light and contemporary pergola with a nautical look
Contemporary atmosphere "Yacht Club" for this metallic pergola decorated with a removable stretched canvas. Such a structure will ensure you beautiful summer lunches protected from sunburn and bad weather.
Patio cover idea 7: The steel pergola with glass cover
Lightweight and permanent at the same time, the steel pergolas with glass cover are a solid and waterproof terrace roof patio covers. The steel can be finished in different finishes depending on the desired style: smooth thanks to its treatment with thermo-lacquered paint or rough in a rusty finish. Made to measure, this pergola looks like an extension of the house and the terrace seems to be a room in its own right.
Patio cover idea 8: Aluminium arbor with retractable fabric
Its sober and modern lines and smooth finish make the aluminum arbor a contemporary space on the terrace. The advantage of this arbor is that it can be installed in an open space or leaned against a wall, creating a more intimate corner terrace. Its aluminum frame provides better wear resistance than wood or steel. Its sliding canvas is easily retractable, offering the possibility to adjust at will the demand for shade or the need for sunshine!
Patio cover idea 9: The black roof arbor
Between traditional and contemporary, the steel arbor with a black micro-weave fabric cover shows a dark atypical hue of the covers of arbors, pergolas or parasols. Black or anthracite grey tend to retain heat, but the light, ventilated structure of the arbor allows air to circulate freely. Far from visually crushing the sheltered space of the terrace, the black perforated fabric offers transparency that lets us guess the foliage of the surrounding trees, giving the whole a soft and natural look.
Patio cover idea 10: Pergola in wooden strips
If rain is less of a problem than sunshine to fully enjoy your summer meals outdoors, you can opt for a pergola in wooden strips as patio covers. Spaced just the right size, they will soften the sun's attacks by giving your terrace elegance and design. Note here the very elaborate choice of openings to create a picture opening onto the sumptuous landscape.
Patio cover idea 11: Pergola with reed cover
The typical reed spirit of southern atmospheres did not say its last word! The reed cane is a must have light roof on the terraces of southern France. It gives off a natural and unpretentious air. Canes made of natural materials are available in split and fine reeds (strawberries). They offer a sifted shadow that evokes the coffee terraces and the softness of life.
A wonderful garden arbor that will fit perfectly for you and the birds love this idea!
Updated on 2023-11-27 - Images from Amazon API. Logos are trademarks of Amazon.com, Inc. or its affiliates. 1001Gardens is a participant in the Amazon Services LLC Associates Program, an affiliate advertising program designed to provide a means for sites to earn advertising fees by advertising and linking to Amazon.com.