The perfect guide to help you choose the best outdoor ping pong table for your garden or patio. Outdoor ping pong tables are specially designed to withstand rain, frost, and sun with little or no risk of deterioration. They are distinguished by their excellent service life. These models are perfect for leisure use during holidays or in the countryside as they require virtually no maintenance.
How to choose the best outdoor ping pong table?
To play outdoors, you need a weather-resistant outdoor ping pong table. They are designed to play outdoors and stay outdoors in all weathers.
Their rebound quality remains slightly lower than an inner ping pong table equipped with wooden trays, however, the quality of the rebound increases with the thickness of the tray. If you need to move your table regularly or over rough terrain, opt for large wheels and wide legs.
The benefits sought are:
ease of movement,
stability,
rebound quality.
Remember to put a cover to protect your tables.
What ping pong player profile are you?
Depending on whether you are an occasional table tennis player or an addict, you will be directed towards different types of tables. Indeed, your level of play and the frequency with which you practice are determining criteria. A table for beginners or experienced table tennis players does not offer the same playing characteristics. For example, a competition table has a measurable rebound, so when the ball is thrown from a height of 30 cm, the rebound must reach 23 cm. Regardless of the rebound, if you are an unconditional player, often folding and folding the table the table stresses the opening mechanism and can weaken it in the long run, especially if it is a low-end model. Some tables allow you to play alone and have a function that allows you to fold down a whole side of the table. Notice to lone players!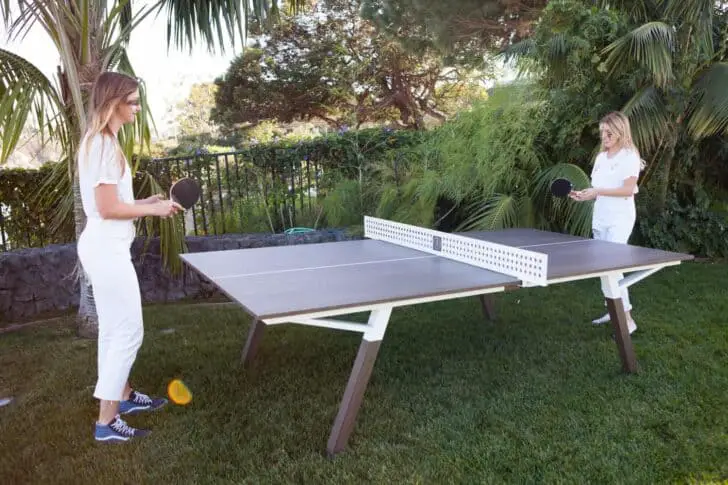 Important components of a ping pong table
To choose the best outdoor ping pong table well, it is necessary to be particularly attentive to its components:
The table top: this is a very important element for a table tennis table. Generally speaking, the thicker a board is, the less it will tend to warp and the more resistant it will be to shocks. It thus conditions the longevity of the table and the quality of the rebound.
The nature of its material: In order to benefit from a good quality of play, it is preferable to choose an inner board in high-density chipboard of 25 mm minimum. Some trays are made of composite materials, most often polyester and resin, which prolongs their UV resistance. It is important to pay attention to the reflection or rather the anti-reflection quality of the table which can be annoying with intense lighting, inside and outside.
The frame: it brings rigidity and flatness to the whole panel. Its quality depends mainly on the material used (usually steel). Some tables offer rounded corners, which avoids a few bruises for inexperienced players! The outdoor ping-pong table is, as we have already said, designed to be installed in the open air under all weather conditions. Thus, it is manufactured with a material that makes its two parts stainless.
It is reinforced by a metal frame that makes it supports solid. It is also equipped with wheels that ensure easy mobility. Its net also consists of solid meshes. They have a tray that is veiled and therefore provides some resistance to the entire table. Finally, it is important to note that tables often made of resin or polyester are very resistant.
Wheels are often the weak point of an outdoor ping pong table. Depending on whether they are made of metal or plastic, their lifespan can vary by as much as double. Preferably use wide or twin wheels with metal wheel fixings, especially if the table has to be moved frequently. It is a question of whether the table is easily movable. To this end, it must be checked whether it has large enough wheels to ensure its movement without any difficulties. Preferably, it is advisable to choose a ping-pong table equipped with wheels with metal suspensions. And especially whether they are doubled or wide.
But if you don't want to put away your ping-pong table, you can do without the wheels. Because you won't have to move it often.
Stability: The locking system (base) is particularly important if the ping-pong table has to rest on the uneven ground (grass, sand, paving stones, earth). Some tables have 4 safety locks, 8 locking points in the play position and 8 locking points in the storage position, which ensures good table stability.
It is also important to make sure the table is seated. Here it is a question of ensuring that the metal frame keeps the table well balanced on grass, sand, solid ground, paving stones or others. This criterion is used to judge the resistance of the table.
Ideally, the post and net assembly should have a function to adjust the height and tension of the net.
The dimensions vary greatly from one model to another once the table has been folded. In general, the thicker the tray, the more space it takes. However, it is preferable to privilege the solidity of the table to the detriment of a model less cumbersome but which would not offer all the guarantees of resistance.
Weight is not a very important criterion, in general very light tables on more fragile and can veil quickly.
Safety is a very important point. Some incorporate a double safety feature that prevents children from being able to open the table alone and get stuck or hurt.
The assembly: most ping-pong tables are pre-assembled in the factory (notably the locking system). Therefore, one hour is enough to enjoy your new table and start playing. But be careful, this is not the case of all ping-pong tables, some require several hours to two to be assembled.
Finally, if you plan to use your table to play doubles, in addition to singles, you will need to ensure that the white line in the center of the table is 3 mm wide.
Best outdoor ping pong tables of 2018
Best outdoor ping pong table under $400
Harvil Outsider Table Tennis Table
The Harvil Outsider Table Tennis Table has a weather-proof, aluminum tabletop that's supported diagonally by a powder-coated steel frame. Equipped with sturdy, easy to lock and unlock wheels that provide both stability and mobility. This ping pong table can also be folded for playback and for convenient storage.
White vibrant lines on the playing surface effectively outline the boundaries for easy play. Table Tennis racket and ball set sold separately.
All Harvil items are designed and engineered by creative people right here in the USA. We are a family business and we design our products to be enjoyed by family and friends. Even though many of these items are manufactured in Asia, we are proud to have Americans who understand Americans needs bringing our items to life.
Harvil Outsider Table Tennis Table
PERFECT FOR OUTDOOR USE - The Harvil Outsider Table Tennis Table has a weather-proof, aluminum tabletop thats supported diagonally by a powder-coated steel frame. Assembled dimensions: 108 L x 60 W x...
PORTABLE and COMPACT - Equipped with sturdy, easy to lock and unlock wheels that provide both stability and mobility. This ping pong table can also be folded for playback and for convenient storage.
Best outdoor ping pong table under $600
JOOLA NOVA Outdoor Table Tennis Table with Weatherproof Net Set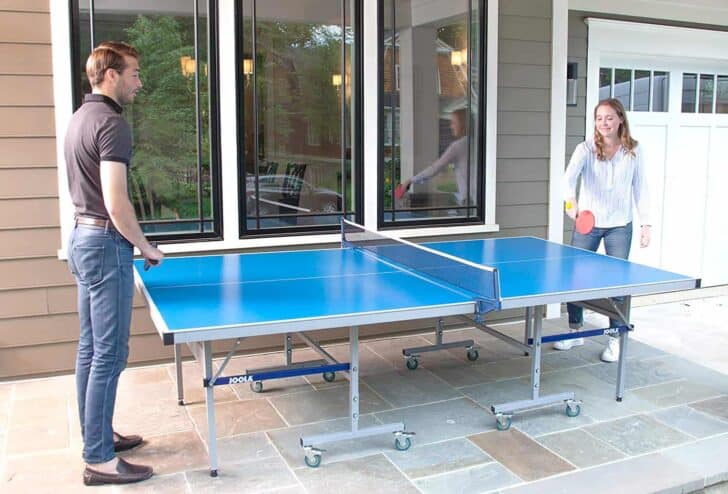 Joola TOURNAMENT QUALITY OUTDOORS: Competition-grade 9x5 foot regulation size outdoor table tennis table and net set perfect for your deck, backyard or playground. Made by the official table brand of US Open and US Nationals Championships. USATT Approved.
Tabletop is a durable 6mm thick aluminum plastic composite surface, resistant to warping and chipping. The table sits on a 30mm x 30mm rust-resistant, powder-coated undercarriage. Comes with a matching weatherproof net set.
Comes 95% pre-assembled. Assembly time: 15 minutes and you're ready to play! Simply attach the legs with only 8 bolts TOTAL. Tournament grade net is a classic screw clamp design for easy attachment. The table sits on heavy-duty 3-inch wheels and adjustable leveling feet make this table compatible with almost any terrain.
Folding halves sit on separate 4-wheel trolley systems for mobility when alone or nested together. Utilizing the automatic anti-tilting locks, easily unfold one table half for solo playback mode.
Best outdoor ping pong table under $800
Kettler Outdoor Table Tennis Table - Axos 1 with Outdoor Accessory Bundle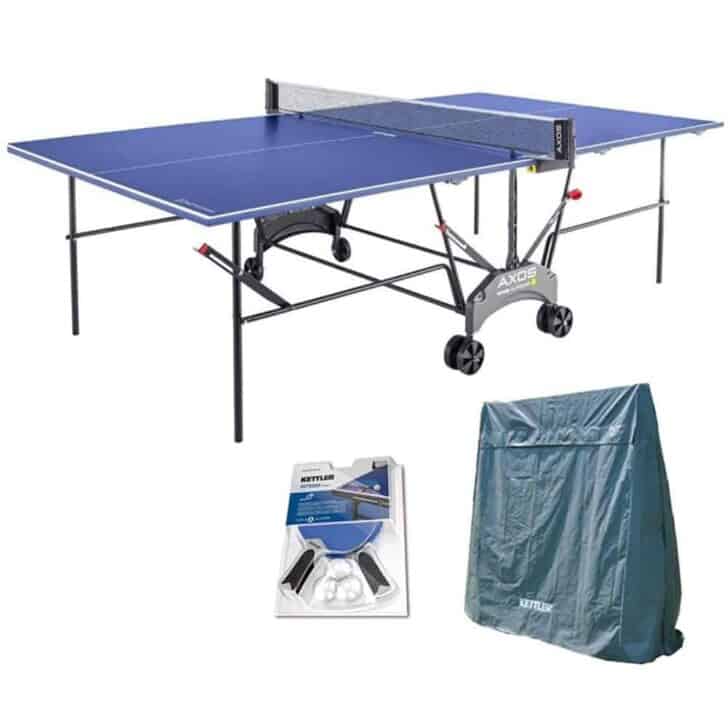 Kettler's table tennis has a non-glare waterproof aluminum top and ALU-TEC climate control underside. ALU-TEC is Kettler's patented technology, protects against different weather conditions.
This German-made tennis table offers tournament-quality bounce that can withstand intense and high-impact play. It also has 2-inch powder coated, galvanized steel legs that are both UV and corrosion-resistant. Board Thickness: 0.87 inches. The table tennis board has a patented safety-fold dual lock to help avoid unintended opening or closing. When you want to practice alone, you can utilize the tables playback feature.
The table tennis outdoor table is engineered with 4.5-inch dual-wheeled casters for convenient transport and storage. Axos 1 also comes with 2 Kettler Halo 5.0 paddles, a Kettler outdoor cover, and 6-pack 3-star balls.
Best outdoor ping pong table above $1000
Cornilleau 250S Crossover Indoor/Outdoor Blue Table Tennis Table
The Cornilleau 250S Crossover Indoor/Outdoor features a resin laminate playing surface, as well as a frame composed of galvanized steel. Both the table tennis top and net system are designed to withstand outdoor use and weather for many years.
10 years warranty on materials and workmanship excluding wear parts (wheels, net, and net posts). The table also offers a 5mm resin laminate top that provides a hard, dense playing surface; a 1 ½" structural galvanized steel frame and galvanized steel legs with leg levelers and encapsulated in resin for increased stability.
A patented SOFT MAT® finish makes the surface less reflective;
Racket and ball storage on each side of the table;
Larger double-wheels (almost 8") with notched tread ;
A permanent weather-resistant polyester net system with tension and height adjustment;
Net that manually folds for protection and smaller storage space.
And if you are looking for an outdoor pool table, have a look at our guide: Best Outdoor Pool Tables 2018
We are sorry that this post was not useful for you!
Let us improve this post!
Tell us how we can improve this post?
Updated on 2020-04-09 - Images from Amazon API. Logos are trademarks of Amazon.com, Inc. or its affiliates.