A terrestrial outdoor HDTV antenna is essential to receive television. Depending on the reception and location of the transmitter, you have the choice between an indoor antenna or a rake antenna, a flat antenna or a dish antenna that you will point towards a satellite such as Astra or bird.
Why an outdoor HDTV antenna?
If you do not have a digital connection (such as a "box") or a satellite system (dish and demodulator) to receive your television channels, you have no choice but to equip yourself with a terrestrial antenna.
A terrestrial antenna allows you to receive a wireless signal. This signal is amplified and sent back by a relay also called a transmitter.
In this specific case, you must, therefore, be able to benefit from sufficient terrestrial coverage so that your antenna can receive and transcribe this signal to your television set or DTT (Digital Terrestrial Television) tuner.
The power and quality of the transmitted signal depend on several factors:
your coverage area and proximity to the relay;
the signal strength;
your geographical location in relation to that of the relay (orientation, altitude).
Indoor antenna or outdoor HDTV antenna
Apart from all technical characteristics, you should be aware that there are indoor and outdoor antennas.
This is the first question that is usually asked. If you are far from a transmitter or surrounded by very tall trees or buildings, then you will probably need as much power as possible. An external antenna will then be the best solution for increased reception.
On the other hand, if you are near a transmitter, or if there is no obstacle between you and it, even over several tens of kilometers, then an indoor antenna will do the trick.
As a general rule, with the new models of indoor DTT antennas, such as the extra flat 1Byone, I advise not to exceed 15 km between the transmitter and the antenna. Manufacturers often advertise 30 or 40 km, but this is really not reasonable for an indoor antenna.
On the other hand, it is important to be aware that the installation of an external antenna is more delicate. There will be a facade or roof installation, with the fixing of support such as a mast. It will also be necessary to pull cables to the TV set. However, it will be possible to connect several TV sets to the same external antenna.
Indoor antenna
Indoor antennas are generally less efficient. They require to be close to the transmitter (less than 5 Kms) and without obstacles (no hills, mountains or buildings between you and the transmitter). They are still relatively difficult to adjust because you have to grope a little to find the right alignment.
However, they are very compact and are often equipped with an integrated signal amplifier that facilitates and improves reception. Since they are installed in the same room as the TV set, there is also no need to pull a cable or install a TV plug.
Outdoor HDTV antenna
The external antennas are the most efficient. They are able to pick up and transcribe a signal at a long distance (and depending on the technology, even if the transmitter is slightly or completely hidden).
The received signal can be routed to different TV sets simultaneously via a splitter. On the other hand, they require installation on the facade or roof, which therefore requires fixing a mast type support, pulling cables, installing sockets, etc. For optimal efficiency, you can add a signal amplifier to your network for better reception.
What are the technical characteristics
There are several terrestrial antenna technologies that correspond to different types of frequency bands. Simply put, the more frequencies or types of frequencies you can pick up, the easier it will be to get a clean and powerful signal, so good picture and sound quality, and the more channels you will have.
Frequency bands
VHF
Very High Frequency or Very High Frequency. Coverage from 30 to 300 MHz (MegaHertz). A basic frequency that tends to disappear because it does not allow all national HD DTT channels to be received.
UHF
Ultra High Frequency or Ultra High Frequency. The frequency used by all HD DTT transmitters. Covers a wider and better quality bandwidth, which makes it possible to capture all the television services available in its geographical area.
VHF - UHF handset
Dual frequency antenna. Allows capturing all channels regardless of the topographical constraints of the location where you are. On the other hand, this type of antenna is more difficult to adjust and requires being close enough to the transmitter.
The gain
It is the gain, expressed by the manufacturer in dB, that tells us the performance of the antenna to receive a signal. The higher it is, the more you should receive all TV channels correctly. The principle is simple, the further away from a digital transmitter, the more important the gain will be.
Below 10 dB, the antenna will be effective between 5 and 10 km maximum from the source. Beyond that, we will often encounter cuts, images that become fixed and we will have trouble watching our TV with a very good definition.
Between 15 and 30 dB, it should be possible to pick up efficiently in most configurations. Be careful, however, not all digital signals always come from the same transmitter. It is therefore likely that you are close to a signal for one channel and very far from another signal for another channel. That's why gain is a relatively important criterion. Obviously, the more expensive the antennas are, the higher the gain is generally.
The quality of manufacture
Obviously, you have to unpack and inspect the antenna to see the design quality. For an indoor antenna, the fact that the materials are not very robust is not really a problem. We'll put it somewhere in the room and it won't usually move anymore.
For an external DTT antenna, on the other hand, it will be necessary to check that the product is waterproof. Unless you live in the middle of a desert, it will rain several times on the head of your antenna and it must, therefore, be properly protected. Finally, it must be able to withstand all types of weather, whether it is high heat, heavy rain, snowfall or even hail.
The design
Of course, the design is important. For the outside, you won't necessarily want a huge rake that more or less disfigures the pretty roof of your home. Unfortunately, it is not always the most beautiful antennas that offer the best signal. You will, therefore, have to make a compromise between outdoor decoration and reception. However, there are powerful and quite discreet outdoor HDTV antennas, such as the One For All SV9455.
For the interior, nowadays, the antennas are very flat and take up very little space. We will be able to place them flat on the TV cabinet, but for better reception, it will sometimes be necessary to stick them with an adhesive to a wall or even a window.
DTT antennas are often multidirectional, so there is no need to orient them in a certain way as is the case with terrestrial antennas. Therefore, whether it is inside or outside, it will be possible to make it as discreet as possible.
The price
Of course, your choice will depend on the price. Keep in mind, however, that entry-level models, at less than 15€, will only perform well near a digital transmitter. The further away you are, the more power you will need, and the more you will have to move up the range.
If you are in a remote area or a basin or surrounded by buildings, then you will have to invest a little. On the other hand, if you are at the top of a building with an unobstructed view, or if you are in the countryside without obstacles and not too far from a transmitter, then you will be able to try a cheap antenna like the VicTsing SuperSlim, which costs almost nothing and can perfectly meet your needs.
Type of terrestrial antennas
Rack antenna
This is the evolution of the analog antenna but updated. Today, TNT HD compatible rakes are generally UHF and have an anti-echo feature that improves reception.
However, this type of antenna must be mounted on a mast and properly oriented. The best thing is to install a signal amplifier on the reception network.
Panel antenna
The recent evolution of terrestrial antennas. The advantage of this type of antenna is that it does not focus on a specific direction. Indeed, the antenna picks up a cone of emissions, which makes it possible, depending on its frequency band, to receive signals from different transmitters. Generally, it is a UHF antenna compatible with the HD DTT transmission standard. Again, for a quality signal, plan to install a signal amplifier on the TV network.
Parable
It's the signal vacuum cleaner! For optimal reception, it will have to be directed to a particular transmitter but you will have access to all terrestrial signals (regardless of their frequency type) and too many free foreign channels - some require a subscription. The dish must be directed towards a telecommunication satellite.
The orientation of the dish is carried out via a compass.
The heads of the dishes are dedicated to the reception of a satellite, so a single-headed parable receives a satellite and a double-headed parable receives two satellites.
Choose your antenna according to reception and topographical constraints
Before choosing your antenna, ask an antennist for the location of the transmitter, you will know the location of the transmitter and you will just have to orient your antenna according to the indication given. The site also offers antenna configuration.
However, we recommend that you check the installation in your neighborhood and read this advice guide carefully.
If you don't have the Internet or an antennist on hand, appreciate the topographical constraints and take a look at your neighbors' reception equipment.
Very good reception
Less than 5 km from a receiver, indoor and outdoor HDTV antennas are sufficient to receive the signals.
Good reception
Less than 30 km from the transmitter, no obstacles: an entry-level rake antenna is sufficient - few elements and weak anti-echo.
Average reception
About 50 km from the transmitter and in the presence of obstacles: prefer a rake antenna with many elements and large anti-echo or even a dish antenna.
Poor reception
In the valley, in the countryside, in the forest - any situation below and too far from the transmitter: install a dish antenna.
Best Outdoor HDTV Antenna 150 Mile Range
ViewTV Outdoor Amplified Antenna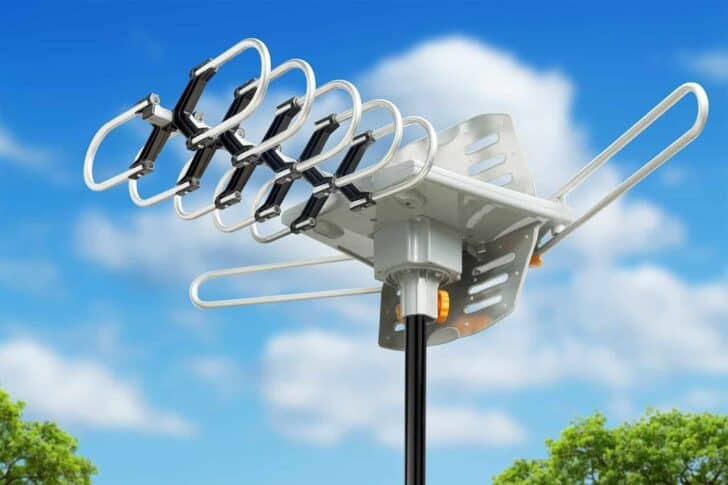 Have a television with a tuner or a digital converter box and want all of those free channels?
Sick of paying those gigantic cable bills every month? Receive free broadcast High Definition TV signals (such as ABC, CBS, NBC, PBS, and FOX). Supports 1080p HD.
ViewTV outdoor TV antenna, wireless remote, power supply adapter, and 40 ft coax cable. You also get access to our friendly easy to reach support team.
Our 150 mile TV Antenna is for use outdoors. This HDTV Antenna outdoor is lightning protected. It has a durable design and is grounded.
VHF 40~300MHz | UHF 470~890MHz - 150 Mile Range. Receive free digital broadcast High Definition TV signals with Full HD Support.
This outdoor HDTV antenna supports 2 televisions at the same time. No need for a splitter, special adapter or another HDTV Antenna.
Best Outdoor HDTV Antenna 100 Mile Range
Free Signal TV Marathon Indoor Outdoor Antenna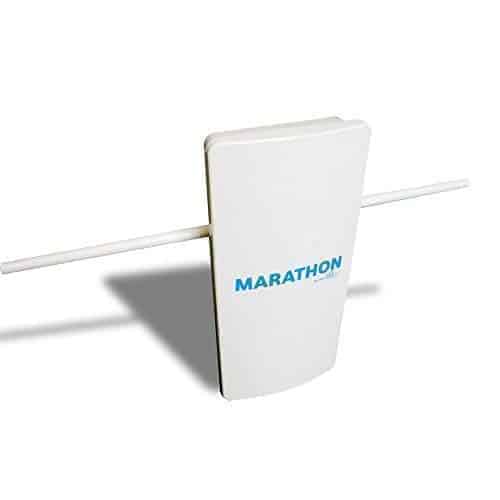 An Amazing Whole-House HDTV Antenna Solution with NO monthly fees
Get rid of multiple antennas and connect up to 4 TVs to the one amplified HDTV antenna. The Marathon makes things simpler and saves you the high costs of cable and satellite subscription fees.
Super Long-range Reception power like no other Antenna
This 100 miles indoor and outdoor TV antenna offers high-power amplification to deliver the best network and independent channels into any room in your house. To view stations available in your area, visit the FCC Reception Map located here: https://www.fcc.gov/media/engineering/dtvmaps.
Cutting edge design and technology
Years of research have gone into producing the Marathon High-Definition TV Antenna. Engineering and circuitry design allows this Whole-House antenna to capture signals up to 100 miles away, especially in the tough VHF bandwidth range. It includes built-in instant signal amplification that's 4K ready, indoor/outdoor durability in a compact sealed unit design that also receives AM/FM signals and the latest 4G/LTE filter circuitry for noise-free reception.
Best Outdoor HDTV Antenna 80 Mile Range
ViewTV DA-290 Indoor/Outdoor Compact Yagi HDTV Antenna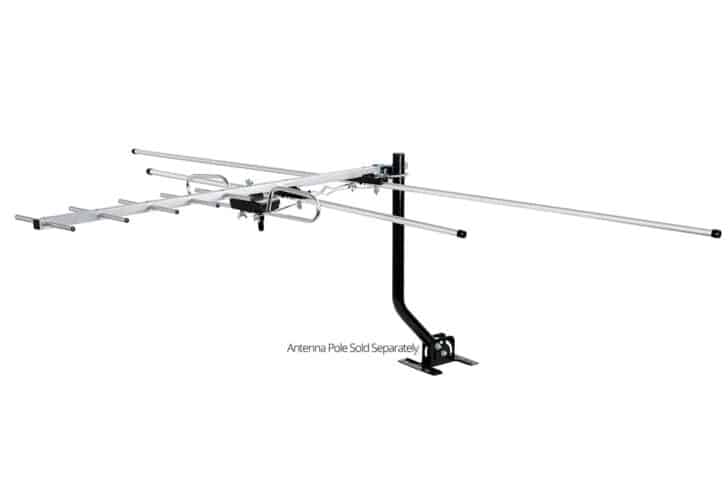 Have a television with a tuner or a digital converter box and want all of those FREE channels? This is the antenna for you!
Receive digital and analog TV broadcast over the air
Frequency Range: VHF: 40-230MHz / UHF: 470-862MHz
Cross-phase, multi-element design
Mostly pre-assembled - only minor assembly required
Superior construction to withstand tough outdoor weather conditions
Can be mounted in an attic as well
Sale
Best Outdoor HDTV Antenna 70 Mile Range
ClearStream 4 Indoor/Outdoor HDTV Antenna with Mount

The ClearStream 4 antenna uses patented technology to receive TV signals 70 miles away from broadcast towers. Rated 4.3 stars, this antenna is ideal for suburban and rural areas where heavy foliage or roofing materials reduce the incoming signal. No other antenna can match its performance in such a compact form.
Why do our antennas outperform the competition? The proof is in the patented loop design. The ClearStream series is engineered to respond to a greater range of frequencies along with a wide beam angle eliminating the need for rotation. In addition to the loop technology, the reflector focuses the antennas power for added range and also provides protection against multipath interference. Antennas Direct is dedicated to providing superior antennas supported by a lifetime warranty.
Locate the broadcast towers serving your area at antennapoint.com. Place indoors, in the attic, or outdoors for best results. Connect one end of a coaxial cable to the antenna and the other end to your TV. Scan for the available channels using your TV remote control. Try several locations to find the best reception and remember to scan for channels at each location. Enjoy all your favorite local and network shows in Full HD 1080 where available.
Sale
Best Outdoor HDTV Antenna 60 Mile Range
ClearStream 2V Indoor/Outdoor HDTV Antenna with Mount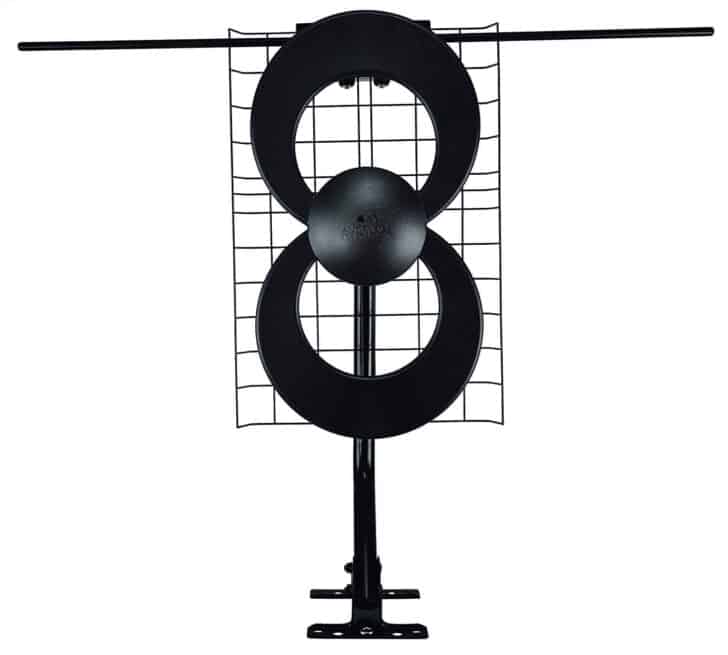 The ClearStream 2V antenna uses patented technology to receive TV signals 60 miles away from broadcast towers. Rated 4.5 stars, this antenna is ideal for suburban and rural areas where heavy foliage or roofing materials reduce the incoming signal.
Dedicated UHF and VHF multi-directional elements deliver range and reception in less than ideal locations. No other antenna can match its performance in such a compact form.
The ClearStream HDTV antenna series come with a lifetime warranty on parts to assure you of their superior build quality and durability.
Best Outdoor HDTV Antenna 30 Mile Range
Winegard FreeVision FV-30BB Indoor and Outdoor HDTV Antenna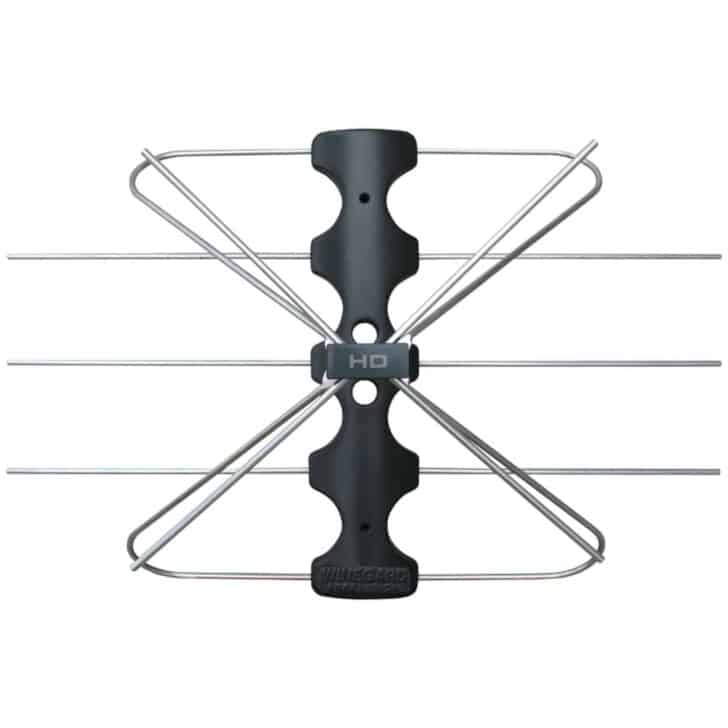 Winegard antennas provide the maximum content available in your area with antennas capable of receiving both VHF and UHF signals from up to 65 miles away.
Add a Winegard Boost XT Amplifier featuring Clear Circuit and TwinAmp technology to give you the absolute best signal quality.
Pair your antenna with a streaming device such as a Roku, Fire TV, or Chromecast for maximum programming. Watch your local news, weather, and live sports on your antenna and watch tons of other TV shows and movies with programs like Netflix, Amazon, or Hulu for a fraction of the cost.
Winegard FreeVision FV-30BB Indoor and Outdoor Digital HDTV Antenna (4K Ultra-HD Ready, ATSC 3.0...
Indoor Outdoor Digital HDTV Antenna - The FreeVision FV-30BB is a 30 mile long range high performance TV antenna that receives both UHF and High-Band VHF digital HD TV signals. Watch your favorite...
Indoor, Outdoor, Anywhere - The FreeVision TV antenna mounts easily on a deck, railing or side of the house, or inside the home in your living room or attic. Best yet, it is paintable to match any...
Best outdoor HDTV antenna comparison table
Preview
Title
Winegard FreeVision FV-30BB
ClearStream 2V Indoor/Outdoor
ClearStream 4 Indoor/Outdoor
ViewTV DA-290 Indoor/Outdoor
ViewTV 2018 Version Outdoor Amplified
Preview
Title
Winegard FreeVision FV-30BB
Preview
Title
ClearStream 2V Indoor/Outdoor
Preview
Title
ClearStream 4 Indoor/Outdoor
Preview
Title
ViewTV DA-290 Indoor/Outdoor
Preview
Preview
Title
ViewTV 2018 Version Outdoor Amplified
How useful was this post?
Click on a star to rate it!
Average rating / 5. Vote count:
We are sorry that this post was not useful for you!
Let us improve this post!
Thanks for your feedback!
Updated on 2019-10-19 - Images from Amazon API. Logos are trademarks of Amazon.com, Inc. or its affiliates.