Do you like gardening and want to control the green space in your garden without having to spend hours a day? The grass cutter is the right tool for you. With this gardening tool, you can easily mow the brush in your garden. Time is also saved and you will enjoy maintaining your course.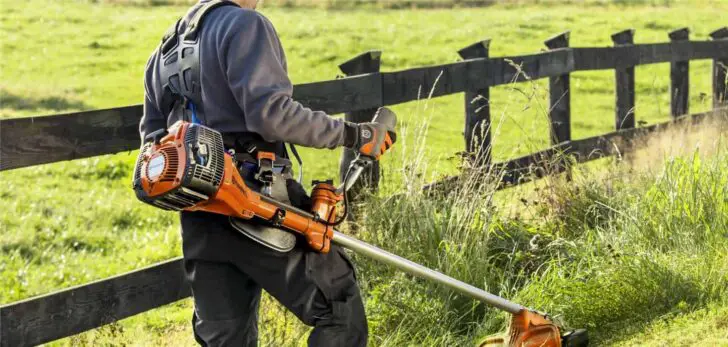 A brush or grass cutter is a powerful machine, able to clean up wasteland overgrown with brambles. More precisely, the wire cutter or string trimmer ensures the finishing work on the lawn mowing, accessing where the mower could not pass.
A trimmer is a complementary tool to the mower. It can work in areas inaccessible to the mower, sloping terrain, and tall grass. The brush or grass cutter is responsible for cleaning the gardens of low-maintenance second homes, as well as the finishing of large lawns that are regularly mowed.
Choose the type of brush cutter you need based on your needs, your type of soil and the vegetation to be pruned. Follow the guide!
Which model for what purpose?
This versatile tool can perform several roles and is available in different models. Each model has its own utility, hence the need to make a good choice. Learn about the different types of brush cutters available and the roles they can play:
Edge trimmer
This is the simplest model in terms of a trimmer, hence its name, which perfectly reflects its usefulness. This electric model is suitable for cutting finishes. It is also particularly useful for clearing paths and lane edges. Equipped with a square or round nylon thread, this tool easily comes to the end of a soft grass or grass. In addition to being lightweight and easy to use, it is perfectly suited for small jobs thanks to its 250-1000 watt motor.
Portable brush cutter or string trimmer
It is the most well-known and also the most widely used model, mainly used by private individuals. The portable brush cutter is equipped with a 2 or 4-stroke internal combustion engine or an electric motor. It can also be blade or wire mounted and allows perfect mowing finishing work to be carried out. You can also use it to cut small brush and brambles, provided the tool is equipped with a non-thread blade.
Note that this tool is also suitable for working in sloping or hilly terrain if the area worked does not exceed 2000 m2. With a power output of between 1000 and 2000 watts and a cutting width of 25 to 40 cm, this tool promises efficiency and reliability. The thermal model has a 30 to 40 cc motor and the same cutting width as its electric counterpart.
Backpack grass cutter
This brush cutter model inherits a 2 or 4-stroke internal combustion engine that is worn on the back (hence its name). The cutting tool is hand-held for convenience. It is the most suitable brush cutter for working undergrowth, embankments or uneven terrain with a surface area of up to 5000 m2. Since its engine is mounted on the back, its designers have given it a cylinder capacity of more than 40cc for high power. Its cutting width ranges from 30 to 40 cm. Note that this device can weigh tens of kilos.
Trailed grass cutter
This grass cutter has wheels that ensure its mobility, hence its other name of wheel grass cutter. With its 4-stroke internal combustion engine with a cylinder capacity of up to 200 cm3, this machine can work on large surfaces (up to 10,000 m2) with a cutting width of 65 cm.
Thanks to its frame with a profiled stem, this trimmer does not fear the dense vegetation. It also makes it easy to cut brambles, bushes, and tall grasses. The majority of tractor-mounted brush cutters have large wheels to better handle all types of terrain. However, they are not suitable for undergrowth, slopes or steep slopes.
The trimmer mower
This model is almost identical to the tractor-mounted brush cutter. It is perfect for mowing lawns and grass.
Riding grass cutter
If you find it difficult to complete mowing work with a tractor-mounted brush cutter because of an excessively large area to be treated, you need the ride-on grass cutter. Both machines have the same features except that the self-mounted model can mow even an area exceeding 10,000 m2 thanks to its motor of up to 20 HP. This model with a cutting width of 90 cm is not suitable for the steep or uneven terrain.
Troy-Bilt 382cc 30-Inch Premium Neighborhood Riding Lawn Mower
Powered by a 382cc Auto Choke OHV engine with top forward speeds of 4.25 MPH and a 6-speed transmission
The 30-Inch cutting deck featuring 5 adjustable settings couples the benefits of a standard riding mower with the size of a wide cut walk behind mower
Choose your grass cutter according to the extent of the area to be worked
Before choosing a brush cutter, it is essential to know the extent of the area to be worked and the type of vegetation present so as not to waste time and not to force the machine too much at the risk of damaging it. Here is how this type of tool categorizes itself according to the surface to be worked:
Area less than 1000 m2
For mowing an area not exceeding 1000 m2, a small area trimmer is a right tool for you. This is particularly true of the trimmer, the most suitable model for mowing grass or lawn.
Surface area between 1000 m2 and 2000 m2
If you need to mow an area of fewer than 2,000 m2 with a small brush, tall grass, and brambles, use a portable grass cutter with medium power, a thermal or electric brush cutter. Note that a medium-size brush cutter is suitable for use in both obstacle and steep terrain.
Surface area between 2000 m2 and 5000 m2
In the case of a lot with a surface area exceeding 2000 m2, prefer a portable thermal grass cutter with a motor greater than or equal to 40cm3 and offering a consequent power. Among the models with these features is the backpack trimmer. It is suitable for working on uneven terrain or undergrowth. It can easily remove brush, brambles and tree shoots.
Area less than 10,000 m2
For such a wide area, you can choose between three types of trimmer: the towed model, the self-mounted model, and the famous trimmer. If it's a terrain with obstacles or steep slopes and vegetation including brush, tall grass, and brambles, the towed brush cutter is your best ally. If you have a ride-on brush cutter instead, you can also use it without any problem.
If you're facing hilly terrain with the most dominant turf, use a grass cutter mower. However, the ride-on brush cutter is still the most advisable choice, as it not only saves time but also makes the work easier.
Surface area greater than 10,000 m2
For such an expanse of ground, don't think twice and opt for a ride-on grass cutter. In addition to being powerful and practical (thanks to its wheels), this machine is capable of mowing flat terrain with all types of vegetation. It is generally used by private individuals with green space on hectares. Mowing grass in public gardens is usually done with this type of trimmer.
Grass cutter: which tool is it?
The brush cutter is the tool par excellence when it comes to pruning or mowing the brush. It is considerably more efficient than the conventional mower, particularly because of its versatility. If you have a large garden, this tool is a great help and saves you having to hire the services of a gardener. Whether it's undergrowth, undergrowth or grassy slopes, the grass cutter is a perfect choice.
This tool is often called an electric weeder because of the presence of an electric motor at the end of the long handle of some models (electrical). Equipped with a double handlebar with ergonomic handles, it offers a good comfort of use. At the other end of the handle is the cutting head, which can be made of nylon or steel depending on the model.
The most well-known manufacturers are Husqvarna and Stihl.
Grass cutter: What is it used for?
For pruning brambles, clearing undergrowth or clearing the garden of unsightly plants or shrubs, a standard trimmer or trimmer is far from adequate. In order to carry out these operations without wasting too much time, the grass cutter is the most advisable tool. Whether the area to be worked on is difficult to access or the vegetation dances too much, the brush cutter promises to be a great ally.
Depending on the scope of the work to be carried out, the choice of grass cutter must be made with meticulous care. For a small weed control in the garden and along the fence, a portable electric model is ideal. However, to cut brambles, opt for a model with at least 1000 watts of power. In the case of weeding in isolated areas, it is preferable to use a thermal model with a motor of about 30 cm3. If the tool is mainly used for mowing bushes, thickets or thick brambles, you must invest in a powerful grass cutter. Note that if you choose a portable thermal model, you must plan to buy fuel and oil.
Brush cutter: Choice of cutting head
When we talk about brush cutter, we immediately think of the portable brush cutter which is the most classic model, but also the one most used especially by private individuals. Note that this model has the advantage of being practical and efficient since it is possible to adapt its cutting tool to the type of vegetation to be cut. In general, this type of tool comes with a set of interchangeable cutting heads. It also has a hub to accommodate these accessories. Here are the different cutting heads that you can adapt to your grass cutter:
The nylon thread head
This cutting head can be two-wire or four-wire. The two-wire model makes it easy to finish mowing and cut grass and soft grass. The four-wire model is dedicated to cutting small brambles or tall, dense grass.
The knife head
This type of cutting head can easily cope with small brambles, high and dense grass or even small brush.
The blade head
The blade head is available in two versions: the blade head with 3 to 7 teeth and the blade head with 30 to 80 blades. Both blades are designed to fit a high-performance thermal brush cutter. The blade with 3-7 tines is designed for clearing and mowing up to 3 cm in diameter. The pruning of brambles and bushes can also be carried out with this machine.
The blade head with 30 to 80 tines is best suited for intensive clearing, pruning of large brambles, mowing of 5 cm diameter shoots or dense brush cuttings.
Required accessories and recommended options for each grass cutter type
If you decide to purchase a portable brush cutter, edger or backpack trimmer to maintain your yard and green space, here are the accessories that come with the product and the preferred options:
A double handlebars model: in the case of a portable brush cutter, this model proves to be the most practical thanks in particular to the great maneuverability that it confers. This way, you won't have any trouble working on an obstacle-covered, steep or even uneven terrain.
Quick cutting head removal: This option also applies to the portable brush cutter, which is often supplied with different cutting heads.
A harness dedicated to carrying: This accessory usually accompanies the brush cutter on the back to the purchase for a good comfort of use and an indisputable practicality.
A 4-stroke internal combustion engine: If you're leaning towards an internal combustion engine, choose a 4-stroke model rather than a two-stroke model. Indeed, a four-stroke engine has a low compression ratio, hence its economy. However, it offers high efficiency and is easy to start.
Large Capacity Fuel Tank: This accessory is required if your Thermal Cutter is designed for heavy-duty use. It is only suitable if you use a backpack model.
For a brush cutter or towed mower, there are also a few accessories that give them practicality and maneuverability. Here are a few of them:
Adjustable handlebars: recommended for heavy-duty use for outstanding ease of use.
Cutting height adjustment on handlebars: This feature is important, especially if the working area is very large. The fact that the adjustment device is mounted on the handlebar optimizes maneuverability.
A "dead man" system: The name suggests something negative, but it is a reliable security system.
Enormous and notched wheels: If you have to use your grass cutter on a terrain full of obstacles, these big wheels will save you a lot of effort. There are also models of tractor-mounted brush cutter with axles with ball bearings, particularly robust models.
A wide protective cover: necessary for user safety.
Mulching mode: The presence of this feature is necessary if you have to work on a large area of grass-covered ground. This option allows you to chop the grass and makes the work much easier.
If you need a ride-on brush cutter, find out what options and accessories are available to make your life easier:
A comfortable seat combined with a circuit breaker (in case of a fall)
Hydrostatic transmission: This makes it particularly easy to drive the machine.
Differential locking system: the brush cutter carrying this system offers a better clearance, especially in difficult terrain.
Full Brake System: This system is reliable, but it's even better if equipped with an ABS like the one found on professional models.
Short turning radius: makes the grass cutter much easier to handle
How to maintain your grass cutter?
Since the purchase of a brush cutter is a significant investment, the least you can do is take care of it.
Here's how to maintain your brush cutter:
Whatever type of trimmer you bought, here's what to do after each use:
Clean the cutting deck to prevent corrosion of all metal parts of the tool or machine.
Check the clamping of the tools and cutting heads before each use to prevent accidents.
Check the condition of the power cable if using an electric brush cutter.
The case of a thermal grass cutter:
This brush cutter model requires periodic maintenance to ensure trouble-free operation. If you use one, here's what you need to know:
Check fuel level, oil level and filter condition at each start.
Check the air intake at each use as often as possible so that the cooling system runs smoothly.
Periodically clean the air filter (after 3 or 4 fuel fills).
Periodically check the condition of the spark plug bundle every 2 to 3 months.
Change the spark plug at least once a year.
Also change the oil once a year and don't forget to check the condition of the drive belts.
Some safety tips:
The brush cutter, regardless of its model, is a dangerous tool that can cause injury if you do not take the necessary precautions. To ensure the safe use of this device, here are some steps you should take:
Before handling, read the operating instructions carefully and follow the installation, commissioning, operation and maintenance instructions carefully.
Check the fixing of each component before handling.
Be careful when clearing land to avoid obstacles that could damage the unit or create projections that could cause injury. To avoid such a situation, it is necessary to carry out a small site survey before mowing starts.
Get the right equipment before you clear the brush. Wear closed shoes, long pants, thick gloves or protective goggles. If you have sensitive ears, get earplugs before work begins. This way, you won't have to bear the deafening noise of your brush cutter.
Check also our guide: 10 Best Cordless Battery Powered Weed Eater of 2019
Updated on 2023-11-27 - Images from Amazon API. Logos are trademarks of Amazon.com, Inc. or its affiliates. 1001Gardens is a participant in the Amazon Services LLC Associates Program, an affiliate advertising program designed to provide a means for sites to earn advertising fees by advertising and linking to Amazon.com.