The best outdoor projectors to use in a garden, on a balcony, a terrace or in a garage… Summer is particularly suitable for outdoor cinema. Unlike television, it is easy to create a spontaneous installation for a movie night under the stars. The open-air cinema also lends itself very well to camping. Read on to learn more about the ideal setting for your outdoor projection.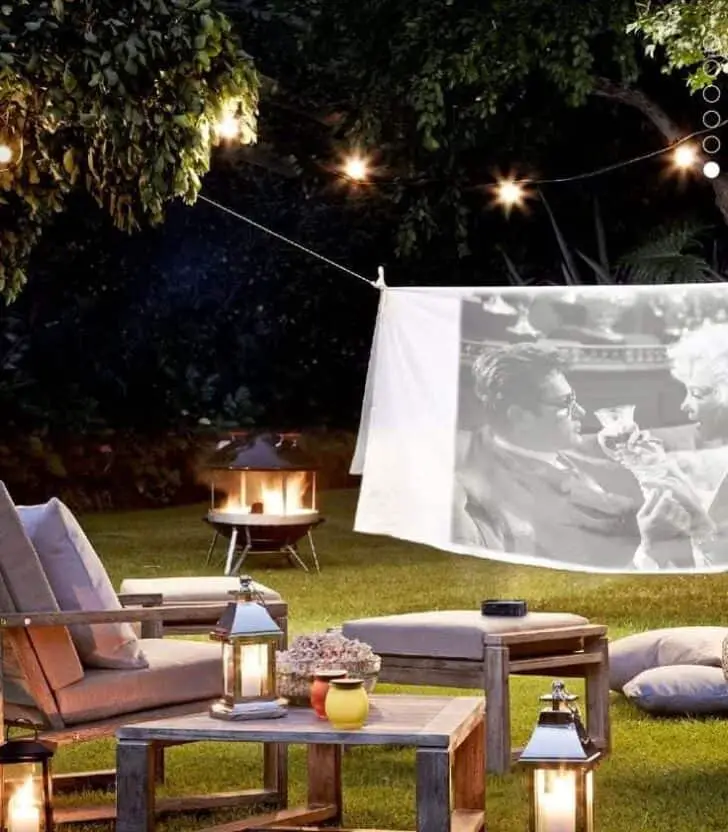 The best outdoor projectors for outdoor cinema
There are not yet any models specifically designed for outdoor projection. No matter what, several major professional quality brands are ready to give you satisfaction to perfect your movie nights or your outdoor presentations. The features listed above may be your first selection criteria when purchasing your projector.
In order to project large images, for which outdoor projectors are known and appreciated, we strongly recommend using an HD model. Most home theater projectors broadcast in 720p or 1080p, which is more than enough. You can also search for a professional projector with a resolution of 1280×800 or higher. Non-HD projectors can also work well outdoors, but the image quality will not be as accurate as their counterparts with higher resolution.
To complete your installation, you will also need a computer with an HD connection or a DVD or Blu-ray player. Some of the latest Home Cinema projectors have a built-in DVD player or iPhone interface and are in fact a perfect'all-in-one' solution. Just don't forget the power cable!
Last little trick! No matter how often you use your cinema outdoors, we strongly advise you never to leave the projector outside after use. This also applies to the canvas!
Recommended specifications to choose the best outdoor projector
During a wedding or during a seminar, a screening of a series of photos, a report, a film or a football game can be very appreciated. But some recommendations are to be taken into account to ensure the success of your event. Knowing that we are talking here about equipment requiring electrical installations, one of the first things to do is to pay attention to humidity that could disturb and damage the equipment. The power of the projector display is the second guarantee of the visibility of your projection, but above all, be aware that projection in full sun is to be avoided, so wait until dusk for a correctly readable image.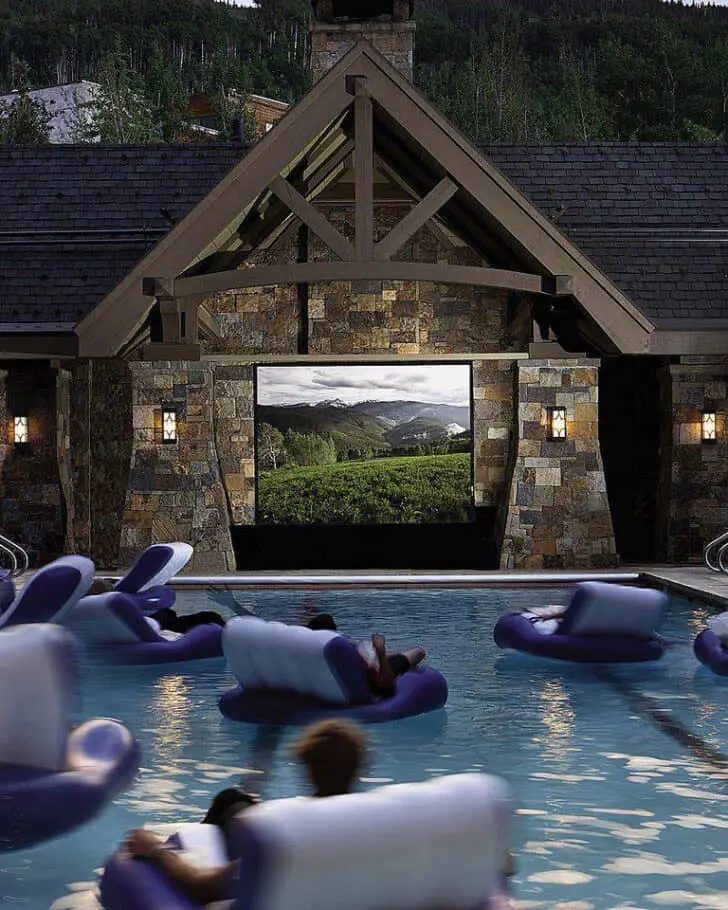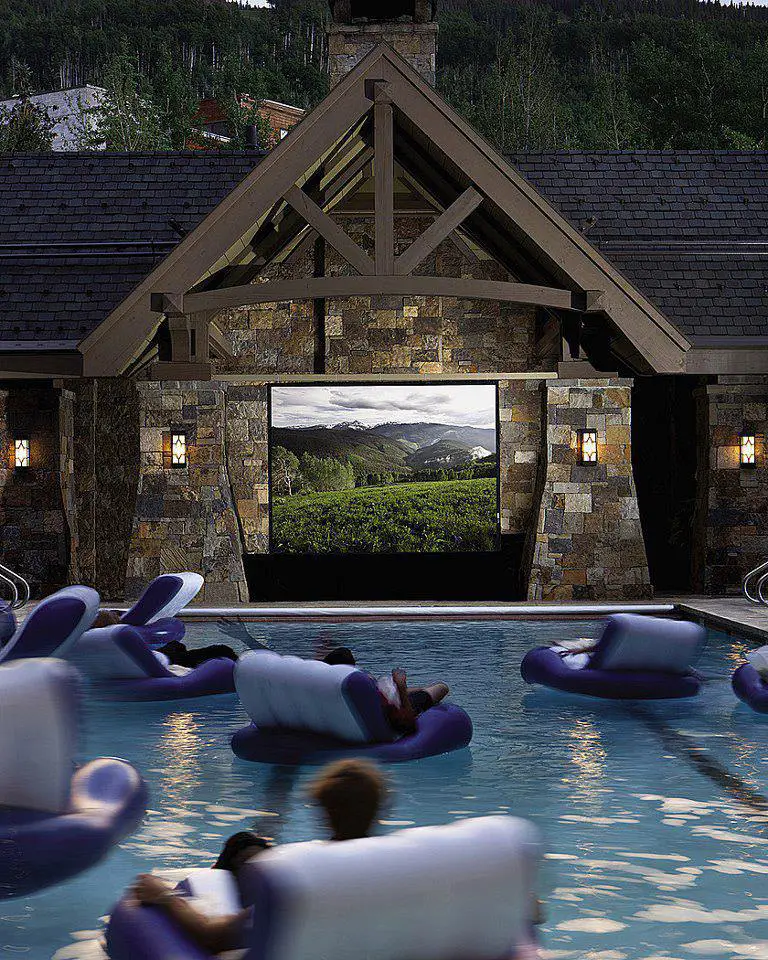 An outdoor projection requires a fairly large investment. You can find video projector rental service providers who can promise you a good rendering in any environment, but even with a power of 10000 lumens, in broad daylight, it will be difficult to distinguish anything on the projection surface. The minimum power required for an outdoor projection is 3000 lumens when planning your projection at dusk. A long focal length is required for a display beyond 5-7 meters distance between the projector and the projection surface.
The use of an outdoor projector requires at least one HD display. A minimum of 720p is required for a sharp image, but of course, if you have the ability to use full HD or 4K, or 8 million pixels, the comfort for your eyes will only be better.
Brightness: 3,000 Lumens or more
Resolution: HD (720p or 1080p)
Connectivity: HDMI or video component
Projector Sound: Some projectors have built-in speakers. If there are none or you simply want better audio quality, you can get portable speakers (with or without power).
Is it possible to install an open-air cinema without a screen?
The answer: of course! You can create your own projection surface by using, for example, one of the walls of the house, the garage door, a plaque or a sheet. Where and how you want to do it ultimately depends on your desires. The best outdoor cinemas simply consist of a projector and a sheet stretched between two trees.
Don't forget:
A multi-socket extension
A power cable
A cheap DVD or Blu-Ray player (if your outdoor projector doesn't have one)
A good film
External speakers (if your projector does not have one)
Food and drink (food and beverages must always be kept away from electronic devices)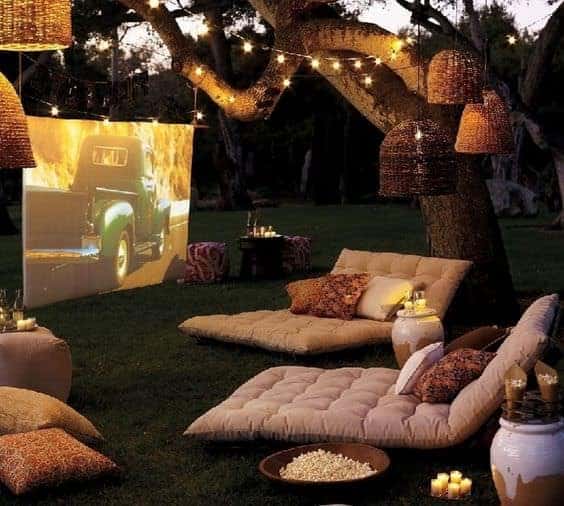 Advice for your garden projections
Invite your neighbors or at least inform them that pictures will appear in the garden or that noises will occur.
It's best to start an open-air movie show at dusk.
Pay attention to cables on which you can risk tripping.
Check the weather!
Keep your electronics away from pools, barbecues, and pets
Turn off your automatic sprinklers before setting up the installation
Remember that a video projector is not a coaster for beer bottles or wine glasses
Follow the instructions for specific outdoor installations
Store your outdoor projector and monitor after use to avoid the effects of humidity
Make sure your projection screen is not wet before rolling it up and storing it.
As soon as the screen size exceeds a certain diagonal, TV prices tend to soar! The purchase of the best outdoor projector represents an ideal compromise for all those who have a beautiful projection surface and a comfortable set-back distance. LED, Tri-LCD, Full HD? 1001Gardens presents you the best devices according to your budget.
Preview
Best Offer
Best Choice
Title
ELEPHAS 1080HD Movie Projector
Ohderii 3300ANSI Home Theater
Android Projector WiFi Bluetooth
Connectivity
VGA, HDMI, USB, 3 in 1 AV
WiFi, BT, HDMI, USB, Audio, AV, Mouse, Keyboard
Best Offer
Preview
Title
ELEPHAS 1080HD Movie Projector
Best Choice
Preview
Title
Ohderii 3300ANSI Home Theater
Connectivity
VGA, HDMI, USB, 3 in 1 AV
Preview
Title
Android Projector WiFi Bluetooth
Connectivity
WiFi, BT, HDMI, USB, Audio, AV, Mouse, Keyboard
Preview