A mud kitchen, as a kids playhouse, can be messy but it can also be great fun, what child doesn't love mixing up a mud pie? For younger children, mud kitchens can also provide a whole variety of different learning opportunities including sensory, imaginative, creative and exploratory play. Being outdoors gives children the chance to connect and learn about nature, to be creative and invent their own role play games and can even allow opportunities for early maths and science activities. ps: Have a look at this other Top Mud Kitchen ideas and Outdoor Kitchen Ideas Top 20
Old Wood Pallets Mud kitchen, enjoy playing with sand, water, leaves, etc.
Clear Wood Pallets Mud kitchen
Simple Mud Kitchen with wood and tree logs
Adam's Mud Kitchen done for the International Mud Day on June 29th
Low-Cost Mud Kitchen with two Old Tires
Perfect Mud Pie Kitchen. Proper posh one!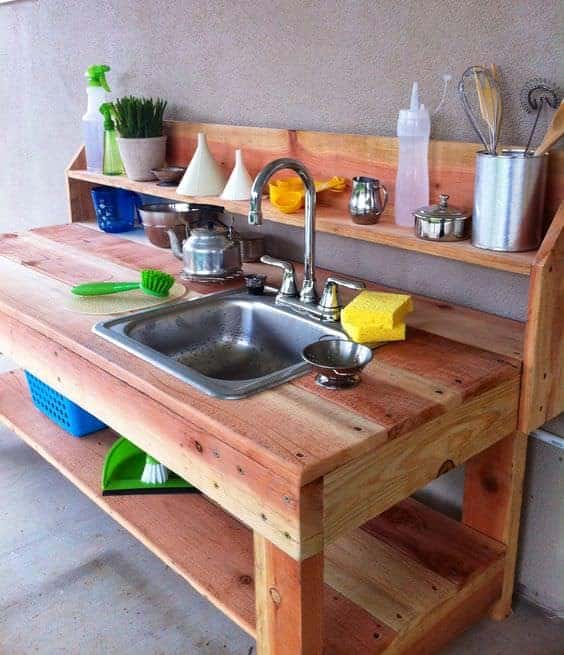 DIY sand and water "table", made with pallet wood and restore sink
Kitchen Pie Made with Rustic Wood and Plastic Toys
Mud Pie Kitchen made out of what looks like Old pallets and Metal Bowls
The kids will love this DIY Outdoor Play Kitchen and it's the perfect spot for making mud pies and great memories!
We are sorry that this post was not useful for you!
Let us improve this post!
Tell us how we can improve this post?